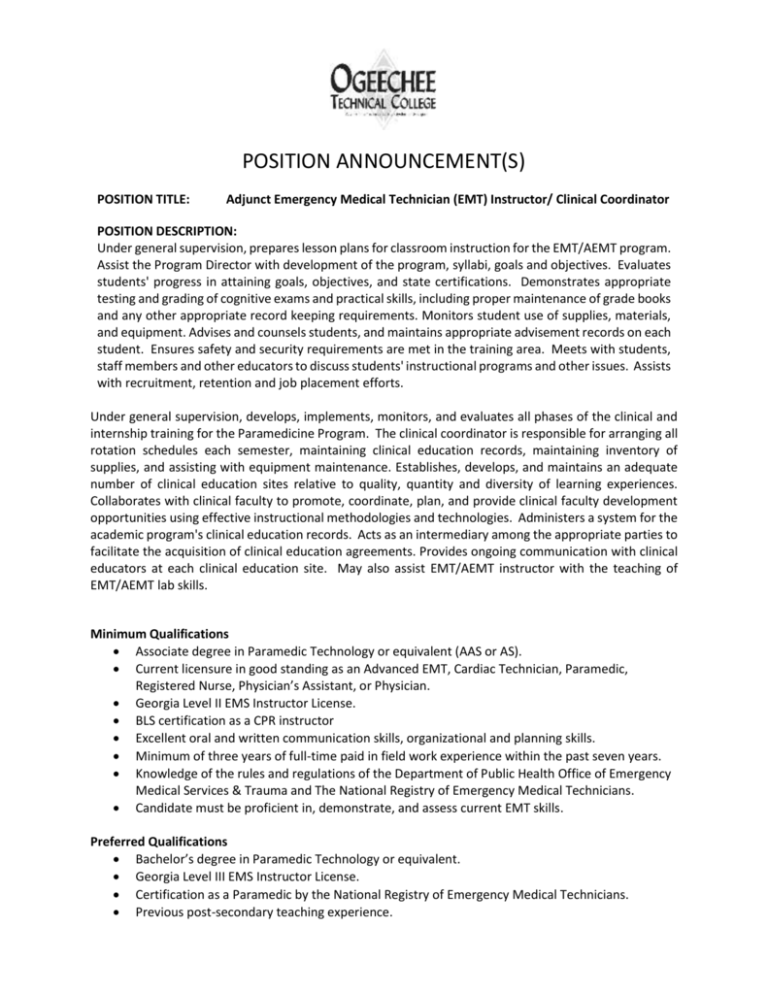 POSITION ANNOUNCEMENT(S)
POSITION TITLE:
Adjunct Emergency Medical Technician (EMT) Instructor/ Clinical Coordinator
POSITION DESCRIPTION:
Under general supervision, prepares lesson plans for classroom instruction for the EMT/AEMT program.
Assist the Program Director with development of the program, syllabi, goals and objectives. Evaluates
students' progress in attaining goals, objectives, and state certifications. Demonstrates appropriate
testing and grading of cognitive exams and practical skills, including proper maintenance of grade books
and any other appropriate record keeping requirements. Monitors student use of supplies, materials,
and equipment. Advises and counsels students, and maintains appropriate advisement records on each
student. Ensures safety and security requirements are met in the training area. Meets with students,
staff members and other educators to discuss students' instructional programs and other issues. Assists
with recruitment, retention and job placement efforts.
Under general supervision, develops, implements, monitors, and evaluates all phases of the clinical and
internship training for the Paramedicine Program. The clinical coordinator is responsible for arranging all
rotation schedules each semester, maintaining clinical education records, maintaining inventory of
supplies, and assisting with equipment maintenance. Establishes, develops, and maintains an adequate
number of clinical education sites relative to quality, quantity and diversity of learning experiences.
Collaborates with clinical faculty to promote, coordinate, plan, and provide clinical faculty development
opportunities using effective instructional methodologies and technologies. Administers a system for the
academic program's clinical education records. Acts as an intermediary among the appropriate parties to
facilitate the acquisition of clinical education agreements. Provides ongoing communication with clinical
educators at each clinical education site. May also assist EMT/AEMT instructor with the teaching of
EMT/AEMT lab skills.
Minimum Qualifications
 Associate degree in Paramedic Technology or equivalent (AAS or AS).
 Current licensure in good standing as an Advanced EMT, Cardiac Technician, Paramedic,
Registered Nurse, Physician's Assistant, or Physician.
 Georgia Level II EMS Instructor License.
 BLS certification as a CPR instructor
 Excellent oral and written communication skills, organizational and planning skills.
 Minimum of three years of full-time paid in field work experience within the past seven years.
 Knowledge of the rules and regulations of the Department of Public Health Office of Emergency
Medical Services & Trauma and The National Registry of Emergency Medical Technicians.
 Candidate must be proficient in, demonstrate, and assess current EMT skills.
Preferred Qualifications
 Bachelor's degree in Paramedic Technology or equivalent.
 Georgia Level III EMS Instructor License.
 Certification as a Paramedic by the National Registry of Emergency Medical Technicians.
 Previous post-secondary teaching experience.
SALARY/BENEFITS:
Commensurate with Qualifications
APPLICATION DEADLINE:
Open Until Filled
TO APPLY: Please submit an online application using the OTC online job center website. All positions
require a pre-employment criminal background investigation, education, and employer/professional
reference checks. Some positions may additionally require a motor vehicle record search, credit history
check, and/or drug screen. All male applicants between the ages of 18 and 26 years of age must present
proof of Selective Service Registration. Copies of all transcripts should be submitted at the time of
application for faculty positions. Official transcripts are required upon employment. For more
information, please contact the Director for Human Resources at 912.871.1801 or
employment@ogeecheetech.edu.
The following individuals have been designated to handle inquiries regarding the non-discrimination
policies: For Title IX: Kelli Waters, Student Activities and Special Populations Coordinator, Office: 143D,
Phone: 912.871.1885, kwaters@ogeecheetech.edu. For ADA/Section 504: Penny Hendrix, Disability
and Student Support Services Coordinator, Office: 171E, Phone: 912.486.7211,
phendrix@ogeecheetech.edu.