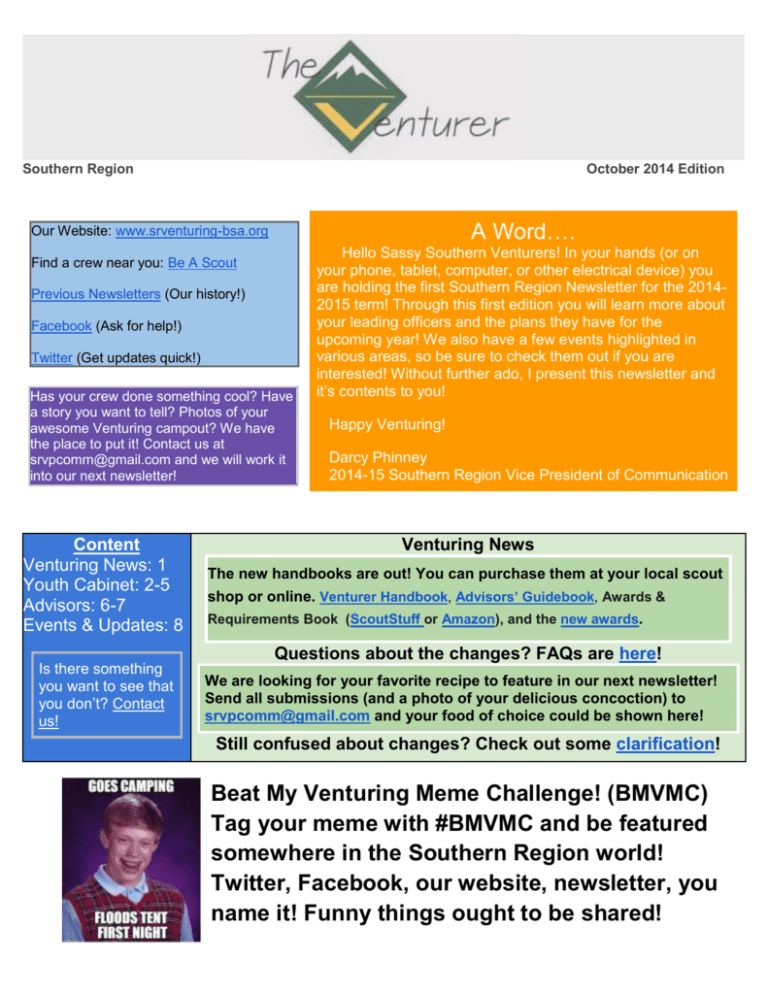 Southern Region
October 2014 Edition
A Word….
Our Website: www.srventuring-bsa.org
Find a crew near you: Be A Scout
Previous Newsletters (Our history!)
Facebook (Ask for help!)
Twitter (Get updates quick!)
Has your crew done something cool? Have
a story you want to tell? Photos of your
awesome Venturing campout? We have
the place to put it! Contact us at
srvpcomm@gmail.com and we will work it
into our next newsletter!
Content
Venturing News: 1
Youth Cabinet: 2-5
Advisors: 6-7
Events & Updates: 8
Hello Sassy Southern Venturers! In your hands (or on
your phone, tablet, computer, or other electrical device) you
are holding the first Southern Region Newsletter for the 20142015 term! Through this first edition you will learn more about
your leading officers and the plans they have for the
upcoming year! We also have a few events highlighted in
various areas, so be sure to check them out if you are
interested! Without further ado, I present this newsletter and
it's contents to you!
Happy Venturing!
Darcy Phinney
2014-15 Southern Region Vice President of Communication
Venturing News
The new handbooks are out! You can purchase them at your local scout
shop or online. Venturer Handbook, Advisors' Guidebook, Awards &
Requirements Book (ScoutStuff or Amazon), and the new awards.
Questions about the changes? FAQs are here!
Is there something
you want to see that
you don't? Contact
us!
We are looking for your favorite recipe to feature in our next newsletter!
Send all submissions (and a photo of your delicious concoction) to
srvpcomm@gmail.com and your food of choice could be shown here!
Still confused about changes? Check out some clarification!
Beat My Venturing Meme Challenge! (BMVMC)
Tag your meme with #BMVMC and be featured
somewhere in the Southern Region world!
Twitter, Facebook, our website, newsletter, you
name it! Funny things ought to be shared!
Youth Cabinet
Southern Region President: Aaron Parks-Young
Aaron Parks-Young is an Eagle Scout, Arrowmen, Silver Award Recipient, and Sea Scout from Circle Ten
Council, based in Dallas, Texas. Aaron has been involved in Scouting since he was a Webelos, joined a crew
at the age of 14, and went on to help found his own crew. Since joining Venturing, Aaron has served on the
staff of the 2013 Jamboree at the Bechtel Summit as a guide for the Big Zip, served as staff for National Youth
Leadership Training (various positions), and has served as staff for the National Advanced Youth Leadership
Experience (various positions) at Philmont. Aaron also has served as the Southern Region's Area 2 Venturing
President, an interim Venturing President for Circle Ten Council, as a National Venturing Vice President, and
as his crew's president. Aaron's picture of success for Southern Region Venturing for the 2014-2015 term
includes improving communication for Venturing throughout the region, working to create an environment
conducive to cooperation amongst councils and areas within the region, ensuring that Southern Region
Venturing publications and media outlets are up to date and accurate, and meeting program needs for Venturing at a region level
Southern Region Vice President of Administration: Cole Ettingoff
Cole Ettingoff is currently serving as Southern Region Vice President of Administration. He is a member of Crew
341 in Memphis, TN where he has been Vice President and President. He founded and served as President of the
Chickasaw Council Venturing Officers Association. He attended the 2010 National Jamboree as Assistant Senior
Patrol Leader, the 2011 World Jamboree in Sweden as Assistant Senior Patrol Leader, and staffed the 2013
National Jamboree as one of two youth on the Combined Operations, Administration, and Logistics team. He was
a Boy Scout and a Cub Scout earning his Arrow of Light and his Eagle rank. He is a Brotherhood member of the
Order of the Arrow, his Lodge's 2013 Arrowman of the Year, and served two terms as Vice Chief of his Lodge. He
has served as a Program Director at his Council's summer camp. He earned his Venturing bronze and gold
award, is a recipient of the Council and Area Venturing Leadership Awards, and is the only member of his Council
to be inducted into the Boy Scouts of America National Hall of Leadership. Outside of Scouting, he is a member of the Steering Committee for
the United Nations Association as well as the UN Commission on Sustainable Development Youth Caucus. He previous has served on the
International Youth Council USA Executive Board, the Youth Board of United Way of the Mid-South including a term as co-chair, the Youth
Advisory Council for Points of Light and the Youth Advisory Council for DoSomething.org. He has received the Prudential Spirit of Community
Award, the Jefferson Award for Public Service, the Rhodes College Book Award, a commendation from the Governor of Tennessee, the United
Way Unsung Hero Award, the President's Call to Service Lifetime Achievement Award, and been named a Kentucky Colonel.
Southern Region Vice President of Program: Bailey Coleson
Bailey Coleson is a Girl Scout Gold, Silver, and Bronze awards recipient and also received the Venturing
Excellence from the council. Bailey is from Circle Ten Council, based in Dallas, Texas. She has been involved
in Scouting since she was a baby having 3 older brothers who were all involved in scouts. Bailey was one of
the founders of crew 236 at the age of 14. Since joining Venturing, Bailey has served on staff of 2014 National
Advanced Youth Leadership Experience session 3 at Philmont Scout Ranch. She also has staffed the
National Youth Leadership Training for her council as a Team Guide, Instructor, Assistant Senior Patrol Leader
of Team Guides, and is Senior Patrol Leader for the 2014 winter course. Bailey is currently serving as the
Southern Region Venturing Vice-President of Programs and as Venturing President for Circle Ten Council.
Bailey has served as Venturing Vice President of Commutations for Circle Ten Council for two years, and as her crew's president and vicepresident. Some of Bailey's biggest goals for Southern Region Venturing for the 2014-2015 term include putting on a successful Region
program event where people from all over the Southern Region can meet, build a stronger connection with the different areas to learn what
programs they are putting on, and of course, meeting all kinds of new people and having fun!
Southern Region Vice President of Communications: Darcy Phinney
Darcy Phinney was fated to be in scouts from a young age. Her family has been involved in scouts for
the past four generations, in both Girl Scouts and Boy Scouts. She started her personal scouting
journey as a Girl Scout and has successfully earned her Bronze Award, Silver Award, and Gold Award
in the program. Very quickly she realized that she wanted to camp like her younger brother who was
in in Cub Scouts. After waiting impatiently, she immediately joined Crew 1 from the Middle Tennessee
Council when she turned 14. She participated in a Kodiak Challenge course that summer and her
passion for serving others was born. Since that time, Darcy has been actively involved in her council's
VOA as Vice President of Communication and President. She then worked as the Area 6 President. Outside of the VOA, Darcy has staffed 2
NYLT courses, 2 NAYLE courses at Philmont, attended the 2013 National Jamboree, and is an active participant in her council's activities. She
has received the Silver Award in Venturing, has the Venturing Leadership Award, and is a member of the National Youth Leadership Society
among other things. Outside of scouts she is currently attending the University of Tennesse (Go Vols!). Her cooking abilities range from burning
water to cooking a really good dutch oven cheesecake (ask her crew). She has one wisdom tooth, and she likes dancing even though she does
not do it often for good reasons. Rugby and curling are two of her favorite sports to watch. "Awesome" is probably her most frequently used
word of all time. It is great. Her biggest goal for this year is to improve communication in the region through improving this website. (I am so
excited for this term dudes, it's going to be awesome!)
Area 2 President: Samantha Reeve
I am Samantha Reeve, the Area 2 President. I am a sophomore Mechanical Engineering and Mathematics double major
at Southern Methodist University in Dallas, TX. I am originally from Austin, TX. I started out as a Girl Scout in 1 st grade
and continued on through high school to get my Gold Award. I joined Venturing my sophomore year of high school and
have been involved ever since. In Venturing I haven earned the Outdoor, Sports & Hobbies, and Sports Bronze Awards,
Gold, Silver, Venturing Leadership award at the Council and Area levels. Venturing has open so many opportunities for
me and I want to spread that opportunity to others too. I enjoy rock climbing, 3D printing, camping, and volunteering.
Area 3 President: Chelsea Davis
Hi, I am Chelsea Davis, the Area 3 President, and here's a little bit about me. I was exposed to Scouting as my
little brother was a wee Tiger and I have been in Venturing since the summer after 8th grade. I have earned the
Outdoor, Religious, Sports, and Arts and Hobbies Bronzes,as well as Gold and Silver Awards. I love NYLT and
have served too many courses and this past summer I was the first female to be the Senior Patrol Leader. I have
held every Area 3 VP position, and have experience in what our area has to offer. Scouting has had a great impact
on my life, giving me friends that I never would have had otherwise.I want to be able to spread that love of
Scouting by creating an event where we can bring together Venturers to compete and have a great time. Please
send me an email if you need any help or suggestions, and I am always open to coming to events in my Area.
Yours in Scouts, Chelsea (area3srvpresident@gmail.com)(Join us on Facebook: https://www.facebook.com/groups/Area3SRV/)
Area 4 President: Cole Gabriel
Hello Venturers of the Southern Region! My name is Cole Gabriel, and I have the opportunity this year to serve as the
SR Area 4 President. I have been a part of the scouting program for eight years, and am an Eagle Scout and Silver
Award Recipient. Currently, I am a part of Ship 631 in the North Florida Council. Throughout my time in scouting, I have
served as a crew president, ship boatswain, NYLT course leader, and VOA vice president of administration. In addition,
I currently serve as the Echockotee Lodge Chief in the Order of the Arrow. In regards to my experiences, my two
favorites would have to be my 50 miles on the Appalachian Trail and my recent trip to Philmont Scout Ranch to
participate in NAYLE. As the Area 4 Venturing President this year, I plan to further our communications with councils
within the state of Florida, develop an area-wide event, and reach out communication to the Venturers throughout the
area through the usage of publications, a website, and social media. Outside of scouting, I attend the greatest
university in the United States, the University of Florida where I am majoring in Electrical Engineering as a freshman. I am also involved in
several organizations including the ultimate Frisbee team and student government. I am honored to serve the Southern Region and the
Venturing program this year.
Area 5 President: Carolyn Tiller
Area 5 President; Piedmont Council; Venture Crew 171; I'm homeschooled; My favorite activity is Rock Climbing.
As President of Area 5 I would like to make the Area better at communication, among itself as well as with the
councils. I think we can really amp up the Venturing Spirit in the Area this year. I want to get more youth involved in
the Area, whether or not they have an elected position.
I think that currently we do not communicate well, also I feel that we could have more youth involvement in the Area,
I think that now the youth are ready run things, Venture-style.
In the long term, I would like the have the Legacy truly be a Legend, and for the events to be our (those who are
currently venturers) 'Legacy' in the future. I would like to see more events and more inter-crew communication and involvement in the Area.
Area 5 Vice President of Administration: Douglas Taylor
I am from the Central NC Council. I just graduated from high school, I will be attending Catawba College this
upcoming fall semester. I will be double majoring in Environmental Science and Writing. This coming year we have
a lot of plans for Area 5; one of my goals in the Area is try to build up each VOA in each Council, by putting in place
a standard system to jumpstart Council VOA's. I know in the past we have had no communication with each other; if
you would have asked someone two years ago if there was such a thing as a Venturing in Area 5, people would
have looked at you like you were talking another language. In the past two years we have changed this. Moving
forward it is our goal and vision as an area to continue to grow.
Area 5 Vice President of Program: Isabelle Schroeder
I am Isabelle Schroeder, the Area 5 VP of Program. I will be attending the South Carolina Governor's School for
Science and Mathematics this fall. I am from Indian Waters Council. I have served as President and VP Admin in my
crew. I also serve as VP Admin for our council VOA. In the upcoming year I hope to see Venturing, Sea Scouts, and
Exploring gain more attention in the area, as well as in the individual councils, through events such as The Legacy
which is being held at Camp Barstow this fall.
Area 5 Vice President of Communications: David Buchanan
David is an Eagle Scout with 12 Eagle Palms. He is a Vigil Honor member of the Order of the Arrow in the Atta Kulla
Kulla Lodge #185. David served as the 2013 Lodge Chief of the Atta Kulla Kulla Lodge #185. He earned the BSA
William T. Hornaday Award for Distinguished Service in Conservation. David was selected as the American Legion
Department of South Carolina 2012 Eagle Scout of the Year. He has attended the 2010 National Jamboree, Philmont
Scout Ranch in 2011, and NOAC in 2012. David currently serves as BSA Troop 215 Asst. Scoutmaster. He has
served on staff at Camp Old Indian for 4 years. David joined Venture Crew 215 where he earned the Ranger Award,
Bronze, Gold, and the Venturing Silver Award. David has served as the Blue Ridge Council Venturing President 2013-2014, Crew 215 President
and was honored with the Blue Ridge Council Venturing Leadership Award in 2014. David is a member of Alpha Phi Omega, National Service
Fraternity at Clemson University.
Area 6 President: Savannah McMillian
Savannah McMillan serves as the Area 6 Southern Region Venturing President. Savannah is registered with Crew 0101 at the L&N STEM
Academy, where she currently serves as President. She became involved in Scouting as soon as she could after having grown up seeing her
cousin's involvement in Cub Scouts and Boy Scouts and wanting to do the same things. The leadership and service opportunities have become
her "way of life!"
As a Venturer, Savannah has taken and served as staff for several training courses, which have been beneficial to her in many ways, both
within and outside of Scouting. These courses included Den Chief training, Introduction to Leadership Skills for Crews (ILSC), Wilderness First
Aid, Wilderness Survival, and National Advanced Youth Leadership Experience (NAYLE) at Sea Base and Powder Horn. She was an ILSC
instructor in January 2014 for the Great Smoky Mountain Council. She served as staff for STEM at the Great Smoky Mountain Council's Camp
Buck Toms in 2014. She has also helped to organize and lead several Cub Scout NOVA events for the council including a Space Derby in
2013.
Savannah has earned her Venturing Outdoor Bronze, Gold, Silver, and Ranger awards as well as four Nova awards. She has served her unit as
Vice-President of Administration 2012-2013 and as President in 2013-2014; she also serves her Council as VP of Communication for the
Venturing Officers' Association (VOA). She was selected to served as the trek leader for the inaugural Philmont STEM Trek in 2013, worked as
a volunteer in the STEM Nova booth at the 2013 National Jamboree at the Summit, served as faculty for the inaugural STEM Youth Conference
at the Philmont Training Center in 2014, and serves as the Youth representative for STEM at the High Adventure bases on the BSA National
STEM Committee. She also has created and is teaching a leadership class for middle school youth.
Outside of Scouting, Savannah is very active in vocal performance, having studied opera for five years; she was voted Best Soprano 2012-2013
for the L&N Chorus. She has also participated in the Junior Classical League and the Knoxville Teen Board. She plans to attend the University
of Tennessee, where she will study veterinary anesthesiology.
Advisors
Southern Region Advisor: Francesca Scanio
I began as a Venturer when the program was formed in 1998. Being a member of the Boy Scouts of America was
very exciting for me because as a little girl I frequently tagged along with my brothers to their Scouting activities. I am
a product of Capitol Area Council in central Texas and Area 3.
As a youth member, I loved the freedom and activities that the Venturing Program had to offer and enjoyed planning
a program with my friends. I served as the Southern Region Venturing President from 2001-2002. While a senior in
high school I participated in the BSA-Japan Cultural Exchange program, which was a great learning experience for
me. I attended the World Scout Jamboree in 2003 in Thailand where I met up with other past regional presidents. In
2004 I was the BSA intern to the World Organization of the Scouting Movement (WOSM) in Geneva. As a youth, I
have received the council, region, and national Venturing Leadership Awards.
After several years of schooling, I now practice law at my family's firm in central Texas and split my time volunteering with various local
organizations.
I am very proud to be a part of the growth of the Venturing Program in the Southern Region. It is a great honor to serve as the Southern Region
Venturing Advisor to an amazing group of officers. I encourage any youth members interested in pursuing leadership opportunities to apply as
an officer of the Southern Region cabinet. Applications are due each year by February so keep a lookout for next year's application on our
website.
Southern Region Associate Advisor - Administration: Josh Nolan
It's nice to meet you anonymous reader, my name is Joshua Nolan but you can call me Josh! I have been a member of
the Scouting program since Cub Scouts and a proud member of the Northeast Georgia Council. I have thoroughly
enjoyed my time as a member of the Boy Scouts of America and continue to do so. The way that I enjoy myself in the
program is by taking advantage of opportunities that are presented to me. It is because of those opportunities that I have
made it to; Philmont, 2 National Jamborees, NRA Youth Ambassador, working at my local summer camp for several
years and even working as trail crew leader for Summit Corps, building mountain bike trails. Those opportunities have
even help lead me to earning my Eagle Scout and Silver Awards as well as the National Venturing Leadership Award.
I graduated college from the University of North Georgia with my B.S. in Applied Environmental Spatial Analysis, which is
a fancy way to say Geographic Information Systems (GIS) with an environmental emphasis. For those of you that don't know what GIS is the
best way to describe it is cartography (map making). Though it is so much more than a map we provide to someone, it's spatially enriched
information that goes to building a better future.
Last but most certainly not least there is just nothing else quite like sitting around an open camp fire sharing stories and making some s'mores!
Southern Region Associate Advisor - Program: Pete Armstrong
Pete Armstrong, SR VP Program Advisor.
Started Scouting as an eight year old Cub 63 years ago in Baltimore Area Council.
Retired US Army Special Forces officer.
Retired public school teacher and administrator.
Lived all over the world for more than 15 years.
Currently serve in several Scouting positions, the most active as one of the two International
Ambassadors for BSA.
Eagle Scout, Vigil Honor OA, class of 2012 Silver Antelope.
Love the outdoors.
Southern Region Associate Advisor - Communication: Jeff Justice
Is mise Jeff Justice agus tha neach-comhairle aig Iar-Cheann-Suidhe (Eadar-Cheangal) o choinn 2009. 'Se
ollamh a th' annam aig Oilthigh Tarleton State, nuair ionnsaich mi na poiliteags agus righaltas. 'S toil leam a bhith
a' campaigeadh, a' coiseachadh, coimpiutairean, a' leughaidh, a' sgrìobhadh, agus a' siùbhlach. Fuirich mi ann
an Alba as t-samhrach agus Texas an còrr dhen ùine. Fhuair mi Beachdadair-Ìolaire ann an 1987 agus Onair a'
Thoichnidh ann an Òrd na Saighde ann an 1990.
My name is Jeff Justice, and I have been the adviser to the Vice President of Communications since 2009. I am a
professor at Tarleton State University, where I teach Political Science and Government. I enjoy camping, walking, computers, reading, and
writing. I live in Scotland during the summer and the great state of Texas the rest of the year. I received the Eagle Scout Award in 1987 and
the Vigil Honor of the Order of the Arrow in 1990.
Area 2 & 3 Advisor: Jeff Doran
The SR Area 2/3 Advisor is Jeff Doran of East Texas Area Council. He joined as a Cub in 1958, earned his
Eagle in 1966, and then went to Exploring. As an adult he has served in almost every Cub Scout, Boy Scout,
and Venturing position at the unit, district, and council levels, including District commissioner, District Chair, and
Council Venturing Chair. Before becoming Area Advisor, he served 2 years as an Area Associate Advisor.
Jeff's commitment to youth goes beyond scouting. He was a soccer coach for 27 years, served on the Child
Welfare Board for 20 years, has been juvenile judge and chair of the Juvenile Board for the past 12 years, and
has worked with the Texas Supreme Court's Commission on Children to devise court systems for cases involving
abused and neglected children.
Scouting has honored Jeff with the Silver Beaver, Venturing Leadership Award, Dochterman Award, District Award of Merit, and several
Scouters' Keys. For his work with teens, he has been named Chamber of Commerce Citizen of the Year, received a State Bar of Texas
Presidential Commendation, and Distinguished Service awards from CASA, three school districts, and several other groups.
Jeff became involved in Sea Scouting three years ago, and fell in love. "If I'd really known about Sea Scouting," he says, "I would have being
doing that for the last 56 years!"
Events & Updates
Area 2
Katie Hancock
Area 2 V.P. of Administration
Southern Region Area 5's VOA has started to establish itself
as a true force in Area 5 scouting. The VOA is preparing for its
second year of the area wide event called the legacy; it will be
held at Camp Barstow on October 17-19.
Area 2 hosted a Kodiak for Venturing Scouts in May of 2014.
The scouts were privileged to be able to spend at the time at the
new Galveston Sea Scout Base in Galveston Texas. The
Participants worked together to practice leadership and problem
solving skills under the watchful eye of Area 2/3 Advisor Judge
Jeff Doran. The experiences were incredible and the Scouts
were able to spend time on two individual sailing expeditions as
well as visiting Moody Gardens, Battleship Texas, The Pier and
the Beach. The Scouts also participated in two service projects
one at a local church and an ecological cleanup that was
featured as a Messengers of Peace Project.
The Kodiak group would like to thank former Area 2 President
Lauren Kirkland for her amazing vision and leadership of this
Kodiak.
The VOA is planning a Venturing Summit Adventure; it will be
an opportunity for Ventures from Area 5 to go experience the
Bechtel Summit Reviser together.
The VOA is also planning an Area wide NYLT; this would be
an NYLT run by the Area and for the Area Venturers.
Program updates in Area 5 can be viewed on the area website
at www.sr5venturing.org
Area VOA Cabinet information also is on the area website
under VOA Cabinet tab
David Buchanan
Area 5 VP of Communication
Upcoming Events & Updates
Chelsea Davis
Area 3 President
Capitol Area Council held an event called Venturing is Happening.
Venturing Crews came and enjoyed shooting, climbing and pool facilities while competing for overall awards in each station.
It was a very successful event and over 90 Venturers attended even though it was raining the on and off all day.
Areas 2 & 3 are also putting on a joint Adventure Race and trying to include all of Texas into gathering together. The events will
allow Crews to team build as well as have fun and meet other Crews around them. Both VOAs are excited for their event and
invite anyone to attend. Please email either area3srvpresident@gmail.com or area2srvpresident@gmail.com for more
information.
Venturers and Sea Scouts, do you have plans yet for your winter holiday? If not, come visit the beautiful Latimer High Adventure
Reservation in Spencer, TN for our first ever Venturing Winter Camp! It will be held December 27-31, 2014. We will have classes
for work towards your Ranger Award as well as plenty of non-award-based activities such as a Scout Pace Race, old scout
games, campfires, and a workshop night to build various things. (Have you ever made your own knife?) If you register before
November 7th, the cost will be $110 per scout, which covers 11 meals, most activities, tent lodging, and a patch. The first two
adults are free. Registration and the leaders' guide can be found at
http://www.mtcbsa.org/Parents/scout/camping/wintercamp.html
Feel free to contact Amelia Berle at AJBerle@gmail.com if you have any questions.
See you there!