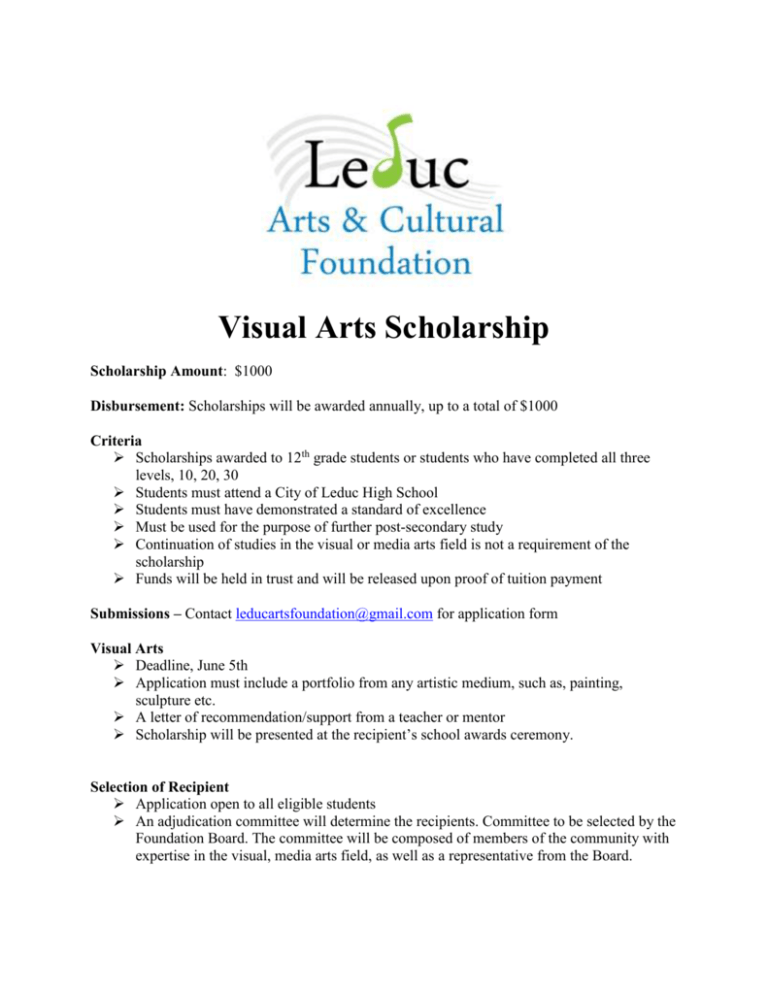 Visual Arts Scholarship
Scholarship Amount: $1000
Disbursement: Scholarships will be awarded annually, up to a total of $1000
Criteria
 Scholarships awarded to 12th grade students or students who have completed all three
levels, 10, 20, 30
 Students must attend a City of Leduc High School
 Students must have demonstrated a standard of excellence
 Must be used for the purpose of further post-secondary study
 Continuation of studies in the visual or media arts field is not a requirement of the
scholarship
 Funds will be held in trust and will be released upon proof of tuition payment
Submissions – Contact leducartsfoundation@gmail.com for application form
Visual Arts
 Deadline, June 5th
 Application must include a portfolio from any artistic medium, such as, painting,
sculpture etc.
 A letter of recommendation/support from a teacher or mentor
 Scholarship will be presented at the recipient's school awards ceremony.
Selection of Recipient
 Application open to all eligible students
 An adjudication committee will determine the recipients. Committee to be selected by the
Foundation Board. The committee will be composed of members of the community with
expertise in the visual, media arts field, as well as a representative from the Board.