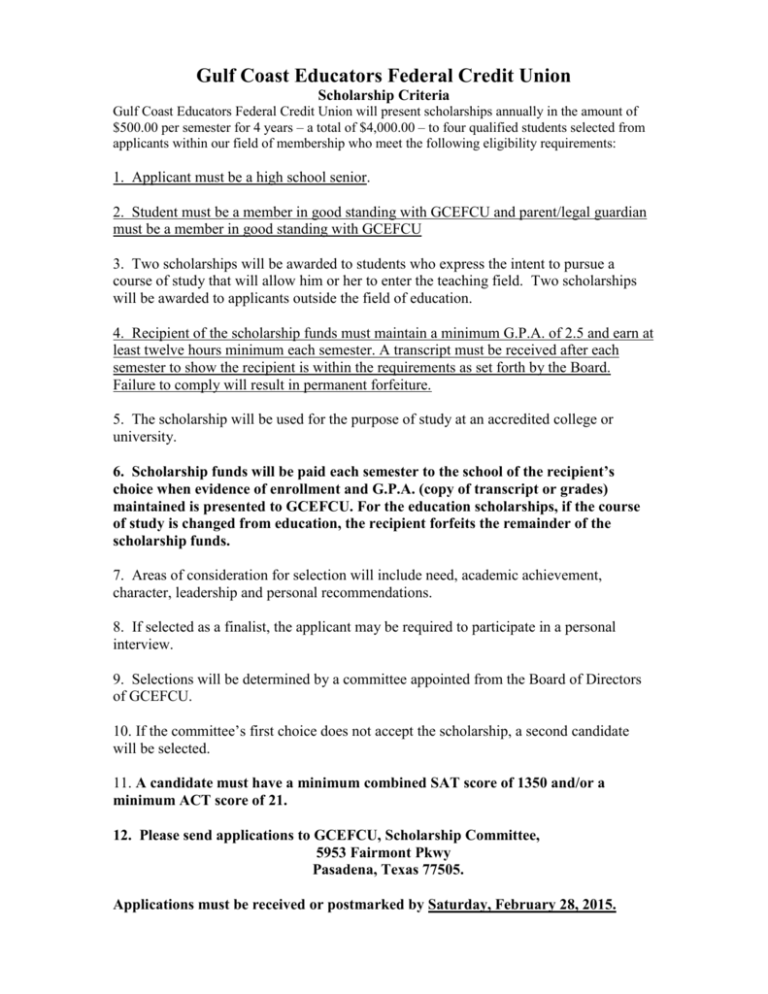 Gulf Coast Educators Federal Credit Union
Scholarship Criteria
Gulf Coast Educators Federal Credit Union will present scholarships annually in the amount of
$500.00 per semester for 4 years – a total of $4,000.00 – to four qualified students selected from
applicants within our field of membership who meet the following eligibility requirements:
1. Applicant must be a high school senior.
2. Student must be a member in good standing with GCEFCU and parent/legal guardian
must be a member in good standing with GCEFCU
3. Two scholarships will be awarded to students who express the intent to pursue a
course of study that will allow him or her to enter the teaching field. Two scholarships
will be awarded to applicants outside the field of education.
4. Recipient of the scholarship funds must maintain a minimum G.P.A. of 2.5 and earn at
least twelve hours minimum each semester. A transcript must be received after each
semester to show the recipient is within the requirements as set forth by the Board.
Failure to comply will result in permanent forfeiture.
5. The scholarship will be used for the purpose of study at an accredited college or
university.
6. Scholarship funds will be paid each semester to the school of the recipient's
choice when evidence of enrollment and G.P.A. (copy of transcript or grades)
maintained is presented to GCEFCU. For the education scholarships, if the course
of study is changed from education, the recipient forfeits the remainder of the
scholarship funds.
7. Areas of consideration for selection will include need, academic achievement,
character, leadership and personal recommendations.
8. If selected as a finalist, the applicant may be required to participate in a personal
interview.
9. Selections will be determined by a committee appointed from the Board of Directors
of GCEFCU.
10. If the committee's first choice does not accept the scholarship, a second candidate
will be selected.
11. A candidate must have a minimum combined SAT score of 1350 and/or a
minimum ACT score of 21.
12. Please send applications to GCEFCU, Scholarship Committee,
5953 Fairmont Pkwy
Pasadena, Texas 77505.
Applications must be received or postmarked by Saturday, February 28, 2015.