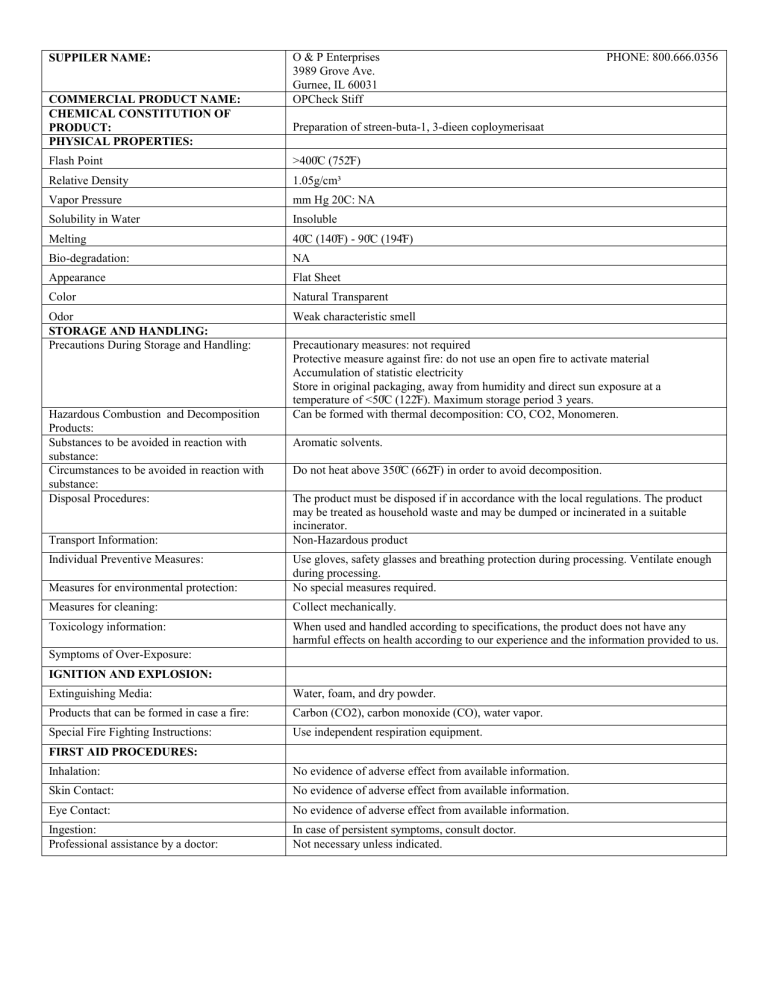 SUPPILER NAME:
COMMERCIAL PRODUCT NAME:
CHEMICAL CONSTITUTION OF
PRODUCT:
PHYSICAL PROPERTIES:
O & P Enterprises
3989 Grove Ave.
Gurnee, IL 60031
OPCheck Stiff
Preparation of streen-buta-1, 3-dieen coploymerisaat
Flash Point
>400̊C (752̊F)
Relative Density
1.05g/cm³
Vapor Pressure
mm Hg 20C: NA
Solubility in Water
Insoluble
Melting
40̊C (140̊F) - 90̊C (194̊F)
Bio-degradation:
NA
Appearance
Flat Sheet
Color
Natural Transparent
Odor
STORAGE AND HANDLING:
Precautions During Storage and Handling:
Weak characteristic smell
Hazardous Combustion and Decomposition
Products:
Substances to be avoided in reaction with
substance:
Circumstances to be avoided in reaction with
substance:
Disposal Procedures:
Transport Information:
Individual Preventive Measures:
PHONE: 800.666.0356
Precautionary measures: not required
Protective measure against fire: do not use an open fire to activate material
Accumulation of statistic electricity
Store in original packaging, away from humidity and direct sun exposure at a
temperature of <50̊C (122̊F). Maximum storage period 3 years.
Can be formed with thermal decomposition: CO, CO2, Monomeren.
Aromatic solvents.
Do not heat above 350̊C (662̊F) in order to avoid decomposition.
The product must be disposed if in accordance with the local regulations. The product
may be treated as household waste and may be dumped or incinerated in a suitable
incinerator.
Non-Hazardous product
Measures for environmental protection:
Use gloves, safety glasses and breathing protection during processing. Ventilate enough
during processing.
No special measures required.
Measures for cleaning:
Collect mechanically.
Toxicology information:
When used and handled according to specifications, the product does not have any
harmful effects on health according to our experience and the information provided to us.
Symptoms of Over-Exposure:
IGNITION AND EXPLOSION:
Extinguishing Media:
Water, foam, and dry powder.
Products that can be formed in case a fire:
Carbon (CO2), carbon monoxide (CO), water vapor.
Special Fire Fighting Instructions:
Use independent respiration equipment.
FIRST AID PROCEDURES:
Inhalation:
No evidence of adverse effect from available information.
Skin Contact:
No evidence of adverse effect from available information.
Eye Contact:
No evidence of adverse effect from available information.
Ingestion:
Professional assistance by a doctor:
In case of persistent symptoms, consult doctor.
Not necessary unless indicated.