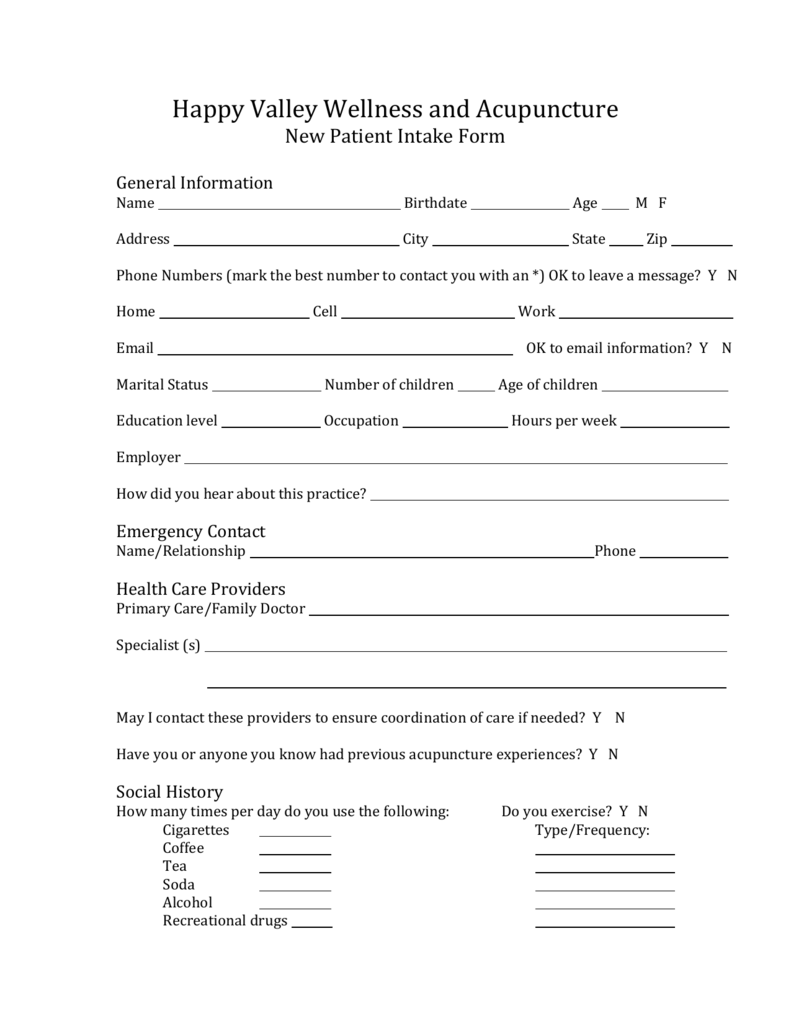 Happy Valley Wellness and Acupuncture
New Patient Intake Form
General Information
Name
Birthdate
Age
Address
City
State
M F
Zip
Phone Numbers (mark the best number to contact you with an *) OK to leave a message? Y N
Home
Cell
Email
Work
OK to email information? Y N
Marital Status
Number of children
Education level
Occupation
Age of children
Hours per week
Employer
How did you hear about this practice?
Emergency Contact
Name/Relationship
Phone
Health Care Providers
Primary Care/Family Doctor
Specialist (s)
May I contact these providers to ensure coordination of care if needed? Y N
Have you or anyone you know had previous acupuncture experiences? Y N
Social History
How many times per day do you use the following:
Cigarettes
Coffee
Tea
Soda
Alcohol
Recreational drugs
Do you exercise? Y N
Type/Frequency:
Past Medical History
Check any condition that you currently have, have ever been treated for, or were ever diagnosed with:
Alcohol abuse
Allergies
Anxiety
Arthritis
Asthma
Atrial fibrillation/irregular heartbeat
Bleeding/clotting disorder
Cancer (type if applicable)
Celiac disease/gluten sensitivity
Congestive heart failure/CHF
COPD
Depression
Diabetes
Depression
Other
Fibromyalgia
Herniated disc
Headaches/Migraines
Heart attack/Myocardial infarction
Hepatitis/Liver disease
High blood pressure/hypertension
High cholesterol/hyperlipidemia
HIV/AIDS
Immune disorder
Joint replacement
Kidney disease/disorder
Low blood pressure/hypotension
Lyme disease
Lymph node removal
Mental illness
Multiple Sclerosis
Pacemaker
Parkinson's
Sciatica
Seizures
Sinus infections
Skin disorder
Stroke
Substance abuse
Thyroid disease
TIA
Ulcers
List any surgeries or hospitalizations you have experienced with the approximate year:
List any medications or supplements you are currently taking:
Family History
List any physical, medical, or mental illnesses and current age or age of death:
Mother:
Father:
Siblings:
Children:
Grandparents:
Current Symptoms
Please check any symptoms you currently experience on a regular basis:
General:
Poor appetite
Poor coordination
Poor balance
Unable to fall asleep
Tremors
Bruise/bleed easily
Unable to stay asleep
Overeating
Sweat easily/heavily
Fatigue
Localized weakness
Chills
Weight loss
Excess thirst
Sudden drop in energy
Weight gain
Fever
Catch colds easily
Other (please specify)
Skin/Hair/Nails:
Rashes
Eczema
Itching
Psoriasis
Dandruff
Hair loss
Redness
Hives
Other (please specify)
Acne
Soft/brittle nails
Head, Eyes, Ears, Nose, Throat:
Dizziness
Poor hearing
Eye pain
Earaches
Blurred vision
Headaches
Floaters
Migraines
Spots in eyes
Recurrent sore throats
Night blindness
Sores on lips/tongue
Ringing in ears
Dry mouth/throat
Other (please specify)
Bleeding gums
Nosebleeds
Facial pain
Jaw clicking/pain
Tooth pain
Lightheadedness
Cardiovascular/Respiratory:
Dizziness
Low blood pressure
High blood pressure
Irregular blood pressure
Irregular heart beat
Fainting
Cold hands/feet
Other (please specify)
Chest pain
Blood clots
Difficulty breathing
Palpitations
Cough
Asthma/COPD
Bronchitis
Pneumonia
Phlegm
Pain with deep breaths
Shortness of breath
Congestion
Difficulty breathing when lying
Swelling in hands/feet
Urinary/Genital:
Pain with urination
Frequent urination
Unable to hold urine
Waking at night to urinate
Other (please specify)
Kidney stones
Blood in urine
Urgency to urinate
Unable to hold urine
Impotence
Decrease in urine flow
Sores on genitals
Gastrointestinal:
Nausea
Abdominal pain/cramps
Vomiting
Indigestion
Constipation
Heartburn/reflux
Diarrhea
Food retention
Gas
Lack of appetite
Bloating
Excess appetite
Belching
Rectal pain
Other (please specify)
Musculoskeletal:
Neck pain
Foot/ankle pain
Back pain
Shoulder pain
Knee pain
Hip pain
Muscle pain
Hand/wrist pain
Other (please specify)
Autoimmune/Inflammatory:
Hashimoto's disease
Systemic Lupus Erythematosus
Atopic dermatitis
Neurodermatitis
Alopecia (baldness)
Other (please specify)
Black stools
Blood in stools
Hemorrhoids
Bad breath
Sensitive abdomen
Chronic laxative use
Sciatica
Muscle weakness
Rheumatism
Colitis
Crohn's
Allergies
Food allergies
Cellulitis
Sinus issues
Vulvitis
Celiac disease
Female/Gynecological:
Painful menses
Irregular menses
Vaginal dryness
Vaginal discharge/odor
Ovarian cysts
Other (please specify)
Breast lumps/swelling
Fibroids
Endometriosis
Hot flashes
Urinary tract infections
Male Reproductive issues:
Testicular pain
Decreased sex drive
Infertility issues
Other (please specify)
Painful urination
Penile discharge
Inability to maintain/achieve erections
Do you have any scars? Y N Location:
Infertility issues
PMS
Sexually transmitted diseases
Decreased sex drive
Lifestyle:
How many hours of sleep do you get per night?
Do you feel rested in the morning? Y N
On a scale of 1-10, how much stress do you have?
On a scale of 1-10, how much energy do you have?
Do you enjoy hobbies? Please list:
How many hours do you work per week?
Do you enjoy your job? Y
N
What kind of goals do you have for your health? Circle the most important goal:
What do you hope to achieve with acupuncture?