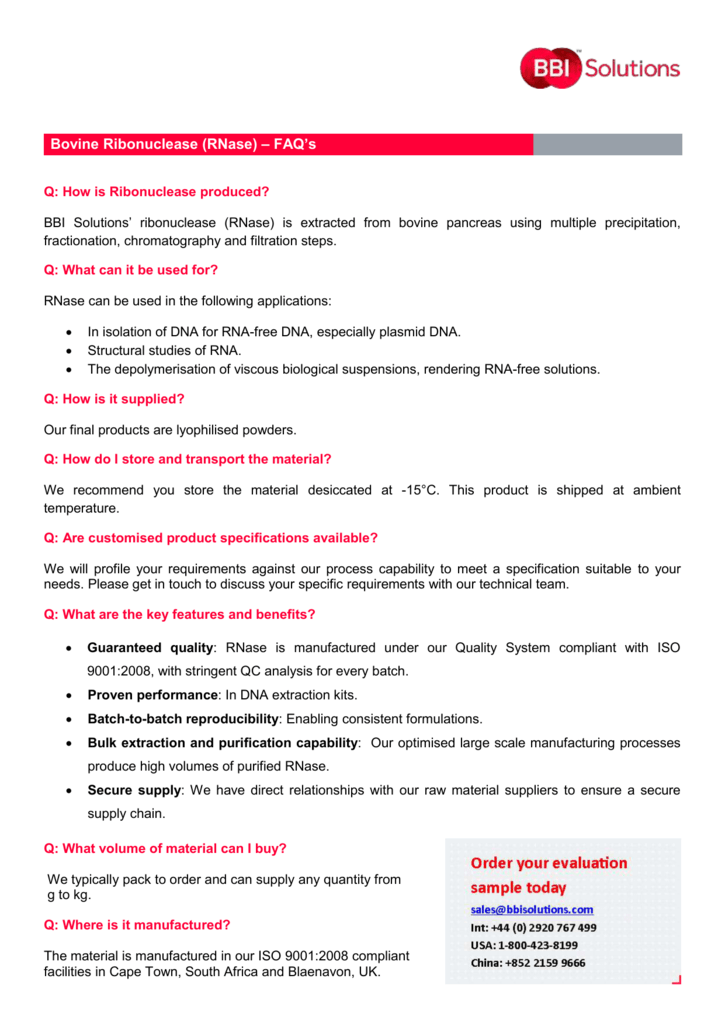 Bovine Ribonuclease (RNase) – FAQ's
Q: How is Ribonuclease produced?
BBI Solutions' ribonuclease (RNase) is extracted from bovine pancreas using multiple precipitation,
fractionation, chromatography and filtration steps.
Q: What can it be used for?
RNase can be used in the following applications:



In isolation of DNA for RNA-free DNA, especially plasmid DNA.
Structural studies of RNA.
The depolymerisation of viscous biological suspensions, rendering RNA-free solutions.
Q: How is it supplied?
Our final products are lyophilised powders.
Q: How do I store and transport the material?
We recommend you store the material desiccated at -15°C. This product is shipped at ambient
temperature.
Q: Are customised product specifications available?
We will profile your requirements against our process capability to meet a specification suitable to your
needs. Please get in touch to discuss your specific requirements with our technical team.
Q: What are the key features and benefits?

Guaranteed quality: RNase is manufactured under our Quality System compliant with ISO
9001:2008, with stringent QC analysis for every batch.

Proven performance: In DNA extraction kits.

Batch-to-batch reproducibility: Enabling consistent formulations.

Bulk extraction and purification capability: Our optimised large scale manufacturing processes
produce high volumes of purified RNase.

Secure supply: We have direct relationships with our raw material suppliers to ensure a secure
supply chain.
Q: What volume of material can I buy?
We typically pack to order and can supply any quantity from
g to kg.
Q: Where is it manufactured?
The material is manufactured in our ISO 9001:2008 compliant
facilities in Cape Town, South Africa and Blaenavon, UK.