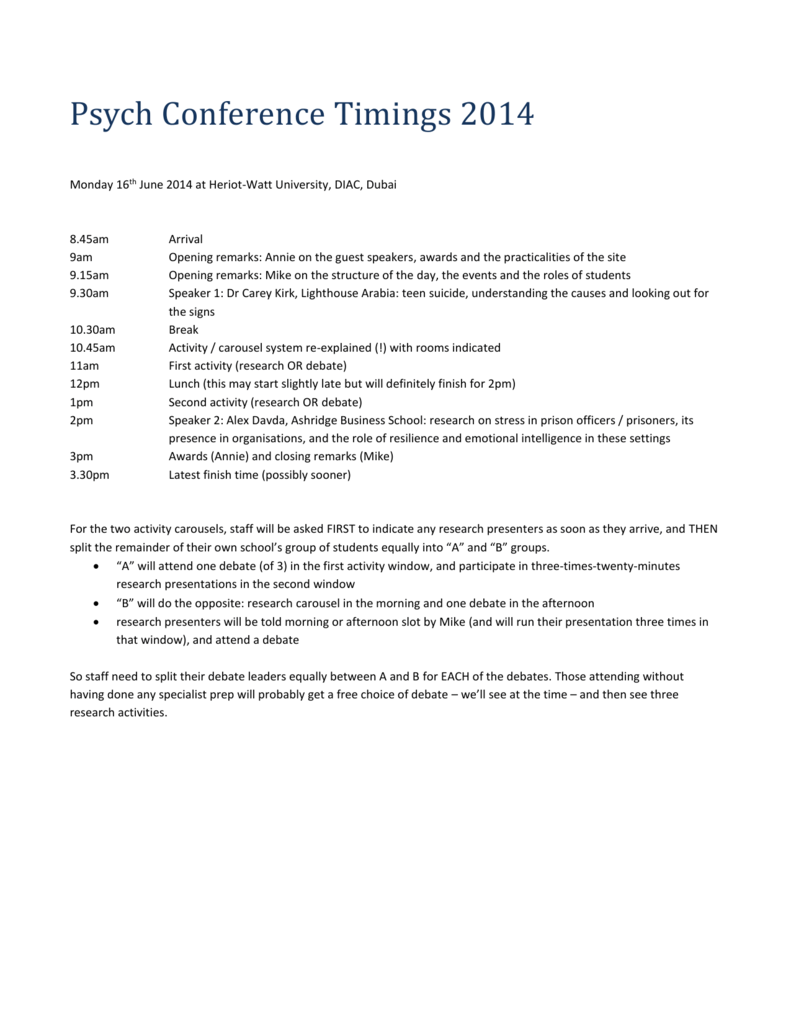 Psych Conference Timings 2014
Monday 16th June 2014 at Heriot-Watt University, DIAC, Dubai
8.45am
9am
9.15am
9.30am
10.30am
10.45am
11am
12pm
1pm
2pm
3pm
3.30pm
Arrival
Opening remarks: Annie on the guest speakers, awards and the practicalities of the site
Opening remarks: Mike on the structure of the day, the events and the roles of students
Speaker 1: Dr Carey Kirk, Lighthouse Arabia: teen suicide, understanding the causes and looking out for
the signs
Break
Activity / carousel system re-explained (!) with rooms indicated
First activity (research OR debate)
Lunch (this may start slightly late but will definitely finish for 2pm)
Second activity (research OR debate)
Speaker 2: Alex Davda, Ashridge Business School: research on stress in prison officers / prisoners, its
presence in organisations, and the role of resilience and emotional intelligence in these settings
Awards (Annie) and closing remarks (Mike)
Latest finish time (possibly sooner)
For the two activity carousels, staff will be asked FIRST to indicate any research presenters as soon as they arrive, and THEN
split the remainder of their own school's group of students equally into "A" and "B" groups.
 "A" will attend one debate (of 3) in the first activity window, and participate in three-times-twenty-minutes
research presentations in the second window
 "B" will do the opposite: research carousel in the morning and one debate in the afternoon
 research presenters will be told morning or afternoon slot by Mike (and will run their presentation three times in
that window), and attend a debate
So staff need to split their debate leaders equally between A and B for EACH of the debates. Those attending without
having done any specialist prep will probably get a free choice of debate – we'll see at the time – and then see three
research activities.