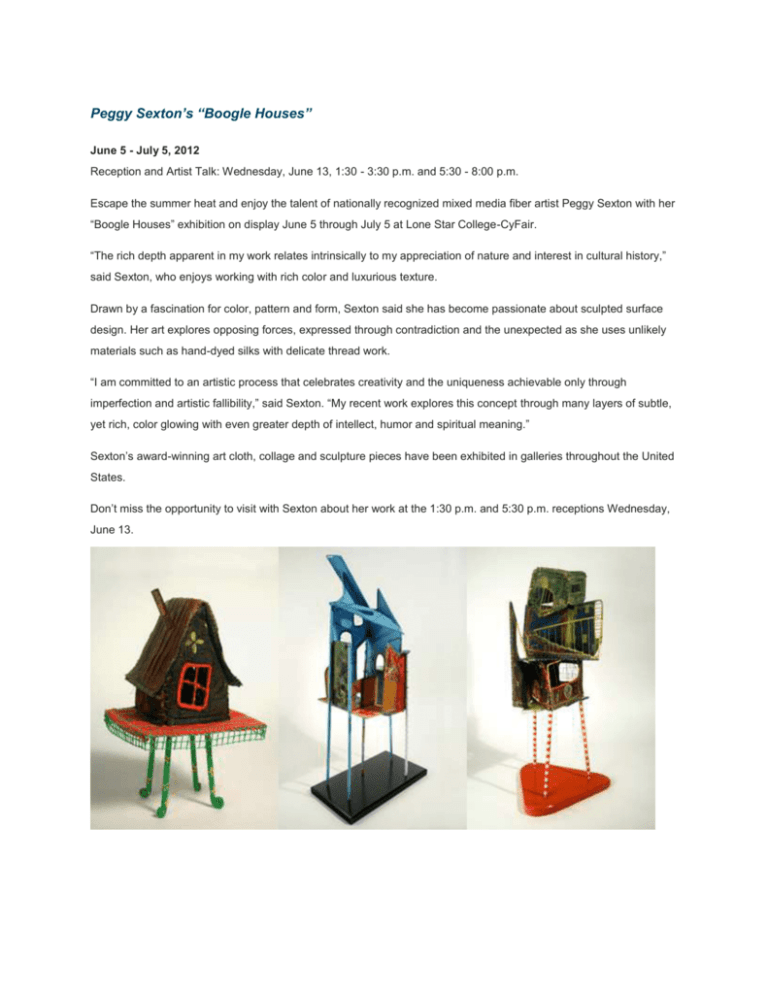 Peggy Sexton's "Boogle Houses"
June 5 - July 5, 2012
Reception and Artist Talk: Wednesday, June 13, 1:30 - 3:30 p.m. and 5:30 - 8:00 p.m.
Escape the summer heat and enjoy the talent of nationally recognized mixed media fiber artist Peggy Sexton with her
"Boogle Houses" exhibition on display June 5 through July 5 at Lone Star College-CyFair.
"The rich depth apparent in my work relates intrinsically to my appreciation of nature and interest in cultural history,"
said Sexton, who enjoys working with rich color and luxurious texture.
Drawn by a fascination for color, pattern and form, Sexton said she has become passionate about sculpted surface
design. Her art explores opposing forces, expressed through contradiction and the unexpected as she uses unlikely
materials such as hand-dyed silks with delicate thread work.
"I am committed to an artistic process that celebrates creativity and the uniqueness achievable only through
imperfection and artistic fallibility," said Sexton. "My recent work explores this concept through many layers of subtle,
yet rich, color glowing with even greater depth of intellect, humor and spiritual meaning."
Sexton's award-winning art cloth, collage and sculpture pieces have been exhibited in galleries throughout the United
States.
Don't miss the opportunity to visit with Sexton about her work at the 1:30 p.m. and 5:30 p.m. receptions Wednesday,
June 13.