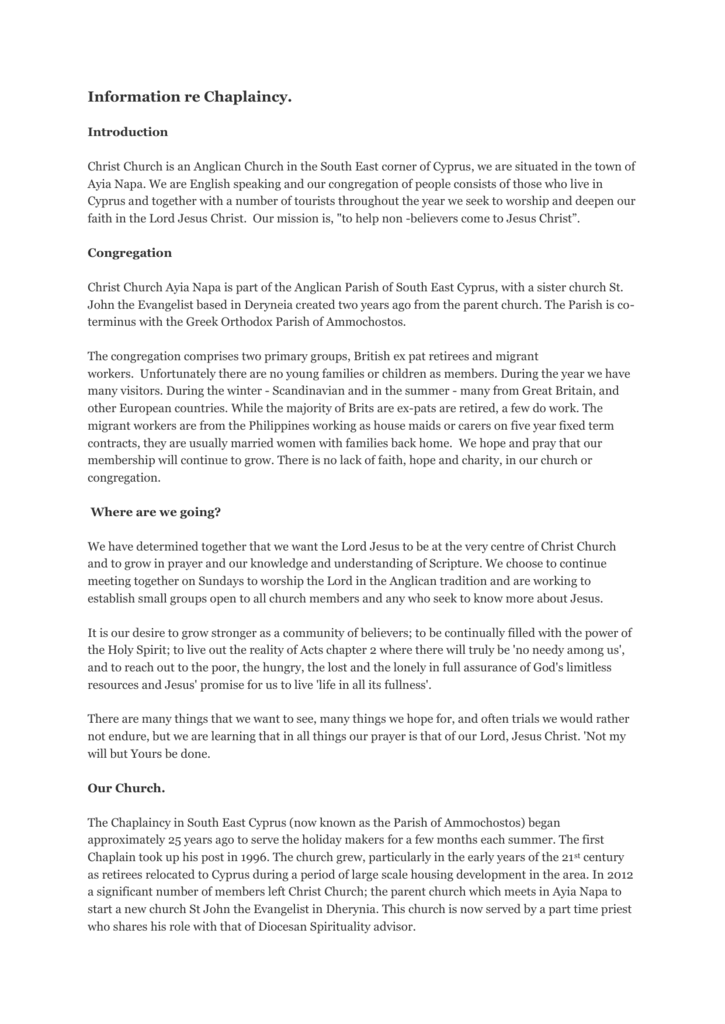 Information re Chaplaincy.
Introduction
Christ Church is an Anglican Church in the South East corner of Cyprus, we are situated in the town of
Ayia Napa. We are English speaking and our congregation of people consists of those who live in
Cyprus and together with a number of tourists throughout the year we seek to worship and deepen our
faith in the Lord Jesus Christ. Our mission is, "to help non -believers come to Jesus Christ".
Congregation
Christ Church Ayia Napa is part of the Anglican Parish of South East Cyprus, with a sister church St.
John the Evangelist based in Deryneia created two years ago from the parent church. The Parish is coterminus with the Greek Orthodox Parish of Ammochostos.
The congregation comprises two primary groups, British ex pat retirees and migrant
workers. Unfortunately there are no young families or children as members. During the year we have
many visitors. During the winter - Scandinavian and in the summer - many from Great Britain, and
other European countries. While the majority of Brits are ex-pats are retired, a few do work. The
migrant workers are from the Philippines working as house maids or carers on five year fixed term
contracts, they are usually married women with families back home. We hope and pray that our
membership will continue to grow. There is no lack of faith, hope and charity, in our church or
congregation.
Where are we going?
We have determined together that we want the Lord Jesus to be at the very centre of Christ Church
and to grow in prayer and our knowledge and understanding of Scripture. We choose to continue
meeting together on Sundays to worship the Lord in the Anglican tradition and are working to
establish small groups open to all church members and any who seek to know more about Jesus.
It is our desire to grow stronger as a community of believers; to be continually filled with the power of
the Holy Spirit; to live out the reality of Acts chapter 2 where there will truly be 'no needy among us',
and to reach out to the poor, the hungry, the lost and the lonely in full assurance of God's limitless
resources and Jesus' promise for us to live 'life in all its fullness'.
There are many things that we want to see, many things we hope for, and often trials we would rather
not endure, but we are learning that in all things our prayer is that of our Lord, Jesus Christ. 'Not my
will but Yours be done.
Our Church.
The Chaplaincy in South East Cyprus (now known as the Parish of Ammochostos) began
approximately 25 years ago to serve the holiday makers for a few months each summer. The first
Chaplain took up his post in 1996. The church grew, particularly in the early years of the 21 st century
as retirees relocated to Cyprus during a period of large scale housing development in the area. In 2012
a significant number of members left Christ Church; the parent church which meets in Ayia Napa to
start a new church St John the Evangelist in Dherynia. This church is now served by a part time priest
who shares his role with that of Diocesan Spirituality advisor.
At this time a new Constitution was introduced for Ammochostos Parish, which encompasses both
churches, and providing each with its own Church Council.
There is also a close link with the British base churches in Dhekelia and Ayios Nikolaos in the area.
Our Members.
Our members come from a very wide range of Christian denominations being drawn together by our
love of our Lord Jesus Christ and are committed to demonstrate unity within the diversity of church
backgrounds.
The electoral roll has 62 members consisting of 46 British, 14 Filipinos, 1 Hungarian and 1
Zimbabwean.
The congregation is enhanced by regular visitors who have a holiday home in Cyprus and split their
time between 2 countries and tourists from many parts of the world, including holiday makers and
wedding parties. Many coming as a result of the information displayed on our website, provided to the
local information centres and hotels.
Our home.
We do not have our own building. On Sunday mornings our services are held in the modern
Scandinavian Church. This is situated to the west of Ayia Napa, and is served by a bus route covering
the small "town" of Paralimni and the tourist areas of Protaras and Ayia Napa.
We also have use of a small Orthodox Chapel for weddings and a large hotel chapel for occasional
services.
All mid-week groups and meetings take place in various homes and venues.
There is a strong sense that we are being led to have our own premises to enable the expansion of our
church programme and better serve our Lord and the local community.
Worship
There are several opportunities for the members to worship together on a regular basis. The main
service of the week in held on Sunday at 11.00am, but on the second Sunday of the month an
additional service of Holy Communion is held at 9.00am.
The usual pattern of services is as follows and "Common Worship" is used.
1st Sunday
11.00am Holy Communion in a 'formal' style
2nd Sunday
9.00am Holy Communion
11.00am Morning Prayer (or Service of the Word)
3rd and 4th Sunday
11.00am Holy Communion in a less formal style
5th Sunday
11.00am A service of 'Songs of Praise'
At each of the Sunday services there is a sermon. The preacher is expected to work diligently in
preparation as the membership is used to and expects an exegesis of the Word with relevant
application normally as part of a sermon series based on a particular Bible Book or the Lectionary
Readings.
Our 'style' of worship could be described as 'low'. The hymnbook which is mostly used is 'Mission
Praise' but this is augmented from other sources when appropriate. A small group of musicians assist
with sustaining the singing. Christ Church does not have a choir.
Vestments are used for the more formal Communion Service on the first Sunday of the month and
other formal occasions. For other services it is at the discretion of the Minister.