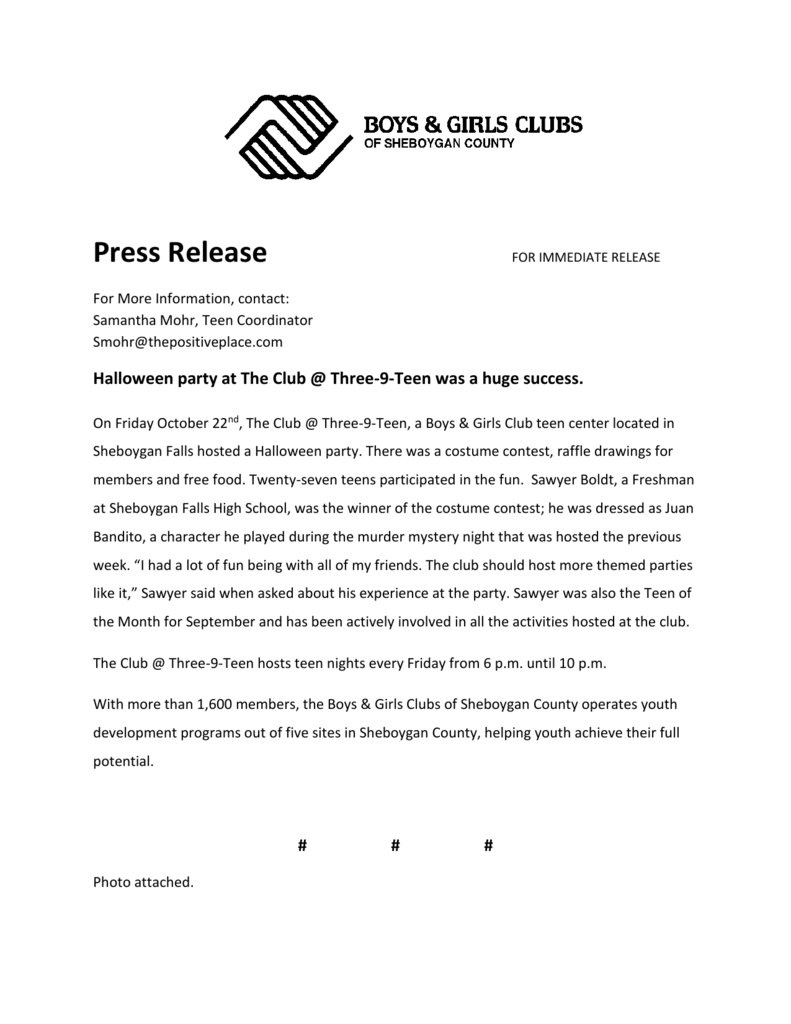 Press Release
FOR IMMEDIATE RELEASE
For More Information, contact:
Samantha Mohr, Teen Coordinator
[email protected]
Halloween party at The Club @ Three-9-Teen was a huge success.
On Friday October 22nd, The Club @ Three-9-Teen, a Boys & Girls Club teen center located in
Sheboygan Falls hosted a Halloween party. There was a costume contest, raffle drawings for
members and free food. Twenty-seven teens participated in the fun. Sawyer Boldt, a Freshman
at Sheboygan Falls High School, was the winner of the costume contest; he was dressed as Juan
Bandito, a character he played during the murder mystery night that was hosted the previous
week. "I had a lot of fun being with all of my friends. The club should host more themed parties
like it," Sawyer said when asked about his experience at the party. Sawyer was also the Teen of
the Month for September and has been actively involved in all the activities hosted at the club.
The Club @ Three-9-Teen hosts teen nights every Friday from 6 p.m. until 10 p.m.
With more than 1,600 members, the Boys & Girls Clubs of Sheboygan County operates youth
development programs out of five sites in Sheboygan County, helping youth achieve their full
potential.
#
Photo attached.
#
#
Members pictured from left: Kayleigh Schmidt, Sawyer Boldt, and Adina Kasimoff.