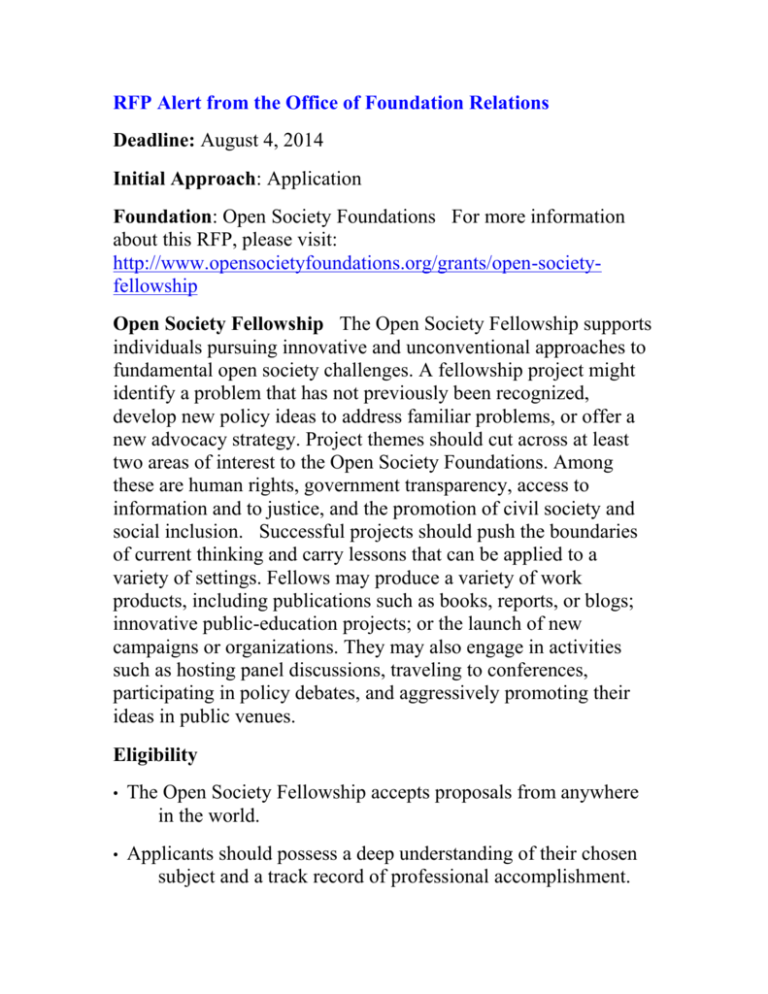 RFP Alert from the Office of Foundation Relations
Deadline: August 4, 2014
Initial Approach: Application
Foundation: Open Society Foundations
For more information
about this RFP, please visit:
http://www.opensocietyfoundations.org/grants/open-societyfellowship
Open Society Fellowship
The Open Society Fellowship supports
individuals pursuing innovative and unconventional approaches to
fundamental open society challenges. A fellowship project might
identify a problem that has not previously been recognized,
develop new policy ideas to address familiar problems, or offer a
new advocacy strategy. Project themes should cut across at least
two areas of interest to the Open Society Foundations. Among
these are human rights, government transparency, access to
information and to justice, and the promotion of civil society and
social inclusion.
Successful projects should push the boundaries
of current thinking and carry lessons that can be applied to a
variety of settings. Fellows may produce a variety of work
products, including publications such as books, reports, or blogs;
innovative public-education projects; or the launch of new
campaigns or organizations. They may also engage in activities
such as hosting panel discussions, traveling to conferences,
participating in policy debates, and aggressively promoting their
ideas in public venues.
Eligibility
•
The Open Society Fellowship accepts proposals from anywhere
in the world.
•
Applicants should possess a deep understanding of their chosen
subject and a track record of professional accomplishment.
Past and current fellows have included journalists, activists,
academics, and practitioners in a variety of fields.
•
Successful applicants will be eager to exploit the many resources
offered by the Open Society Foundations and be prepared to
engage constructively with our global network.
•
Ideal fellows are specialists who can see beyond the
parochialisms of their field and possess the tenacity to
complete a project of exceptional merit.
•
Proficiency in spoken English is required.
Award
Full-time fellows will receive a stipend of $80,000 or
$100,000, depending on work experience, seniority, cost of living,
and current income.
Additional Information
The fellowship does not fund
enrollment for degree or non-degree study at academic institutions,
including dissertation research. This is a fellowship for individuals
only; proposals from two or more applicants will not be accepted.
Proposals will be evaluated by June 1, 2014.
If you are interested in applying to this funding opportunity,
please contact:
Susan Dauber
Associate Director
Office of
Foundation Relations
Phone: 847-4675046
susan.dauber@northwestern.edu
If you are interested in
learning about private foundation funding opportunities, please
visit the Office of Foundation Relations website:
http://www.northwestern.edu/foundationrelations/.
COLLABORATION OPPORTUNITIES:
The Office of
Research Development offers assistance in identifying and
facilitating collaborations, putting together interdisciplinary teams,
programmatic and administrative development of large, crossschool proposals, and leveraging institutional resources for
outreach and education. Contact Fruma Yehiely
(yehiely@northwestern.edu), Director of ORD, for more
information.