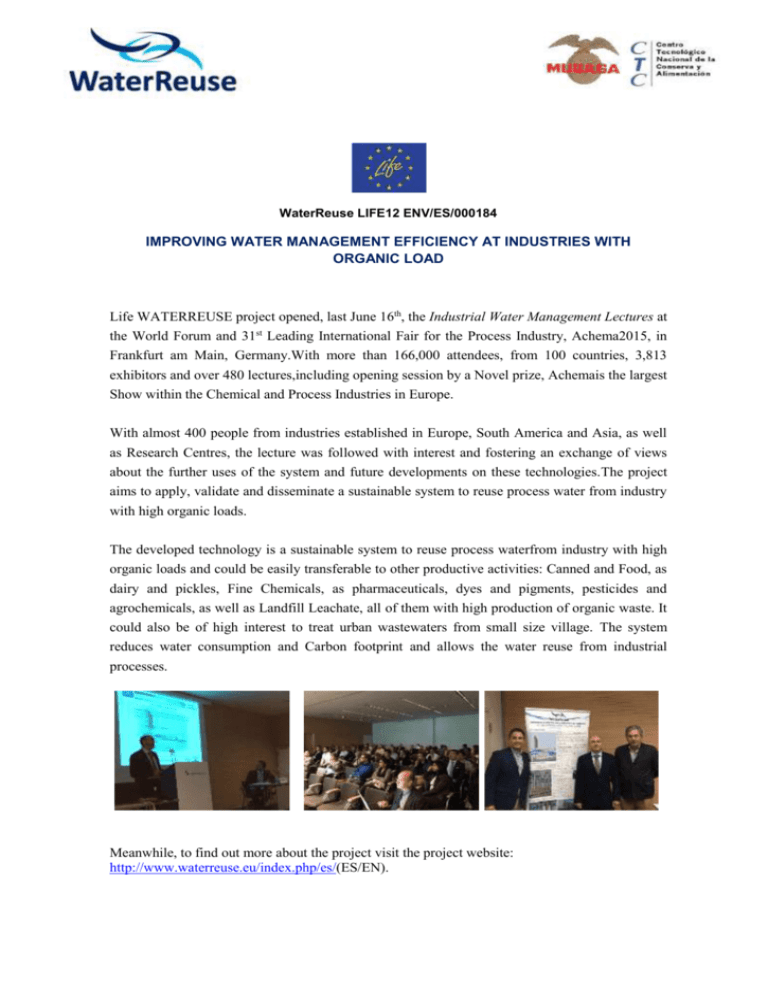 WaterReuse LIFE12 ENV/ES/000184
IMPROVING WATER MANAGEMENT EFFICIENCY AT INDUSTRIES WITH
ORGANIC LOAD
Life WATERREUSE project opened, last June 16th, the Industrial Water Management Lectures at
the World Forum and 31st Leading International Fair for the Process Industry, Achema2015, in
Frankfurt am Main, Germany.With more than 166,000 attendees, from 100 countries, 3,813
exhibitors and over 480 lectures,including opening session by a Novel prize, Achemais the largest
Show within the Chemical and Process Industries in Europe.
With almost 400 people from industries established in Europe, South America and Asia, as well
as Research Centres, the lecture was followed with interest and fostering an exchange of views
about the further uses of the system and future developments on these technologies.The project
aims to apply, validate and disseminate a sustainable system to reuse process water from industry
with high organic loads.
The developed technology is a sustainable system to reuse process waterfrom industry with high
organic loads and could be easily transferable to other productive activities: Canned and Food, as
dairy and pickles, Fine Chemicals, as pharmaceuticals, dyes and pigments, pesticides and
agrochemicals, as well as Landfill Leachate, all of them with high production of organic waste. It
could also be of high interest to treat urban wastewaters from small size village. The system
reduces water consumption and Carbon footprint and allows the water reuse from industrial
processes.
Meanwhile, to find out more about the project visit the project website:
http://www.waterreuse.eu/index.php/es/(ES/EN).