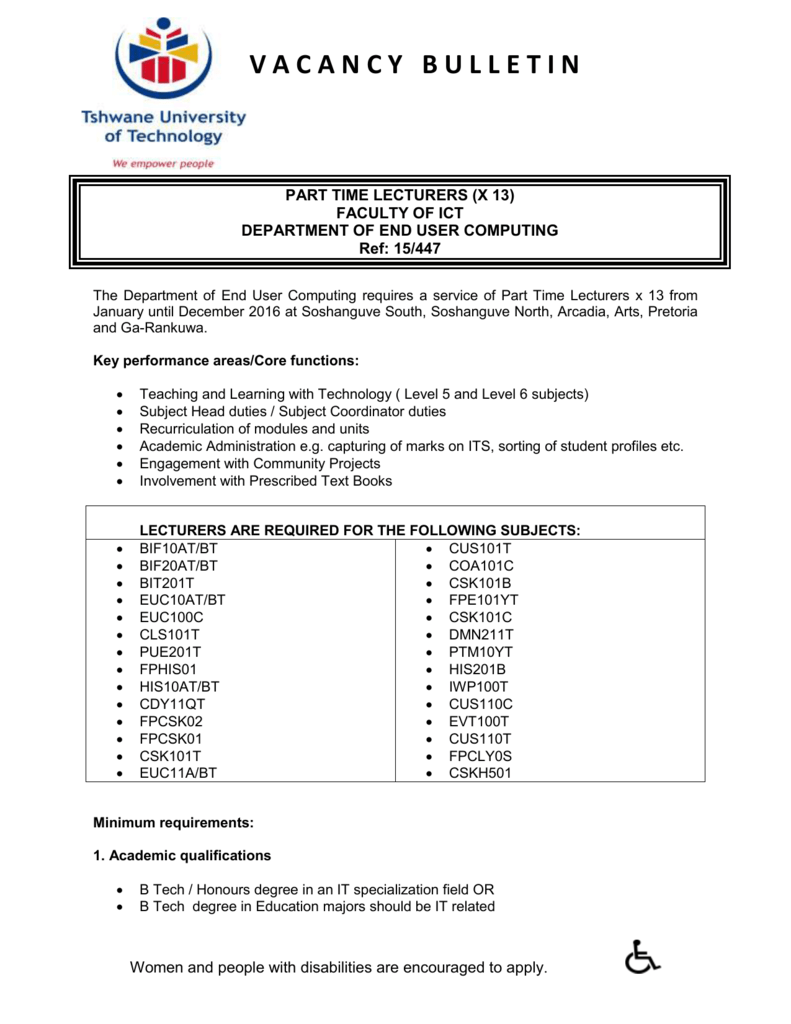 VACANCY BULLETIN
PART TIME LECTURERS (X 13)
FACULTY OF ICT
DEPARTMENT OF END USER COMPUTING
Ref: 15/447
The Department of End User Computing requires a service of Part Time Lecturers x 13 from
January until December 2016 at Soshanguve South, Soshanguve North, Arcadia, Arts, Pretoria
and Ga-Rankuwa.
Key performance areas/Core functions:






Teaching and Learning with Technology ( Level 5 and Level 6 subjects)
Subject Head duties / Subject Coordinator duties
Recurriculation of modules and units
Academic Administration e.g. capturing of marks on ITS, sorting of student profiles etc.
Engagement with Community Projects
Involvement with Prescribed Text Books














LECTURERS ARE REQUIRED FOR THE FOLLOWING SUBJECTS:
BIF10AT/BT
 CUS101T
BIF20AT/BT
 COA101C
BIT201T
 CSK101B
EUC10AT/BT
 FPE101YT
EUC100C
 CSK101C
CLS101T
 DMN211T
PUE201T
 PTM10YT
FPHIS01
 HIS201B
HIS10AT/BT
 IWP100T
CDY11QT
 CUS110C
FPCSK02
 EVT100T
FPCSK01
 CUS110T
CSK101T
 FPCLY0S
EUC11A/BT
 CSKH501
Minimum requirements:
1. Academic qualifications


B Tech / Honours degree in an IT specialization field OR
B Tech degree in Education majors should be IT related
Women and people with disabilities are encouraged to apply.
VACANCY BULLETIN
Experience:

Minimum of 1 year at a tertiary institution, not as an assistant or mentor but as a lecturer.
Registration with professional body (if applicable):

N/A
Send your CV to: [email protected]
Enquiries: Ms. M Sebothoma (Tel. 012-382 9939)
Closing Date: 16 November 2015
If we have not responded within a month of the closing date, you should regard your application
as unsuccessful. Correspondence will be entered into only with short-listed candidates. The
University reserves the right not to make an appointment. Candidates will be required to
undergo psychometric tests and any other simulation interventions.
Candidates are also required to complete the application form for employment. The
application is available on the University's website, share point and the University's
intranet
Women and people with disabilities are encouraged to apply.