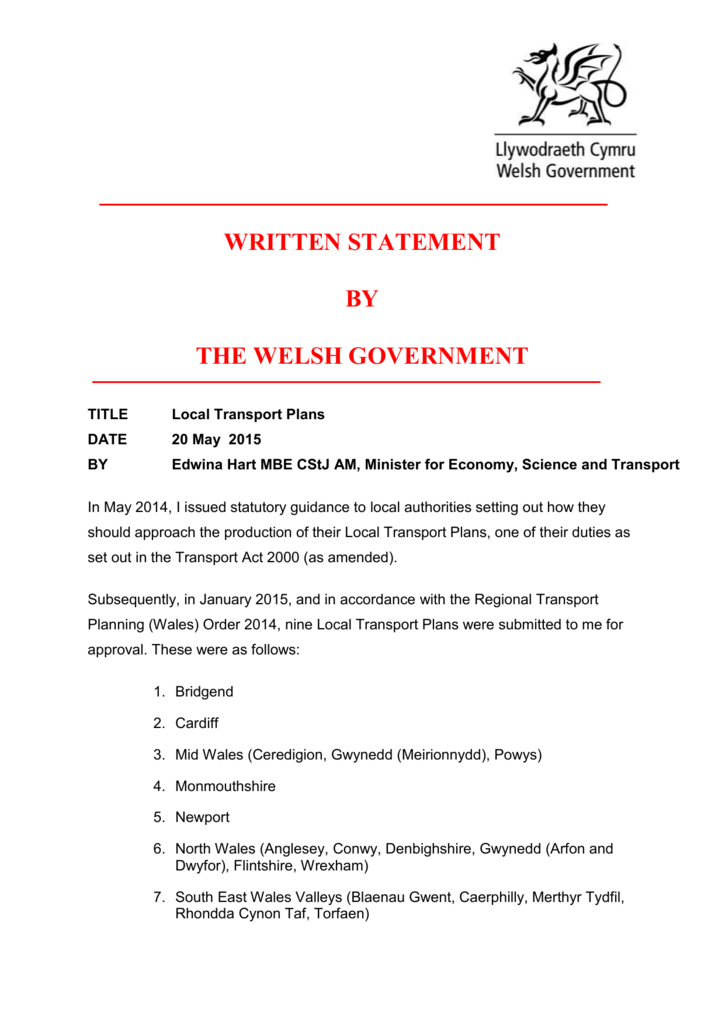 WRITTEN STATEMENT
BY
THE WELSH GOVERNMENT
TITLE
Local Transport Plans
DATE
20 May 2015
BY
Edwina Hart MBE CStJ AM, Minister for Economy, Science and Transport
In May 2014, I issued statutory guidance to local authorities setting out how they
should approach the production of their Local Transport Plans, one of their duties as
set out in the Transport Act 2000 (as amended).
Subsequently, in January 2015, and in accordance with the Regional Transport
Planning (Wales) Order 2014, nine Local Transport Plans were submitted to me for
approval. These were as follows:
1. Bridgend
2. Cardiff
3. Mid Wales (Ceredigion, Gwynedd (Meirionnydd), Powys)
4. Monmouthshire
5. Newport
6. North Wales (Anglesey, Conwy, Denbighshire, Gwynedd (Arfon and
Dwyfor), Flintshire, Wrexham)
7. South East Wales Valleys (Blaenau Gwent, Caerphilly, Merthyr Tydfil,
Rhondda Cynon Taf, Torfaen)
8. South West Wales (Carmarthenshire, Neath Port Talbot,
Pembrokeshire, Swansea)
9. Vale of Glamorgan
In accordance with the legislative requirements set out in the Transport Act (2000) as
amended, I am satisfied that the plans contain policies for the promotion and
encouragement of safe and efficient transport. I am also satisfied that the plans
contain policies for the implementation of the Wales Transport Strategy, and have
taken regard of the statutory guidance.
For this reason I am able to approve the plans as submitted to me. It should be
noted that my approval of the plans does not imply approval of the process the local
authorities have followed, including compliance with statutory duties placed upon
them.