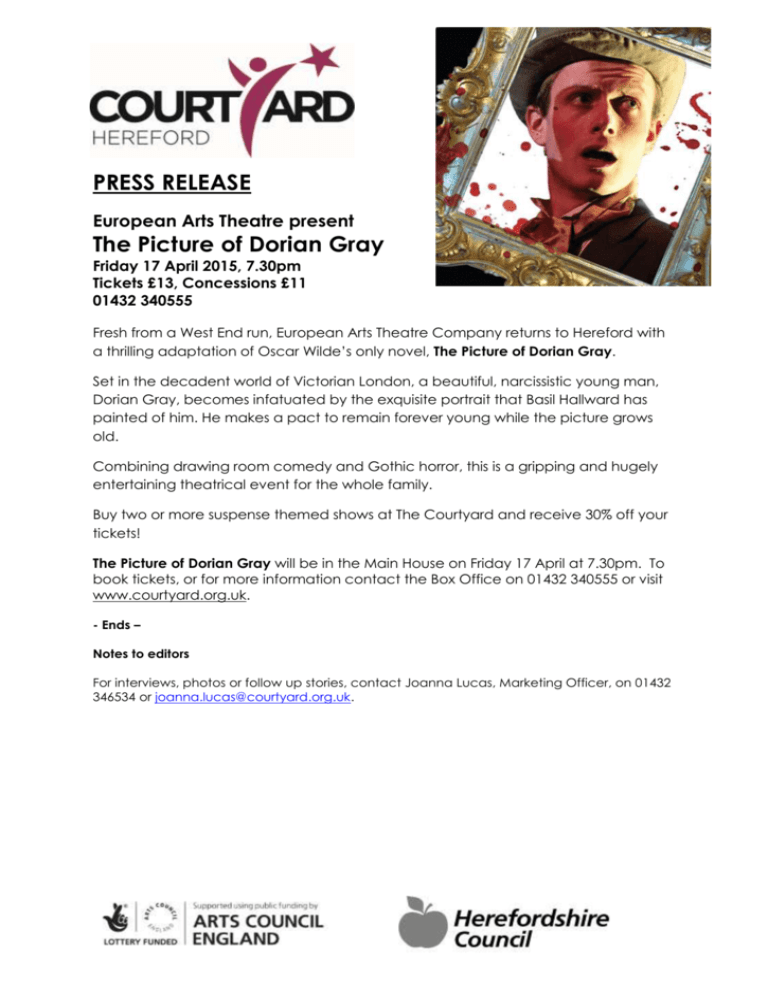 PRESS RELEASE
European Arts Theatre present
The Picture of Dorian Gray
Friday 17 April 2015, 7.30pm
Tickets £13, Concessions £11
01432 340555
Fresh from a West End run, European Arts Theatre Company returns to Hereford with
a thrilling adaptation of Oscar Wilde's only novel, The Picture of Dorian Gray.
Set in the decadent world of Victorian London, a beautiful, narcissistic young man,
Dorian Gray, becomes infatuated by the exquisite portrait that Basil Hallward has
painted of him. He makes a pact to remain forever young while the picture grows
old.
Combining drawing room comedy and Gothic horror, this is a gripping and hugely
entertaining theatrical event for the whole family.
Buy two or more suspense themed shows at The Courtyard and receive 30% off your
tickets!
The Picture of Dorian Gray will be in the Main House on Friday 17 April at 7.30pm. To
book tickets, or for more information contact the Box Office on 01432 340555 or visit
www.courtyard.org.uk.
- Ends –
Notes to editors
For interviews, photos or follow up stories, contact Joanna Lucas, Marketing Officer, on 01432
346534 or joanna.lucas@courtyard.org.uk.