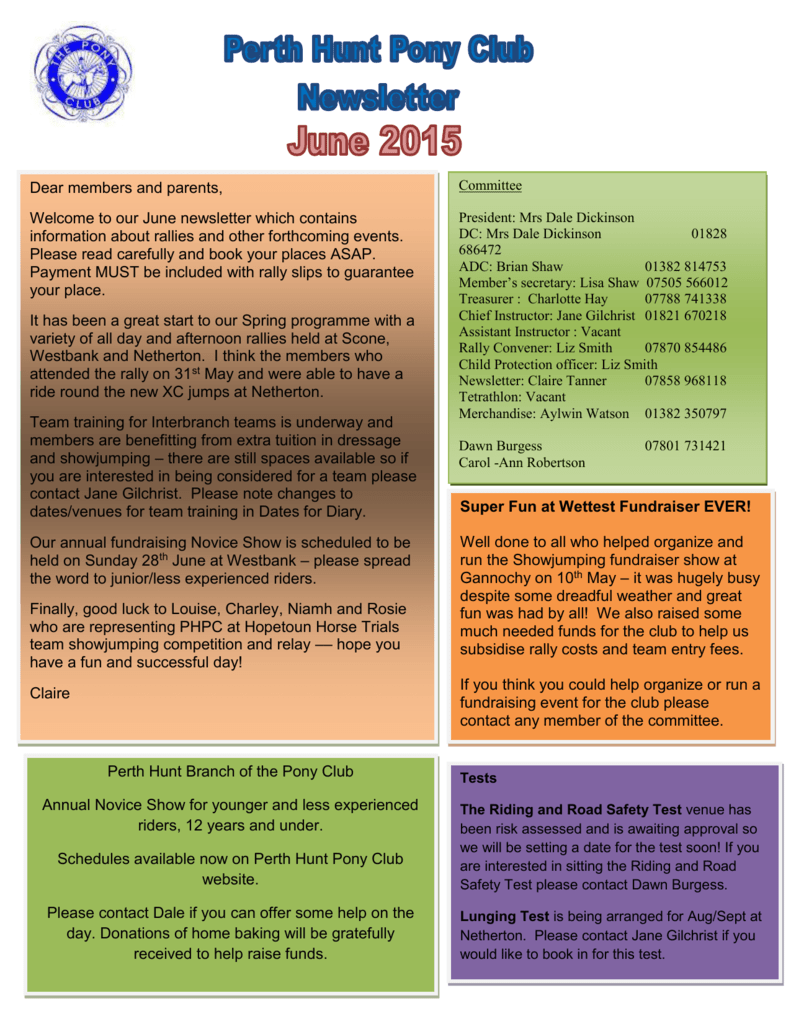 Dear members and parents,
Committee
Welcome to our June newsletter which contains
information about rallies and other forthcoming events.
Please read carefully and book your places ASAP.
Payment MUST be included with rally slips to guarantee
your place.
President: Mrs Dale Dickinson
DC: Mrs Dale Dickinson
01828
686472
ADC: Brian Shaw
01382 814753
Member's secretary: Lisa Shaw 07505 566012
Treasurer : Charlotte Hay
07788 741338
Chief Instructor: Jane Gilchrist 01821 670218
Assistant Instructor : Vacant
Rally Convener: Liz Smith
07870 854486
Child Protection officer: Liz Smith
Newsletter: Claire Tanner
07858 968118
Tetrathlon: Vacant
Merchandise: Aylwin Watson 01382 350797
It has been a great start to our Spring programme with a
variety of all day and afternoon rallies held at Scone,
Westbank and Netherton. I think the members who
attended the rally on 31st May and were able to have a
ride round the new XC jumps at Netherton.
Team training for Interbranch teams is underway and
members are benefitting from extra tuition in dressage
and showjumping – there are still spaces available so if
you are interested in being considered for a team please
contact Jane Gilchrist. Please note changes to
dates/venues for team training in Dates for Diary.
Our annual fundraising Novice Show is scheduled to be
held on Sunday 28th June at Westbank – please spread
the word to junior/less experienced riders.
Finally, good luck to Louise, Charley, Niamh and Rosie
who are representing PHPC at Hopetoun Horse Trials
team showjumping competition and relay –– hope you
have a fun and successful day!
Dawn Burgess
Carol -Ann Robertson
07801 731421
Super Fun at Wettest Fundraiser EVER!
Well done to all who helped organize and
run the Showjumping fundraiser show at
Gannochy on 10th May – it was hugely busy
despite some dreadful weather and great
fun was had by all! We also raised some
much needed funds for the club to help us
subsidise rally costs and team entry fees.
If you think you could help organize or run a
fundraising event for the club please
contact any member of the committee.
Claire
Perth Hunt Branch of the Pony Club
Annual Novice Show for younger and less experienced
riders, 12 years and under.
Tests
Schedules available now on Perth Hunt Pony Club
website.
The Riding and Road Safety Test venue has
been risk assessed and is awaiting approval so
we will be setting a date for the test soon! If you
are interested in sitting the Riding and Road
Safety Test please contact Dawn Burgess.
Please contact Dale if you can offer some help on the
day. Donations of home baking will be gratefully
received to help raise funds.
Lunging Test is being arranged for Aug/Sept at
Netherton. Please contact Jane Gilchrist if you
would like to book in for this test.
DATES FOR YOUR DIARY
MID TERM RALLIES
Friday 12 June – evening @ Scone (PLEASE NOTE
CHANGE OF VENUE)
SUMMER RALLIES
Sunday 5 July – half day @ Netherton (XC tbc)
Tuesday 7 July - all day @ Scone
Wednesday 22 July – evening @ Scone
Sunday 2 August - all day @ Scone
Thursday 6 August – evening @ Netherton (XC tbc)
Friday 14 August - evening @ Scone
Sunday 23 August – half day @ Scone
OCTOBER RALLIES
Wednesday 14 October – half day @ Scone
Sunday 18 October – half day @ Scone
Saturday 24 October – half day @ Westbank
TEAM TRAINING
Friday 19 June evening TEAM TRAINING (DR), Scone
Friday 26 June evening TEAM TRAINING (DR), Scone
Friday 3 July - CANCELLED
Friday 10 July evening TEAM TRAINING (SJ), Scone
OTHER DATES
Sunday 28 June - NOVICE SHOW @ Westbank
Monday 13-18 July – CAMP
Tuesday 28-30 – INTERBRANCH @ Auchlishie
Saturday 29-30 GRASS ROOTS inc ODE, West Perthshire
PC
Sunday 6 September - CUP DAY @ Scone
Cup Day
Cup Day will be held on 6th September at our
Club Field @ Scone Racecourse. More details
and schedules will be sent out in due course.
Could all trophy winners from last year please
ensure that you have your trophies engraved and
returned to Dawn Burgess before 14th August.
CAMP 2015
Camp is fast approaching and we are busy arranging
a wide variety of instruction in both riding and stable
management, a guest instructor or two and a whole
host of evening activities. We will be running some
team building activities on Monday, an equine physio
demonstration on Tuesday, movie night on
Wednesday, competition prep on Thursday and our
famous BRBQ, prize giving and water fight on
Friday!
Please remember to complete your booking form
and send it, along with payment, to Carol-Ann by 30th
June. Also please make sure you horse/pony's flu
and tetanus vaccinations are up to date as we have
to adhere to British Racing rules regarding this in
order to use the stables. Book your farrier now, too!
Camp really is one of the highlights of the Pony Club
year and I would urge any new members to come
along if they can – great friendships are made and
kept through camp and once you have been once it
will become an annual feature!!! Please contact any
committee member if you have any queries or
questions about attending camp and what happens
there.
Rally Formats - please note that junior members
are welcome to cut rallies short if 2 hours is too
long for them – we are very flexible and want
our younger members to enjoy themselves.
All day rallies – arrive at venue in time to prepare
for turnout inspection at 10am. The day is then split
into 2 sessions, 10.30am–12.30 and 1.30pm3.30pm where members will enjoy riding and
stable/horse management instruction. Please bring
a picnic lunch and plenty of hay and water for your
pony!
Half day rallies – no inspection but smart, safe
riding wear and tack is expected. Sessions will run
from either 10.30am-12.30 or 1.30pm-3.30pm.
Evening rallies – as above but sessions run from
6.30pm–8.30pm.
Thank You!
Parents and/or members are expected to help set
up equipment and tidy everything away before and
after each rally.