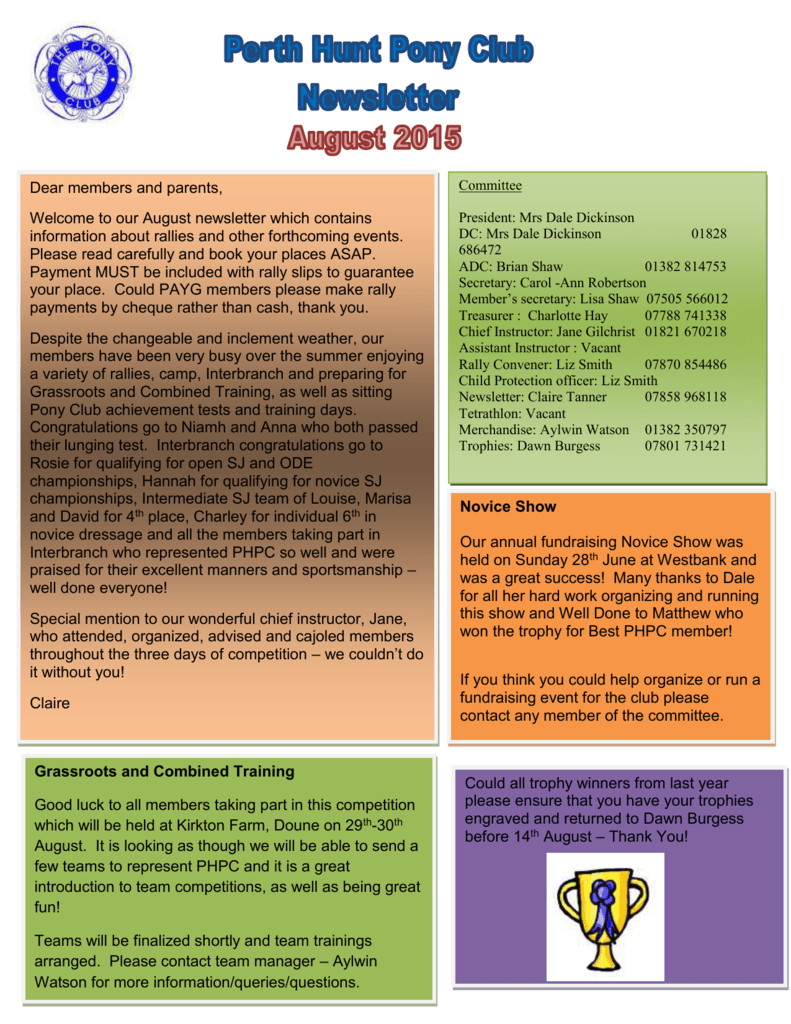 Dear members and parents,
Committee
Welcome to our August newsletter which contains
information about rallies and other forthcoming events.
Please read carefully and book your places ASAP.
Payment MUST be included with rally slips to guarantee
your place. Could PAYG members please make rally
payments by cheque rather than cash, thank you.
President: Mrs Dale Dickinson
DC: Mrs Dale Dickinson
01828
686472
ADC: Brian Shaw
01382 814753
Secretary: Carol -Ann Robertson
Member's secretary: Lisa Shaw 07505 566012
Treasurer : Charlotte Hay
07788 741338
Chief Instructor: Jane Gilchrist 01821 670218
Assistant Instructor : Vacant
Rally Convener: Liz Smith
07870 854486
Child Protection officer: Liz Smith
Newsletter: Claire Tanner
07858 968118
Tetrathlon: Vacant
Merchandise: Aylwin Watson 01382 350797
Trophies: Dawn Burgess
07801 731421
Despite the changeable and inclement weather, our
members have been very busy over the summer enjoying
a variety of rallies, camp, Interbranch and preparing for
Grassroots and Combined Training, as well as sitting
Pony Club achievement tests and training days.
Congratulations go to Niamh and Anna who both passed
their lunging test. Interbranch congratulations go to
Rosie for qualifying for open SJ and ODE
championships, Hannah for qualifying for novice SJ
championships, Intermediate SJ team of Louise, Marisa
and David for 4th place, Charley for individual 6th in
novice dressage and all the members taking part in
Interbranch who represented PHPC so well and were
praised for their excellent manners and sportsmanship –
well done everyone!
Special mention to our wonderful chief instructor, Jane,
who attended, organized, advised and cajoled members
throughout the three days of competition – we couldn't do
it without you!
Claire
Grassroots and Combined Training
Good luck to all members taking part in this competition
which will be held at Kirkton Farm, Doune on 29th-30th
August. It is looking as though we will be able to send a
few teams to represent PHPC and it is a great
introduction to team competitions, as well as being great
fun!
Teams will be finalized shortly and team trainings
arranged. Please contact team manager – Aylwin
Watson for more information/queries/questions.
Novice Show
Our annual fundraising Novice Show was
held on Sunday 28th June at Westbank and
was a great success! Many thanks to Dale
for all her hard work organizing and running
this show and Well Done to Matthew who
won the trophy for Best PHPC member!
If you think you could help organize or run a
fundraising event for the club please
contact any member of the committee.
Could all trophy winners from last year
please ensure that you have your trophies
engraved and returned to Dawn Burgess
before 14th August – Thank You!
DATES FOR YOUR DIARY
SUMMER RALLIES
Friday 14 August - evening @ Scone
Sunday 23 August – half day @ Scone
OCTOBER RALLIES
Wednesday 14 October – half day @ Scone
Sunday 18 October – half day @ Scone
Saturday 24 October – half day @ Westbank
WINTER INDOOR RALLIES
Sunday 22 November – Easter Rattray Farm
Sunday 6 December – Easter Rattray Farm
Sunday 7 February – Easter Rattray Farm
Sunday 13 March – Easter Rattray Farm
UNMOUNTED STABLE MANAGEMENT RALLIES
Sunday 8 Novemeber – Bonhard House, Scone
Sunday 10 January – Bonhard House, Scone
Sunday 24 January – Bonhard House, Scone
JUNIOR BADGE RALLIES
Sunday 1 November – Millhill, Knapp
Sunday 29 November – Millhill, Knapp
OTHER DATES
Saturday 29-30 GRASS ROOTS & COMBINED TRAINING
inc ODE, West Perthshire PC
Sunday 6 September - CUP DAY @ Scone
Cup Day
Cup Day will be held on 6th September at our
Club Field @ Scone Racecourse. More details
and schedules have been sent out with this
newsletter.
Cup Day is a free to enter competition comprising
Show Jumping, Dressage, Working Hunter and
Handy Pony. Members compete for trophies in
their own age group and there are 'any age'
alternatives for those who wish to compete at a
different level from their age group. Members
should enter either their age group's class or 'any
age'classes – not both, but can choose to do, for
example, their age group class for dressage and
then 'any age' class for Show jumping. Please
phone Claire if you have any questions about
Cup Day entries as they can be a bit complicated
at first!
As we are restricted about leaving equipment out
at the club field, all parents of competing
members will be expected to help set up and tidy
away jumps, etc. Could everyone be at the
field at 11am on 6th September to set up in
time for the competition to start at 1pm –
thanks!
Rally Formats
As you can see, we have lots of rallies coming up to
keep you busy all year round! In the last newsletter I
included information about what happens at all day
and evening rallies so here is the information for our
Winter programme.
WINTER INDOOR RALLIES are held at Easter
Rattray Farm, between Alyth and Blairgowrie. Rides
last for one hour each, usually between 11am – 2pm
and number are limited due to space so please get
your places booked early. Due to the cost of venue
hire there is a rally fee of £12 for each rally, payable
by cheque at time of booking (please pay using a
separate cheque for each rally in case of
cancellation). Dress code is safe, smart and warm
riding wear!
UNMOUNTED STABLE MANAGEMENT RALLIES
are all to be held at Bonhard House, Scone with kind
permission of Charlotte Hay. These rallies last for 2
hours and cover all aspects of horse and pony care
and management. They are open to all and are
especially useful to members wishing to progress
through the Pony Club efficiency badges. There is
no cost to members for stable management rallies.
Warm clothes a must!
JUNIOR BADGE RALLIES are to be held at Millhill,
Knapp with kind permission of Dale Dickinson.
These rallies will give younger members an
opportunity to learn about specific aspects of horse
care and earn special achievement badges that can
be sewn on to their Pony Club sweatshirts.
URGENT PLEA FOR FIRST AIDERS!!!!!
In these days of Health &Safety legislation it is a
requirement of Pony Club UK that we MUST have
an adult with relevant First Aid qualifications at
every rally. As we are a small club, we have fewer
parents to call upon and therefore really need
everyone to get involved. We urgently need more
parents with First Aid certificates so if you have one
or would be willing to gain one, please let either
Claire, Liz or Jane know - help us avoid having to
cancel rallies due to no First Aid cover!