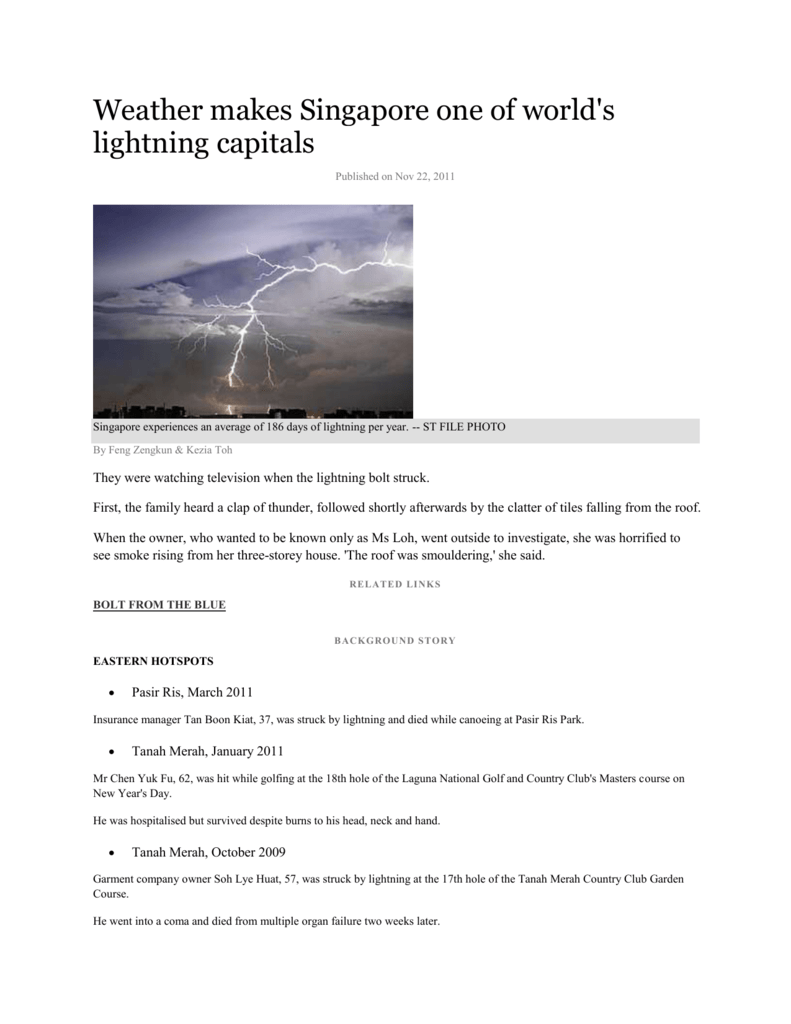 Weather makes Singapore one of world's
lightning capitals
Published on Nov 22, 2011
Singapore experiences an average of 186 days of lightning per year. -- ST FILE PHOTO
By Feng Zengkun & Kezia Toh
They were watching television when the lightning bolt struck.
First, the family heard a clap of thunder, followed shortly afterwards by the clatter of tiles falling from the roof.
When the owner, who wanted to be known only as Ms Loh, went outside to investigate, she was horrified to
see smoke rising from her three-storey house. 'The roof was smouldering,' she said.
RELATED LI NKS
BOLT FROM THE BLUE
B ACKGROUND STORY
EASTERN HOTSPOTS

Pasir Ris, March 2011
Insurance manager Tan Boon Kiat, 37, was struck by lightning and died while canoeing at Pasir Ris Park.

Tanah Merah, January 2011
Mr Chen Yuk Fu, 62, was hit while golfing at the 18th hole of the Laguna National Golf and Country Club's Masters course on
New Year's Day.
He was hospitalised but survived despite burns to his head, neck and hand.

Tanah Merah, October 2009
Garment company owner Soh Lye Huat, 57, was struck by lightning at the 17th hole of the Tanah Merah Country Club Garden
Course.
He went into a coma and died from multiple organ failure two weeks later.
His family sued the club in June this year. They claim that it failed to ensure there were effective procedures in place to warn
golfers and others about lightning.
The bolt, which struck last week, had torn up two tiles and burned through the heat insulation.
China to refuse binding targets at climate talks
Published on Nov 22, 2011
BEIJING (AFP) - China said on Tuesday it would not take on binding emissions reduction targets at United
Nations climate talks next week, even as it acknowledged being the world's largest emitter of greenhouse gases.
At the Durban talks, China will support the Kyoto Protocol and its 'principle of common but differentiated
responsibilities,' which requires developed nations to take on binding cuts, Beijing's top climate negotiator Xie
Zhenhua said.
'The emission-reduction plan for developed countries in the second commitment period under the Kyoto
Protocol should be made clear as soon as possible,' Mr Xie told reporters. The first commitment period expires
at the end of 2012.
China was 'willing to take on commitments that are appropriate to our stage of development,' he said.
Greenhouse gases soar; no signs warming is
slowed
Published on Nov 22, 2011
WASHINGTON (AP) - Heat-trapping greenhouse gases in the atmosphere are building up so high, so fast, that
some scientists now think the world can no longer limit global warming to the level world leaders have agreed
upon as safe.
New figures from the United Nations weather agency showed on Monday that the three biggest greenhouse
gases not only reached record levels last year but were increasing at an ever-faster rate, despite efforts by many
countries to reduce emissions.
As world leaders meet next week in South Africa to tackle the issue of climate change, several scientists said
their projections show it is unlikely the world can hold warming to the target set by leaders just two years ago
in Copenhagen, Denmark.
'The growth rate is increasing every decade,' said Jim Butler, director of the US National Oceanic and
Atmospheric Administration's Global Monitoring Division. 'That's kind of scary.' Scientists cannot say exactly
what levels of greenhouse gases are safe, but some fear a continued rise in global temperatures will lead to
irreversible melting of some of the world's ice sheets and a several-foot rise in sea levels over the centuries the so-called tipping point.