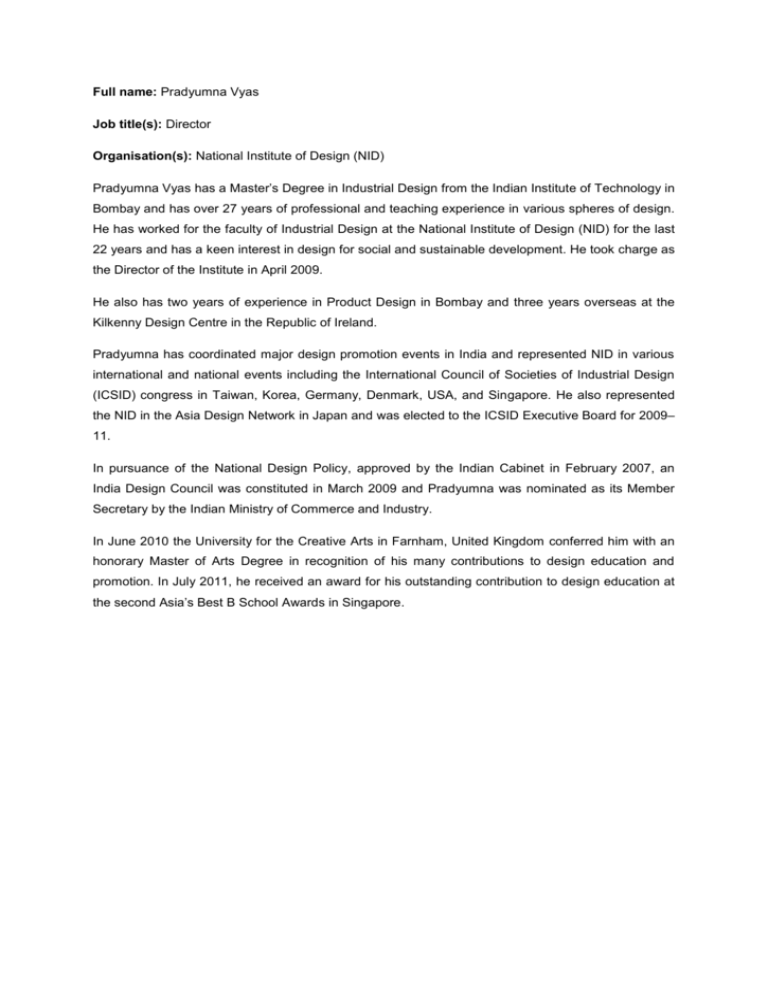 Full name: Pradyumna Vyas
Job title(s): Director
Organisation(s): National Institute of Design (NID)
Pradyumna Vyas has a Master's Degree in Industrial Design from the Indian Institute of Technology in
Bombay and has over 27 years of professional and teaching experience in various spheres of design.
He has worked for the faculty of Industrial Design at the National Institute of Design (NID) for the last
22 years and has a keen interest in design for social and sustainable development. He took charge as
the Director of the Institute in April 2009.
He also has two years of experience in Product Design in Bombay and three years overseas at the
Kilkenny Design Centre in the Republic of Ireland.
Pradyumna has coordinated major design promotion events in India and represented NID in various
international and national events including the International Council of Societies of Industrial Design
(ICSID) congress in Taiwan, Korea, Germany, Denmark, USA, and Singapore. He also represented
the NID in the Asia Design Network in Japan and was elected to the ICSID Executive Board for 2009–
11.
In pursuance of the National Design Policy, approved by the Indian Cabinet in February 2007, an
India Design Council was constituted in March 2009 and Pradyumna was nominated as its Member
Secretary by the Indian Ministry of Commerce and Industry.
In June 2010 the University for the Creative Arts in Farnham, United Kingdom conferred him with an
honorary Master of Arts Degree in recognition of his many contributions to design education and
promotion. In July 2011, he received an award for his outstanding contribution to design education at
the second Asia's Best B School Awards in Singapore.