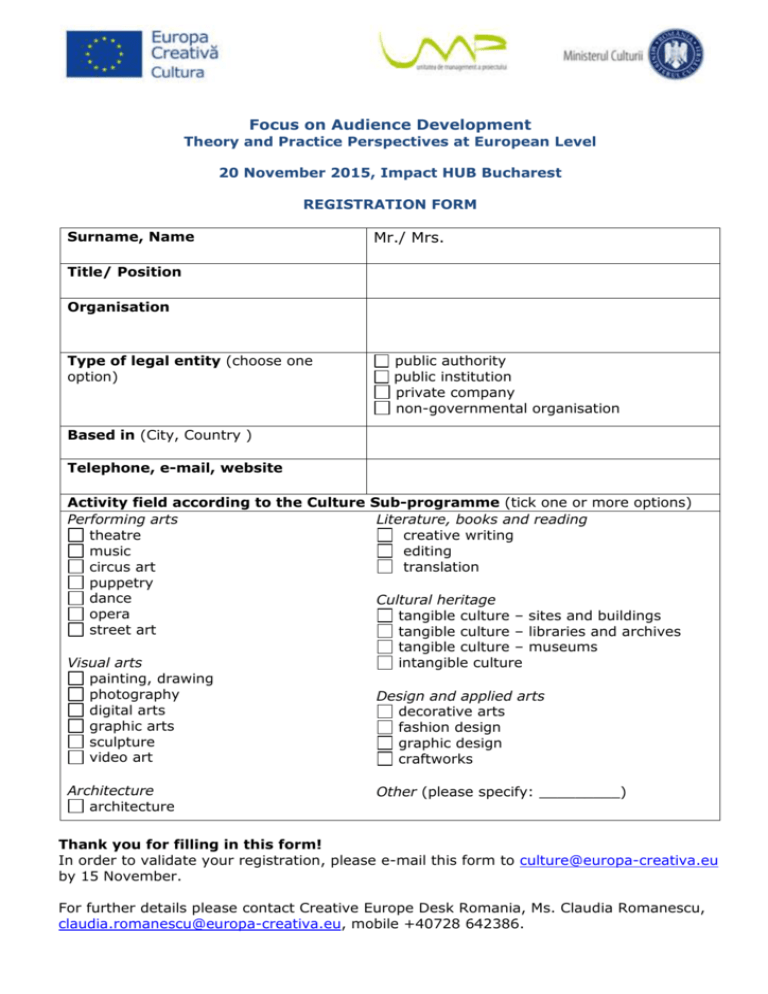 Focus on Audience Development
Theory and Practice Perspectives at European Level
20 November 2015, Impact HUB Bucharest
REGISTRATION FORM
Surname, Name
Mr./ Mrs.
Title/ Position
Organisation
Type of legal entity (choose one
option)
public authority
public institution
private company
non-governmental organisation
Based in (City, Country )
Telephone, e-mail, website
Activity field according to the Culture Sub-programme (tick one or more options)
Performing arts
Literature, books and reading
theatre
creative writing
music
editing
circus art
translation
puppetry
dance
Cultural heritage
opera
tangible culture – sites and buildings
street art
tangible culture – libraries and archives
tangible culture – museums
Visual arts
intangible culture
painting, drawing
photography
Design and applied arts
digital arts
decorative arts
graphic arts
fashion design
sculpture
graphic design
video art
craftworks
Architecture
architecture
Other (please specify: _________)
Thank you for filling in this form!
In order to validate your registration, please e-mail this form to [email protected]
by 15 November.
For further details please contact Creative Europe Desk Romania, Ms. Claudia Romanescu,
[email protected], mobile +40728 642386.
See you in November!