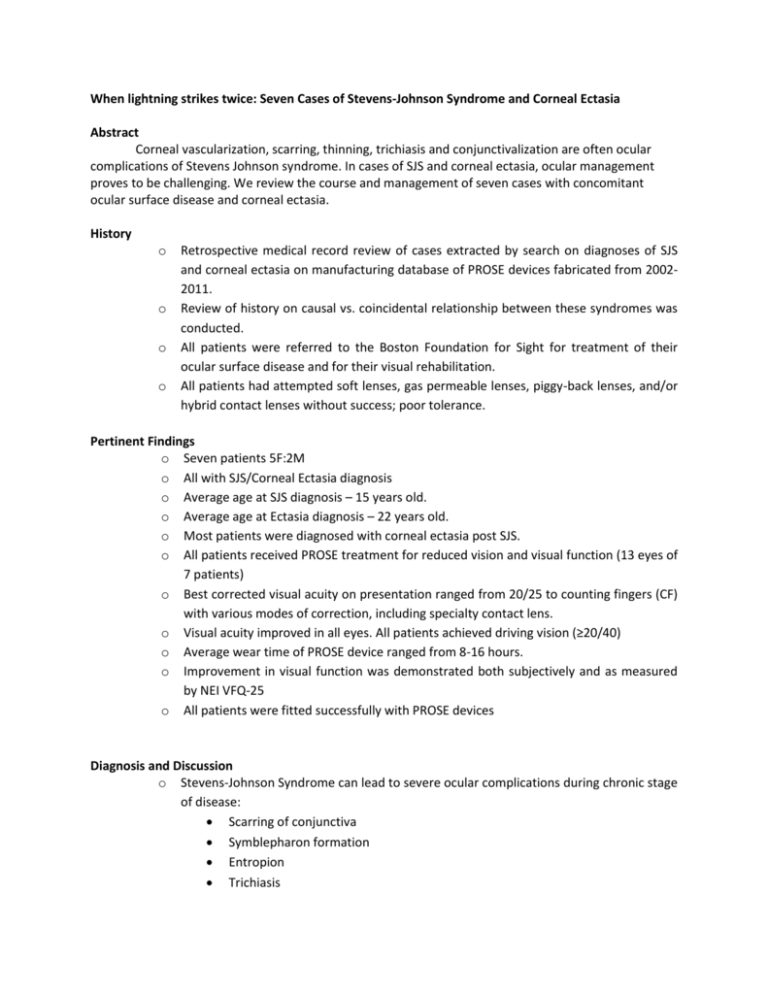 When lightning strikes twice: Seven Cases of Stevens-Johnson Syndrome and Corneal Ectasia
Abstract
Corneal vascularization, scarring, thinning, trichiasis and conjunctivalization are often ocular
complications of Stevens Johnson syndrome. In cases of SJS and corneal ectasia, ocular management
proves to be challenging. We review the course and management of seven cases with concomitant
ocular surface disease and corneal ectasia.
History
o
o
o
o
Retrospective medical record review of cases extracted by search on diagnoses of SJS
and corneal ectasia on manufacturing database of PROSE devices fabricated from 20022011.
Review of history on causal vs. coincidental relationship between these syndromes was
conducted.
All patients were referred to the Boston Foundation for Sight for treatment of their
ocular surface disease and for their visual rehabilitation.
All patients had attempted soft lenses, gas permeable lenses, piggy-back lenses, and/or
hybrid contact lenses without success; poor tolerance.
Pertinent Findings
o Seven patients 5F:2M
o All with SJS/Corneal Ectasia diagnosis
o Average age at SJS diagnosis – 15 years old.
o Average age at Ectasia diagnosis – 22 years old.
o Most patients were diagnosed with corneal ectasia post SJS.
o All patients received PROSE treatment for reduced vision and visual function (13 eyes of
7 patients)
o Best corrected visual acuity on presentation ranged from 20/25 to counting fingers (CF)
with various modes of correction, including specialty contact lens.
o Visual acuity improved in all eyes. All patients achieved driving vision (≥20/40)
o Average wear time of PROSE device ranged from 8-16 hours.
o Improvement in visual function was demonstrated both subjectively and as measured
by NEI VFQ-25
o All patients were fitted successfully with PROSE devices
Diagnosis and Discussion
o Stevens-Johnson Syndrome can lead to severe ocular complications during chronic stage
of disease:
 Scarring of conjunctiva
 Symblepharon formation
 Entropion
 Trichiasis


o
o
o
o
Tear film disturbances
Corneal involvement
i.
Scarring
ii.
Neovascularization
iii.
Keratinization
iv.
Thinning
v.
Conjunctivilization
 Lacrimal Duct involvement
i.
Cicatrization
ii.
Destruction of Goblet Cells
 Limbal stem cell deficiency
SJS eyes often develop:
 Corneal Opacities
 Corneal erosions
 Epithelial breakdowns
 Ulceration
 Infectious Keratitis
Because of limbal stem cell deficiency, SJS eyes are poor candidates for corneal
transplants.
Corneal ectasia:
 Decreased best corrected visual acuity
 Often times spectacle correction or soft lens correction are not viable options
 Require specialty contact lenses; rigid gas permeable (GP) lens correction
 For highly ectatic and irregular corneas, corneal GP lenses may be unstable
 Often if complications with GP lenses, alternative approach is corneal
transplants.
Concomitant SJS and corneal ectasia is particularly challenging:
 Traditional GP lenses for ectasia visual rehabilitation are poorly tolerated in SJS
patients
 Option of penetrating keratoplasty is not viable one in concomitant cases of SJS
Treatment and Management
o Prosthetic replacement of the ocular surface system (PROSE) treatment
 Use of scleral prosthetic devices.
o These are FDA-approved custom designed and fabricated prosthetic devices:
 Restore vision,
 Support healing
 Reduce symptoms
 Improve quality of life for patients suffering with complex corneal disease
 Large diameter (average 15.5–23 mm)
 Designed to rest entirely on the sclera




Vault entirely the cornea
Creating a space filled with preservative-free artificial tears or saline
They are fluid-ventilated
Allow the containment of an oxygenated pool of artificial tears free of
air bubbles over the cornea
o
This case:
 All patients were custom-fitted with a scleral prosthetic device
 Devices were worn on a daily wear schedule
 Improved best corrected visual acuity and visual function in all eyes.
 Significant decrease in dry eye symptoms, pain, and photophobia.
 In five out of seven patients, ectasia developed after SJS onset.
 PROSE treatment:
 Adequate ocular surface support in refractory disease
 Viable and excellent choice for both SJS and corneal ectasia
i.
Excellent treatment option for concomitant cases of both
complex ocular surface disease and ectasia
 Passive and non-invasive treatment
ii.
No surgical intervention
iii.
Potentially precludes need for further surgical intervention
need
o
Patients with corneal ectasia and concomitant ocular surface disease from StevensJohnson syndrome pose a special challenge for visual rehabilitation.
Contact lens may be poorly tolerated, difficult to fit, and penetrating keratoplasty is high
risk.
PROSE treatment is a useful option for patients such as these with complex corneal
disease.
There is not enough data in the literature to confirm a causal vs. coincidental
relationship between SJS and corneal ectasia.
The fact that 5 out of the 7 patients in our series were diagnosed with ectasia some time
after SJS diagnosis may suggest that severe ocular surface microtrauma maybe a factor
in developing ectasia.
More data is needed to further conclude on a causal vs. coincidental relationship
between SJS and corneal ectasia.
Conclusion
o
o
o
o
o
References
1. Rosenthal P, Croteau A. Fluid-ventilated, gas permeable Scleral contact lens is an effective option
for managing severe ocular surface disease and many corneal disorders that would otherwise
require penetrating keratoplasty. Eye & Contact Lens. 2005; 31(3) 130-134.
2. Mangione C, Lee P, Gutierrez P, Spritzer K, Berry S, Hays R. Development of the 25-item National
Eye Institute Visual Function Questionnaire (VFQ-25). Arch Ophthalmol 2001; 119:1050 –1058.
3. Romero-Rangel T, Stavrou P, Cotter J, Rosenthal P, Baltatzis S, Foster CS. Gas-permeable scleral
contact lens therapy in ocular surface disease. Am J Ophthalmol. Jul 2000;130(1):25-32.
4. Stason WB, Razavi M, Jacobs DS, Shepard DS, Suaya JA, Johns L, Rosenthal P. Clinical Benefits of
the Boston Ocular Surface Prosthesis. Am J Ophthalmol. 2010; 54-61.
5. Sunita Agarwal, Athiya Agarwal, David J Apple (2002) Textbook of Ophthalmology; Jaypee
Brothers Publishers, pg. 872.