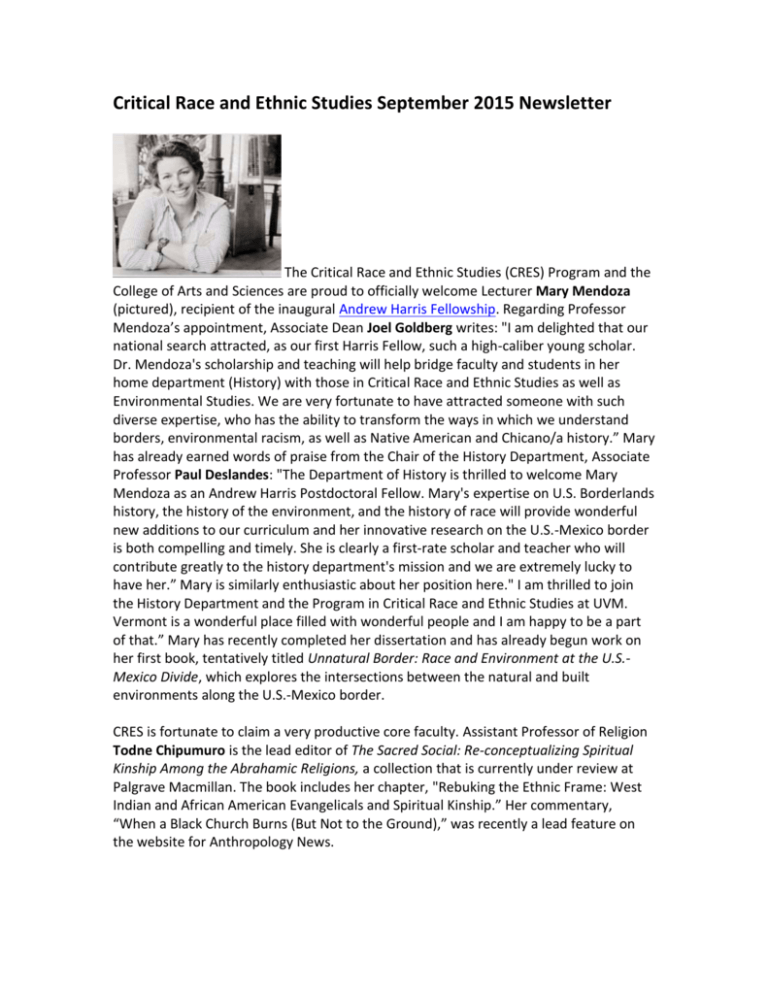 Critical Race and Ethnic Studies September 2015 Newsletter
The Critical Race and Ethnic Studies (CRES) Program and the
College of Arts and Sciences are proud to officially welcome Lecturer Mary Mendoza
(pictured), recipient of the inaugural Andrew Harris Fellowship. Regarding Professor
Mendoza's appointment, Associate Dean Joel Goldberg writes: "I am delighted that our
national search attracted, as our first Harris Fellow, such a high-caliber young scholar.
Dr. Mendoza's scholarship and teaching will help bridge faculty and students in her
home department (History) with those in Critical Race and Ethnic Studies as well as
Environmental Studies. We are very fortunate to have attracted someone with such
diverse expertise, who has the ability to transform the ways in which we understand
borders, environmental racism, as well as Native American and Chicano/a history." Mary
has already earned words of praise from the Chair of the History Department, Associate
Professor Paul Deslandes: "The Department of History is thrilled to welcome Mary
Mendoza as an Andrew Harris Postdoctoral Fellow. Mary's expertise on U.S. Borderlands
history, the history of the environment, and the history of race will provide wonderful
new additions to our curriculum and her innovative research on the U.S.-Mexico border
is both compelling and timely. She is clearly a first-rate scholar and teacher who will
contribute greatly to the history department's mission and we are extremely lucky to
have her." Mary is similarly enthusiastic about her position here." I am thrilled to join
the History Department and the Program in Critical Race and Ethnic Studies at UVM.
Vermont is a wonderful place filled with wonderful people and I am happy to be a part
of that." Mary has recently completed her dissertation and has already begun work on
her first book, tentatively titled Unnatural Border: Race and Environment at the U.S.Mexico Divide, which explores the intersections between the natural and built
environments along the U.S.-Mexico border.
CRES is fortunate to claim a very productive core faculty. Assistant Professor of Religion
Todne Chipumuro is the lead editor of The Sacred Social: Re-conceptualizing Spiritual
Kinship Among the Abrahamic Religions, a collection that is currently under review at
Palgrave Macmillan. The book includes her chapter, "Rebuking the Ethnic Frame: West
Indian and African American Evangelicals and Spiritual Kinship." Her commentary,
"When a Black Church Burns (But Not to the Ground)," was recently a lead feature on
the website for Anthropology News.
English Associate Professor Jinny Huh's first book, The Arresting Eye: Race and the
Anxiety of Detection (University of Virginia Press, 2015), explores the anxiety of race
detection since the end of the nineteenth century to our contemporary moment. It was
released in May.
John Gennari, Associate Professor of English, will deliver a keynote lecture titled "Who
Owns Jazz History?" at the 11th Annual Nordic Jazz Conference, Oslo, Norway, in
October. The next month, at Hofstra University, at a symposium commemorating the
centennial of the singer's birth, he will give a talk on "Frank Sinatra and Italian American
Culture." He has recently published two new book chapters: "The Knife and the Bread,
the Brutal and the Sacred: Louise DeSalvo at the Family Table," in Personal Effects:
Essays on Memory, Culture, and Women in the Work of Louise DeSalvo (New York:
Fordham University Press. 2014), and "Sideline Shtick: The Italian American Basketball
Coach and Consumable Images of Racial and Ethnic Masculinity," in Making Italian
America: Consumer Culture and the Production of Ethnic Identities (New York: Fordham
University Press, 2014). John has recently completed a book entitled Flavor and Soul:
Italian American at Its African American Edge, which will be published by the University
of Chicago Press in 2016.
Professor Emily Bernard is working on a collection of personal essays, tentatively titled
Black is the Body, which will be published by Knopf in early 2017. Her recent essay,
"Between the World and Me: Black American Motherhood," appeared in the July 28
digital edition of The Atlantic.