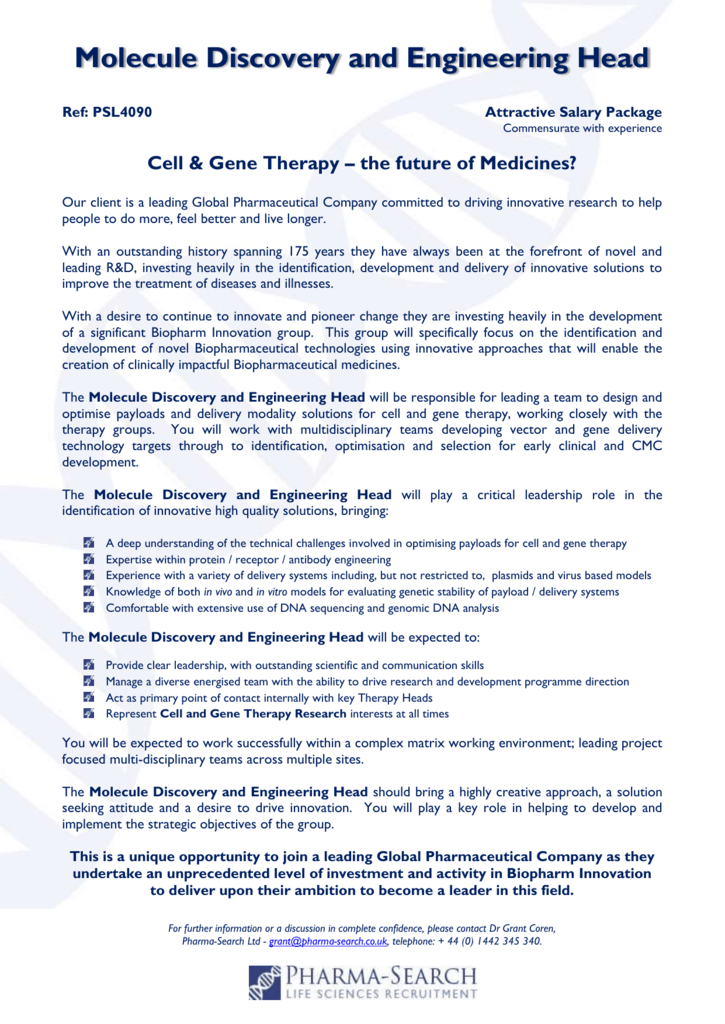 Molecule Discovery and Engineering Head
Ref: PSL4090
Attractive Salary Package
Commensurate with experience
Cell & Gene Therapy – the future of Medicines?
Our client is a leading Global Pharmaceutical Company committed to driving innovative research to help
people to do more, feel better and live longer.
With an outstanding history spanning 175 years they have always been at the forefront of novel and
leading R&D, investing heavily in the identification, development and delivery of innovative solutions to
improve the treatment of diseases and illnesses.
With a desire to continue to innovate and pioneer change they are investing heavily in the development
of a significant Biopharm Innovation group. This group will specifically focus on the identification and
development of novel Biopharmaceutical technologies using innovative approaches that will enable the
creation of clinically impactful Biopharmaceutical medicines.
The Molecule Discovery and Engineering Head will be responsible for leading a team to design and
optimise payloads and delivery modality solutions for cell and gene therapy, working closely with the
therapy groups. You will work with multidisciplinary teams developing vector and gene delivery
technology targets through to identification, optimisation and selection for early clinical and CMC
development.
The Molecule Discovery and Engineering Head will play a critical leadership role in the
identification of innovative high quality solutions, bringing:
A deep understanding of the technical challenges involved in optimising payloads for cell and gene therapy
Expertise within protein / receptor / antibody engineering
Experience with a variety of delivery systems including, but not restricted to, plasmids and virus based models
Knowledge of both in vivo and in vitro models for evaluating genetic stability of payload / delivery systems
Comfortable with extensive use of DNA sequencing and genomic DNA analysis
The Molecule Discovery and Engineering Head will be expected to:
Provide clear leadership, with outstanding scientific and communication skills
Manage a diverse energised team with the ability to drive research and development programme direction
Act as primary point of contact internally with key Therapy Heads
Represent Cell and Gene Therapy Research interests at all times
You will be expected to work successfully within a complex matrix working environment; leading project
focused multi-disciplinary teams across multiple sites.
The Molecule Discovery and Engineering Head should bring a highly creative approach, a solution
seeking attitude and a desire to drive innovation. You will play a key role in helping to develop and
implement the strategic objectives of the group.
This is a unique opportunity to join a leading Global Pharmaceutical Company as they
undertake an unprecedented level of investment and activity in Biopharm Innovation
to deliver upon their ambition to become a leader in this field.
For further information or a discussion in complete confidence, please contact Dr Grant Coren,
Pharma-Search Ltd - [email protected], telephone: + 44 (0) 1442 345 340.