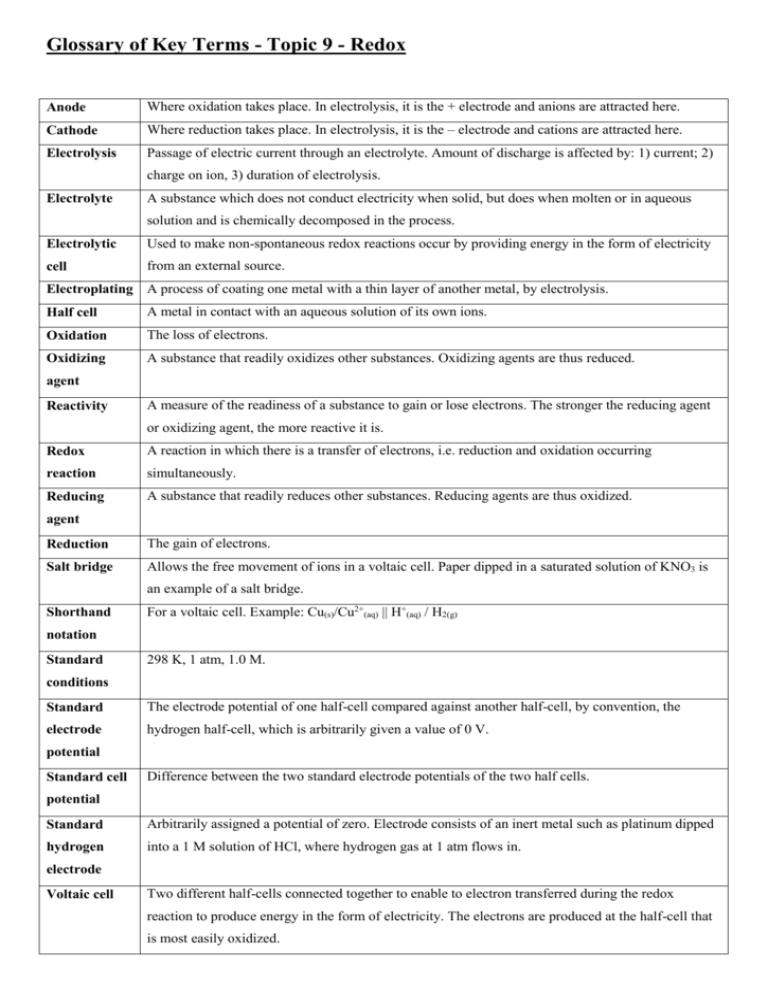 Glossary of Key Terms - Topic 9 - Redox
Anode
Where oxidation takes place. In electrolysis, it is the + electrode and anions are attracted here.
Cathode
Where reduction takes place. In electrolysis, it is the – electrode and cations are attracted here.
Electrolysis
Passage of electric current through an electrolyte. Amount of discharge is affected by: 1) current; 2)
charge on ion, 3) duration of electrolysis.
Electrolyte
A substance which does not conduct electricity when solid, but does when molten or in aqueous
solution and is chemically decomposed in the process.
Electrolytic
Used to make non-spontaneous redox reactions occur by providing energy in the form of electricity
cell
from an external source.
Electroplating A process of coating one metal with a thin layer of another metal, by electrolysis.
Half cell
A metal in contact with an aqueous solution of its own ions.
Oxidation
The loss of electrons.
Oxidizing
A substance that readily oxidizes other substances. Oxidizing agents are thus reduced.
agent
Reactivity
A measure of the readiness of a substance to gain or lose electrons. The stronger the reducing agent
or oxidizing agent, the more reactive it is.
Redox
A reaction in which there is a transfer of electrons, i.e. reduction and oxidation occurring
reaction
simultaneously.
Reducing
A substance that readily reduces other substances. Reducing agents are thus oxidized.
agent
Reduction
The gain of electrons.
Salt bridge
Allows the free movement of ions in a voltaic cell. Paper dipped in a saturated solution of KNO3 is
an example of a salt bridge.
Shorthand
For a voltaic cell. Example: Cu(s)/Cu2+(aq) || H+(aq) / H2(g)
notation
Standard
298 K, 1 atm, 1.0 M.
conditions
Standard
The electrode potential of one half-cell compared against another half-cell, by convention, the
electrode
hydrogen half-cell, which is arbitrarily given a value of 0 V.
potential
Standard cell
Difference between the two standard electrode potentials of the two half cells.
potential
Standard
Arbitrarily assigned a potential of zero. Electrode consists of an inert metal such as platinum dipped
hydrogen
into a 1 M solution of HCl, where hydrogen gas at 1 atm flows in.
electrode
Voltaic cell
Two different half-cells connected together to enable to electron transferred during the redox
reaction to produce energy in the form of electricity. The electrons are produced at the half-cell that
is most easily oxidized.