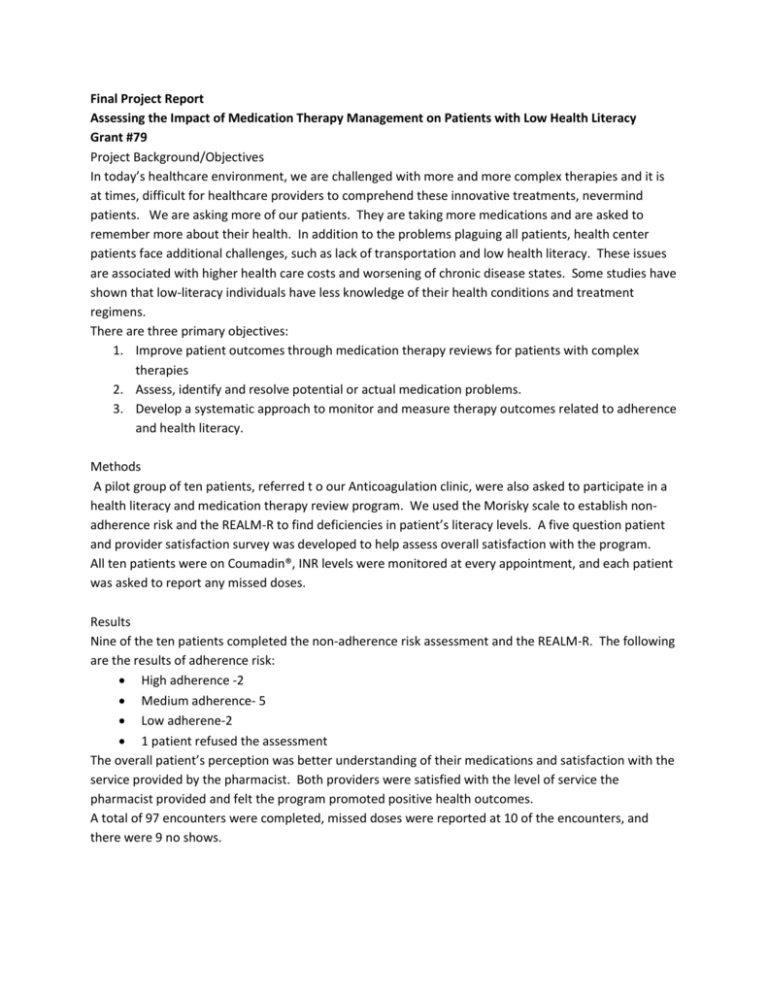 Final Project Report
Assessing the Impact of Medication Therapy Management on Patients with Low Health Literacy
Grant #79
Project Background/Objectives
In today's healthcare environment, we are challenged with more and more complex therapies and it is
at times, difficult for healthcare providers to comprehend these innovative treatments, nevermind
patients. We are asking more of our patients. They are taking more medications and are asked to
remember more about their health. In addition to the problems plaguing all patients, health center
patients face additional challenges, such as lack of transportation and low health literacy. These issues
are associated with higher health care costs and worsening of chronic disease states. Some studies have
shown that low-literacy individuals have less knowledge of their health conditions and treatment
regimens.
There are three primary objectives:
1. Improve patient outcomes through medication therapy reviews for patients with complex
therapies
2. Assess, identify and resolve potential or actual medication problems.
3. Develop a systematic approach to monitor and measure therapy outcomes related to adherence
and health literacy.
Methods
A pilot group of ten patients, referred t o our Anticoagulation clinic, were also asked to participate in a
health literacy and medication therapy review program. We used the Morisky scale to establish nonadherence risk and the REALM-R to find deficiencies in patient's literacy levels. A five question patient
and provider satisfaction survey was developed to help assess overall satisfaction with the program.
All ten patients were on Coumadin®, INR levels were monitored at every appointment, and each patient
was asked to report any missed doses.
Results
Nine of the ten patients completed the non-adherence risk assessment and the REALM-R. The following
are the results of adherence risk:
 High adherence -2
 Medium adherence- 5
 Low adherene-2
 1 patient refused the assessment
The overall patient's perception was better understanding of their medications and satisfaction with the
service provided by the pharmacist. Both providers were satisfied with the level of service the
pharmacist provided and felt the program promoted positive health outcomes.
A total of 97 encounters were completed, missed doses were reported at 10 of the encounters, and
there were 9 no shows.
Discussion
Although only ten patients were involved in the assessment, it has provided a framework to further
evaluate and implement an adherence program with better objectives and outcomes measurement.
Some of the patients spoke about perceived efficacy of the medications they were taking and what they
considered important reasons for taking medications. The program helped provide further insight about
our patient population.
We have since, partnered with Merck and are in the process of implementing an adherence estimator to
all of our patients taking Coumadin®. If the results are good and patient outcomes have improved, we
will expand the program to other patients. In regards to health literacy, the focus is not only on our
patients but our staff.
Some limitations and/or challenges we faced:
 Both the Morisky scale and REALM-R were administered only once by the pharmacist, a
reevaluation at the end of the program might have resulted in better outcomes and patient
understanding.
 The community pharmacist did not have formal Anticoagulation training and there was a large
learning curve.
 The initial "buy in" from patients was difficult.