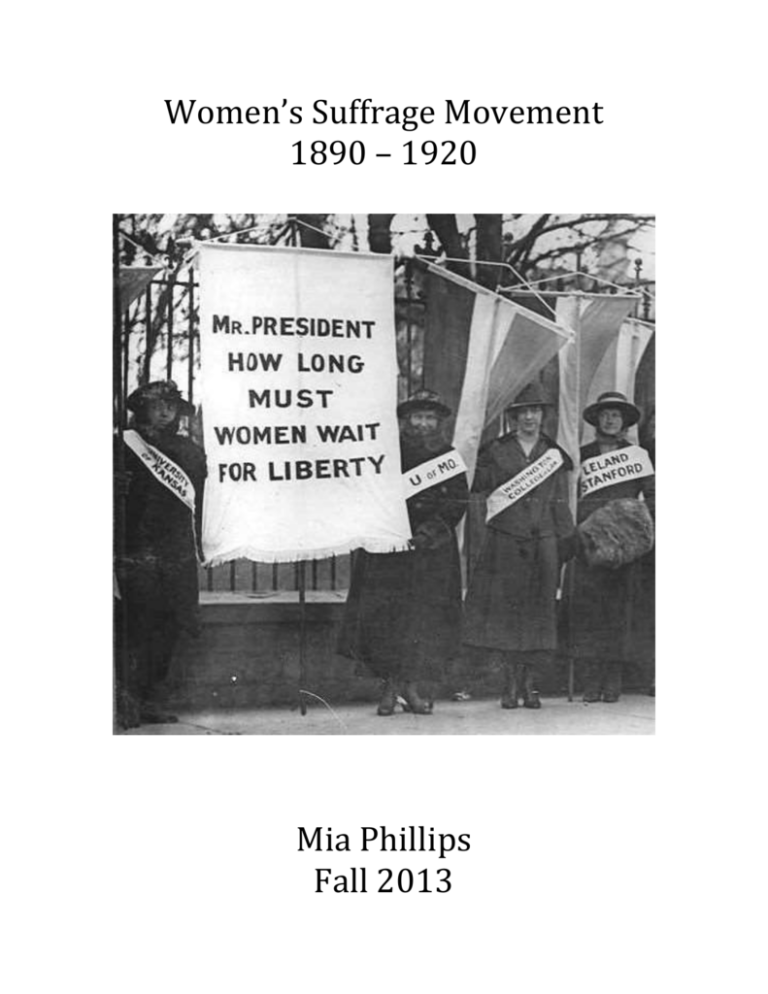 Women's Suffrage Movement
1890 – 1920
Mia Phillips
Fall 2013
Issues and Goals
 Main Goal: Full suffrage for women
 Main Issue: Women's full citizenship
Strategies
 State-by-state referendums… doesn't work
 Federal amendment
Key Organizations
 National American Women Suffrage Association (NAWSA) (1890)
 National Association of Colored Women (1896)
 Equality League of Self-Supporting Women (Women's Political Union) (1906)
 Congressional Union (National Women's Party) (1913)
IMPORTANT ORGANIZATIONS
NAWSA
 The merger of the National Women Suffrage Association and the American
Women Suffrage Association
 Main organization during this time
 Elizabeth Cady Stanton elected first president
o Susan B. Anthony is elected the vice president and acts as president in
Stanton's absence
 Very conservative organization in regards to tactics and allocation of
resources
National Association of Colored Women
 Founded by Margaret Murray Washington and Mary Church Terrell
 Mary Church Terrell serves as president
 Did not endorse suffrage but had other goals such as caring for the children
of absentee mothers
 Mainly composed of black women's clubs
Equality League of Self-Supporting Women
 Founded by Harriet Stanton Blatch
 Formed to target working class women
Congressional Union
 Founded by Alice Paul
 Very different strategies than NAWSA
 Second major organization in the movement
IMPORTANT PEOPLE
Rev. Anna Howard Shaw



NAWSA president 1904 – 1915
Medical doctor, Methodist minister and veteran suffragist
Lacked necessary vision and organizational skills to lead NAWSA
Carrie Chapman Catt
 NAWSA president 1900-1904, 1915-1920
 Very organized and effective speaker
 Susan B. Anthony's protégé
 Most influential leader for NAWSA
Alice Paul
 Founder of Congressional Union
 Active in British suffrage movement
o Uses the same tactics used in Britain for CU
 Led the protests in front of the White House
 Jailed => hunger strikes
TIMELINE OF EVENTS















1890 – Founding of NAWSA
1892 – Founding of Federal Suffrage Association
1895 – Elizabeth Cady Stanton writes Women's Bible
o Public criticism of Christianity
1896 – NAWSA formally condemns Women's Bible
o Susan B. Anthony convinces NAWSA not to condemn Stanton along
with her book
1896 – Founding of National Association of Colored Women
1906 – Equality League of Self-Supporting Women founded
1909 – Strike of more than 20,000 women in NY garment district
o Seen as a unification of women for a specific cause
o Great example of how solidarity works
1910 – Equality League changes name to Women's Political Union
1910 – WPU organize first large-scale suffrage parade, held in NYC
1913 – Founding of Congressional Union
1913 – Alice Paul organizes 8,000 women for parade in Washington
1916 – CU transforms itself into National Women's Party
1917 – US enters WWI
1917 – Protestors arrested outside White House, including Lucy Burns and
Alice Paul
August 26, 1920 – 2/3 of states ratify 19th Amendment ~ WOMEN CAN VOTE
Bibliography
"Suffrage in the 20th Century: Primary Sources." In Feminism in Literature: A Gale
Critical Companion, edited by Bomarito, Jessica and Jeffrey W. Hunter. Vol. 4,
129-136. Detroit: Gale, 2005.
Woman Suffrage Movement, 1848 - 1920, edited by Ness, Immanuel. Vol. 1. Armonk,
New York: M.E. Sharpe, 2004.
BASCH, NORMA. "Woman Suffrage." In Encyclopedia of the American Constitution,
edited by Levy, Leonard W. and Kenneth L. Karst. 2nd ed. ed. Vol. 6, 2917-2918.
Detroit: Macmillan Reference USA, 2000.
CARRIE CHAPMAN CATT,President National American Woman Suffrage Association.
"Mrs. Catt Explains Woman Suffrage Defeats." New York Times (1857-1922), Jan
14, 1917, 1917.
Finnegan, Margaret. Selling Suffrage: Consumer Culture & Votes for Women. New
York: Columbia University Press, 1999.
Weatherford, Doris. A History of the American Suffragist Movement. Santa Barbara,
California: ABC-CLIO, Inc., 1998.