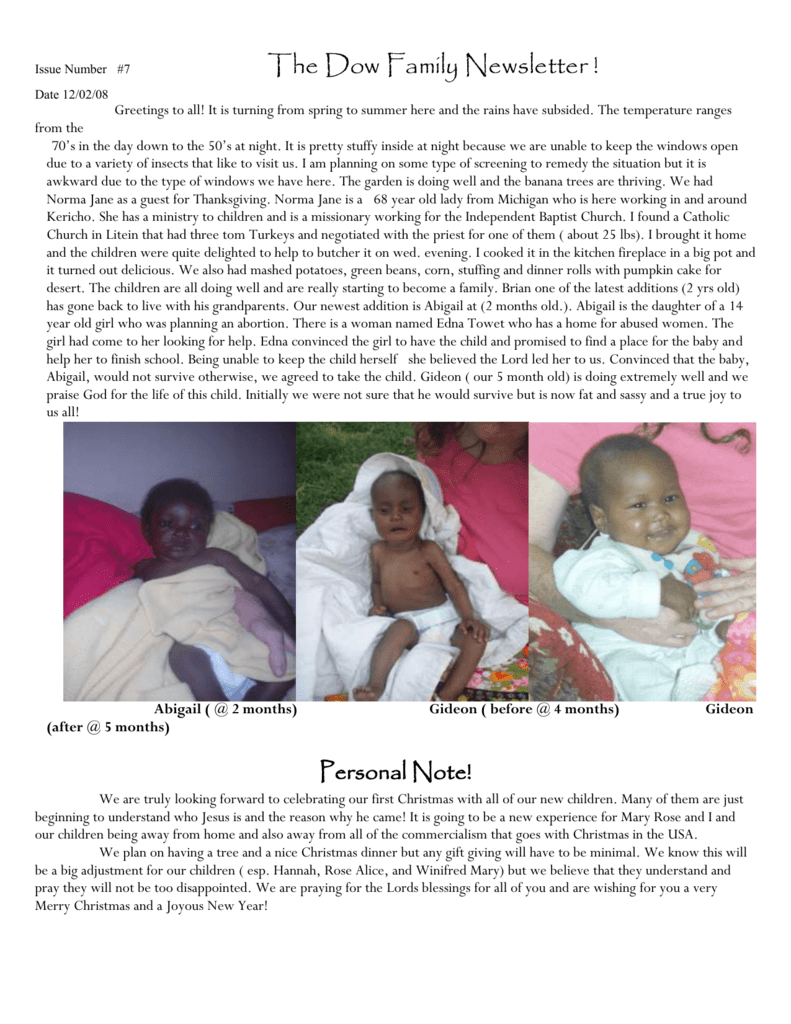 Issue Number #7
The Dow Family Newsletter !
Date 12/02/08
Greetings to all! It is turning from spring to summer here and the rains have subsided. The temperature ranges
from the
70's in the day down to the 50's at night. It is pretty stuffy inside at night because we are unable to keep the windows open
due to a variety of insects that like to visit us. I am planning on some type of screening to remedy the situation but it is
awkward due to the type of windows we have here. The garden is doing well and the banana trees are thriving. We had
Norma Jane as a guest for Thanksgiving. Norma Jane is a 68 year old lady from Michigan who is here working in and around
Kericho. She has a ministry to children and is a missionary working for the Independent Baptist Church. I found a Catholic
Church in Litein that had three tom Turkeys and negotiated with the priest for one of them ( about 25 lbs). I brought it home
and the children were quite delighted to help to butcher it on wed. evening. I cooked it in the kitchen fireplace in a big pot and
it turned out delicious. We also had mashed potatoes, green beans, corn, stuffing and dinner rolls with pumpkin cake for
desert. The children are all doing well and are really starting to become a family. Brian one of the latest additions (2 yrs old)
has gone back to live with his grandparents. Our newest addition is Abigail at (2 months old.). Abigail is the daughter of a 14
year old girl who was planning an abortion. There is a woman named Edna Towet who has a home for abused women. The
girl had come to her looking for help. Edna convinced the girl to have the child and promised to find a place for the baby and
help her to finish school. Being unable to keep the child herself she believed the Lord led her to us. Convinced that the baby,
Abigail, would not survive otherwise, we agreed to take the child. Gideon ( our 5 month old) is doing extremely well and we
praise God for the life of this child. Initially we were not sure that he would survive but is now fat and sassy and a true joy to
us all!
Abigail ( @ 2 months)
(after @ 5 months)
Gideon ( before @ 4 months)
Gideon
Personal Note!
We are truly looking forward to celebrating our first Christmas with all of our new children. Many of them are just
beginning to understand who Jesus is and the reason why he came! It is going to be a new experience for Mary Rose and I and
our children being away from home and also away from all of the commercialism that goes with Christmas in the USA.
We plan on having a tree and a nice Christmas dinner but any gift giving will have to be minimal. We know this will
be a big adjustment for our children ( esp. Hannah, Rose Alice, and Winifred Mary) but we believe that they understand and
pray they will not be too disappointed. We are praying for the Lords blessings for all of you and are wishing for you a very
Merry Christmas and a Joyous New Year!
The Dow Family Newsletter !
Issue Number #7
Date 12/02/08
In His Care,
Greg, Mary Rose and all of the children!
Prayer Needs & Concerns
We are very grateful for all who are supporting this ministry through their prayers, and finances. We give all the glory
to God our Father for without him leading and guiding us none of it would be possible. We have so many daily needs that we
have to take it one day at a time, one moment at a time, Our largest prayer need would be for continued strength and
patience, we also continue to need beds and mattresses, food, clothing. We would especially like prayer for Mary Rose and I
as we are now taking care of two babies. Also we need wisdom in deciding what to do about schooling for all of these children.
Please pray for the children, that they will continue to develop a personal relationship with Jesus Christ! We would also like
prayer for continued outreach into the community. Al ,Marianna and Peter will be traveling back to Kenya on Dec. 15 th so
continue to keep them in your prayers also. Chris Cote plans on coming here on Dec.30th so keep Him in your prayers as well.
Thank You so much for your love and compassion, you are truly making a difference in the lives of these little ones.
Support Information
All those desiring to contribute financially may make their checks out to Lancaster Fellowship
6030 Lemon St.
East Petersburg Pa.17520
Please note your checks with either Kenya Missions, or Dow Family Support.
( 100% of your donation goes to help these children! )
Contact Information
Gregory and Mary Rose Dow
Rono (717-475-0387)
Emergency Contact # is Realff
P.o. box 477 Litein, Kenya 20210
Phone # from U.S. 011-254 - 720-227-413
# from U.S.011-254 - 720-622-333
Email: [email protected]
projectearthinternational.org
Web site:
Issue Number #7
The Dow Family Newsletter !
Date 12/02/08
Merry Christmas to All!
Love from the Gang!