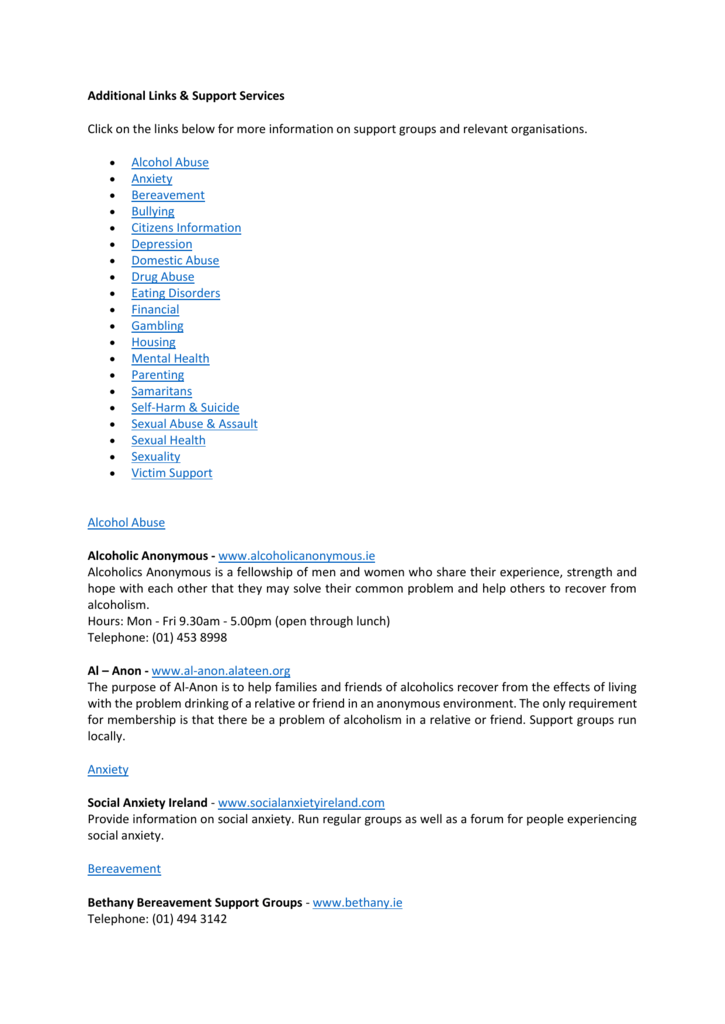 Additional Links & Support Services
Click on the links below for more information on support groups and relevant organisations.




















Alcohol Abuse
Anxiety
Bereavement
Bullying
Citizens Information
Depression
Domestic Abuse
Drug Abuse
Eating Disorders
Financial
Gambling
Housing
Mental Health
Parenting
Samaritans
Self-Harm & Suicide
Sexual Abuse & Assault
Sexual Health
Sexuality
Victim Support
Alcohol Abuse
Alcoholic Anonymous - www.alcoholicanonymous.ie
Alcoholics Anonymous is a fellowship of men and women who share their experience, strength and
hope with each other that they may solve their common problem and help others to recover from
alcoholism.
Hours: Mon - Fri 9.30am - 5.00pm (open through lunch)
Telephone: (01) 453 8998
Al – Anon - www.al-anon.alateen.org
The purpose of Al-Anon is to help families and friends of alcoholics recover from the effects of living
with the problem drinking of a relative or friend in an anonymous environment. The only requirement
for membership is that there be a problem of alcoholism in a relative or friend. Support groups run
locally.
Anxiety
Social Anxiety Ireland - www.socialanxietyireland.com
Provide information on social anxiety. Run regular groups as well as a forum for people experiencing
social anxiety.
Bereavement
Bethany Bereavement Support Groups - www.bethany.ie
Telephone: (01) 494 3142
Console - www.console.ie
Console in an organisation offering support to people affected by suicide, in the form of therapeutic
support groups, bereavement counselling and offering information.
Telephone: 1800 201 890
Bullying
Anti-bullying Centre - www.abc.tcd.ie
The Centre has information packs available, containing materials about bullying/harassment. For more
information on these packs see either the School or Works section of this website or contact them
directly at:
Telephone: (01) 608 2573 or 608 3488
Citizens Information
Citizens Information - www.citizensinformation.ie/categories
Provision of information to the public through the nationwide network of Citizens Information
Centres, the Citizens Information Phone Service and through the Citizens Information website.
Telephone: 1890 777 121
Depression
Aware - www.aware.ie
Aware is a national voluntary organisation providing support through depression. Services include
support groups nationwide, a Lo Call Helpline open 365 days a year (both services available to
individuals with depression and also family members and friends), depression awareness and
information talks and seminars and a free information service.
Telephone: (01) 661 7211
Email: [email protected]
Students Against Depression - www.studentdepression.org
Provides information for students on recognising depression and what to do about it.
Domestic Abuse
Women's Aid - www.womensaid.ie
The Women's Aid National Free phone Helpline offers confidential information, advice, support and
understanding to women who are being physically, sexually or mentally abused in their own homes.
The Helpline also acts as a referral to refuge, counselling services, solicitors, legal aid and other
agencies, both statutory and voluntary, which are helpful to women experiencing abuse within a
relationship. This service is free to all women in the Republic of Ireland.
Open 7 days a week from 10am to 10pm.
Telephone: 1800 341 300
Drug Abuse
Narcotics Anonymous - www.na-ireland.org
A group of recovering addicts who have found a way to live without the use of drugs. It costs nothing
to be a member, the only requirement is a desire to stop using.
Telephone: (01) 672 8000
Eating Disorders
Bodywhys - www.bodywhys.ie
Bodywhys is the Irish National Charity, which offers support, information and understanding for
people with eating disorders, their families and friends.
Admin Line: (01) 283 4963
Helpline No: 1890 200 444
Overeaters Anonymous - www.oa.org
Self-help for those suffering from eating disorders
Telephone: (01) 278 8106
Financial
MABS (Budgeting) - www.mabs.ie
MABS is a national debt free, confidential and independent service for people in debt or in danger of
getting into debt.
Telephone: (01) 670 6555 / (01) 670 4331
Gambling
Gamblers Anonymous - www.gamblersanonymous.ie
Gamblers Anonymous is a fellowship of men and women who have joined together to do something
about their own gambling problem and to help other compulsive gamblers do the same. The only
requirement for membership is a desire to stop gambling.
Telephone: Dublin (01) 872 1133 (10.00am to 12.00 am Mon - Fri)
Outside of these hours listen to the recording - You will get the phone details of a GA member who
you can speak to between 7.00pm and 10.00pm each day.
Housing
Threshhold - www.threshhold.ie
Threshhold was founded in 1978 and is not-for-profit organisation whose aim is to secure a right to
housing, particularly for households experiencing the problems of poverty and exclusion. Information
includes useful guidelines on renting accommodation.
Telephone: (01) 678 6096
Mental Health
My Mind Matters - www.mymindmatters.ie
MMM is an online mental health and wellbeing portal for students. It is a collaboration pilot project
between the National University of Ireland Galway (NUIG), Trinity College Dublin (TCD), Dundalk
Institute of Technology (DKIT) and University College Cork (UCC). However the site is intended for use
by all 3rd level students in Ireland.
ProYouth - www.proyouth.eu
The European initiative for the promotion of mental health and the prevention of eating disorders.
Mental Health Ireland - www.mentalhealthireland.ie
Mental Health Ireland aims to promote positive mental health and to actively support persons with a
mental illness, their families and carers by identifying their need and advocating their rights.
Telephone: (01) 284 1166
Shine - www.shineonline.ie
Shine is the national organization dedicated to uploading the rights and addressing the needs of all
those affected by enduring mental illness including, but not exclusively, schizophrenia, schizo-affective
disorder and bi-polar disorder. Shine offers support groups for individuals and their families,
counselling and have a range of information resources online.
Telephone: 1890 621 631
Reach Out - http://ie.reachout.com/
ReachOut.com is an online service dedicated to taking the mystery out of mental health. They have
lots of information about getting through tough times.
Parenting
Parent line -www.parentline.ie
Parentline provides a completely confidential helpline for parents and guardians. Parents phone
Parentline with all sorts of problems. There is no typical call. Calls come from parents of new born
babies, toddlers, pre-teens and teenagers - children of all ages. All ages offer different challenges.
Telephone: 1890 927 277
Gingerbread - www.gingerbread.ie
Gingerbread provides accurate, confidential and informed advice and information on all issues
affecting one parent families. They do this through Support Groups, which may or may not be
attached to Branches, and who are made of other lone parents. They provide adult peer support and
also, through regular outings, holidays and parties, help families go forward from their present
position. They also offer an information and referral helpline.
Telephone: 01 814 6618 Monday to Thursday, 10.00am - 2.00pm
Email: [email protected]
Samaritans
Samaritans - www.dublinsamaritans.ie
Samaritans are available 24 hours a day to provide confidential emotional support for people who are
experiencing feelings of distress or despair, including those which may lead to suicide.
Telephone: 1850 60 90 90
Self-harm & Suicide
Pieta House - Centre for the Prevention of Self-Harm or Suicide
www.pieta.ie
Centre for the Prevention of Self-Harm or Suicide, provides information to communities on suicide
prevention, offers counselling to individuals who are self-harming or suicidal and offers support to
family members affected by suicide.
Telephone: 01-6010000
Sexual Abuse and Assault
National Counselling Service (NCS) - www.hse-ncs.ie/en
The National Counselling Service offers free counselling to anyone over 18 who experienced abuse
or trauma in childhood
Rape Crisis Centre - www.drcc.ie
Dublin Rape Crisis Centre offer a confidential, 24-hour telephone helpline, 7 days a week staffed by
trained counsellors who are available to listen to you and any concerns you may have in regard to
issues of rape, sexual assault, sexual harassment or childhood sexual abuse.
Although the Centre is based in Dublin, our counsellors take calls from all over the country and every
call is dealt with in confidence and with respect and understanding.
Freephone 1800 778888
Sexual Health
AIDS Helpline - www.aidswest.ie/
AIDS Helpline is a voluntary organisation. They offer an information help line, education / prevention
services and support to people affected by HIV and to those concerned about their sexual health.
Their services are completely confidential
Aids Helpline Dublin: 1800 459 459
Irish Family Planning Association - www.ifpa.ie
The IFPA offers a comprehensive range of services specifically designed to promote sexual health
and to support reproductive choice. Their services and facilities are oriented to the needs of women
and young people in particular and include counselling, information, education and medical services.
IFPA National Pregnancy Helpline 1850 49 50 51
Sexuality
Gay Switchboard - www.gayswitchboard.ie
GSD's core service is provided via telephone. They provide non-directive, non-judgmental,
befriending, support and a general information service to the gay, lesbian and bisexual community,
to anyone who has issues relating to their sexuality, to their parents, families and friends.
Telephone (01) 872 1055
Belong To - www.belongto.org
BeLonG To is an organization for Lesbian, Gay, Bisexual and Transgendered young people between the
ages of 14 and 23. BeLonG To run social and supportive groups in Dublin and have a range of online
resources for LGBT young people and their parents.
Telephone (01) 670 6223
Victim Support
Crime Victim - www.crimevictimshelpline.ie
The Garda Síochána operate closely with the Crime Victims Helpline, 1850 211 407, which can help
provide support to victims of crime.