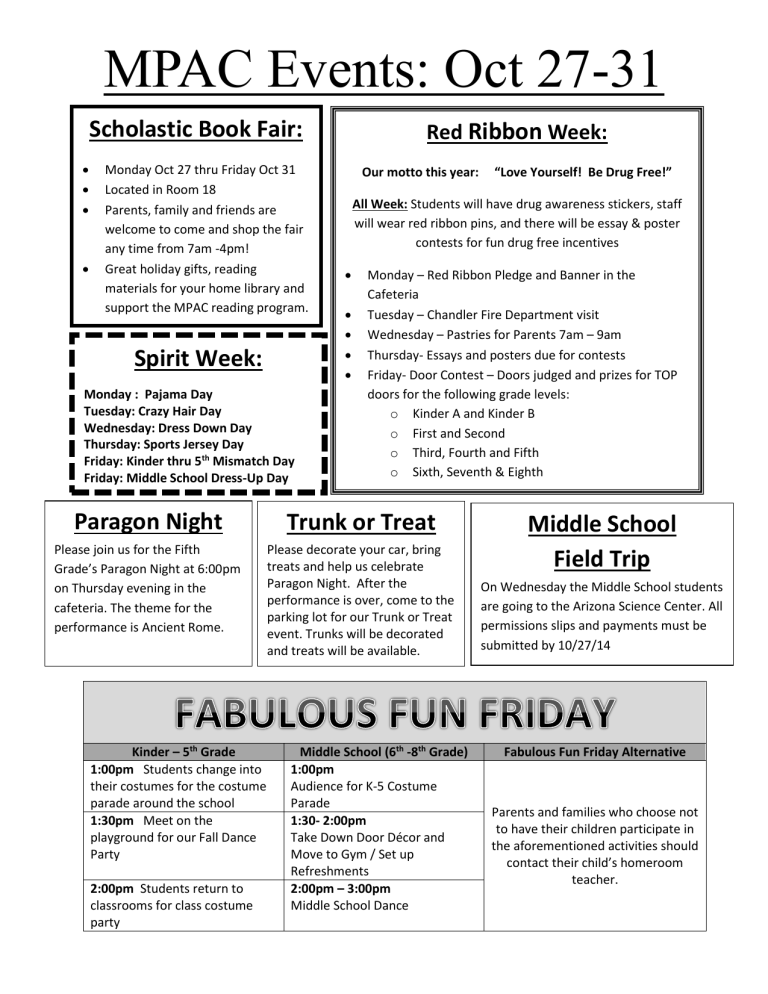 MPAC Events: Oct 27-31
Scholastic Book Fair:




Monday Oct 27 thru Friday Oct 31
Located in Room 18
Parents, family and friends are
welcome to come and shop the fair
any time from 7am -4pm!
Great holiday gifts, reading
materials for your home library and
support the MPAC reading program.
Spirit Week:
Monday : Pajama Day
Tuesday: Crazy Hair Day
Wednesday: Dress Down Day
Thursday: Sports Jersey Day
Friday: Kinder thru 5th Mismatch Day
Friday: Middle School Dress-Up Day
Red Ribbon Week:
Our motto this year:
All Week: Students will have drug awareness stickers, staff
will wear red ribbon pins, and there will be essay & poster
contests for fun drug free incentives





Monday – Red Ribbon Pledge and Banner in the
Cafeteria
Tuesday – Chandler Fire Department visit
Wednesday – Pastries for Parents 7am – 9am
Thursday- Essays and posters due for contests
Friday- Door Contest – Doors judged and prizes for TOP
doors for the following grade levels:
o Kinder A and Kinder B
o First and Second
o Third, Fourth and Fifth
o Sixth, Seventh & Eighth
Paragon Night
Trunk or Treat
Please join us for the Fifth
Grade's Paragon Night at 6:00pm
on Thursday evening in the
cafeteria. The theme for the
performance is Ancient Rome.
Please decorate your car, bring
treats and help us celebrate
Paragon Night. After the
performance is over, come to the
parking lot for our Trunk or Treat
event. Trunks will be decorated
and treats will be available.
Kinder – 5th Grade
1:00pm Students change into
their costumes for the costume
parade around the school
1:30pm Meet on the
playground for our Fall Dance
Party
2:00pm Students return to
classrooms for class costume
party
"Love Yourself! Be Drug Free!"
Middle School (6th -8th Grade)
1:00pm
Audience for K-5 Costume
Parade
1:30- 2:00pm
Take Down Door Décor and
Move to Gym / Set up
Refreshments
2:00pm – 3:00pm
Middle School Dance
Middle School
Field Trip
On Wednesday the Middle School students
are going to the Arizona Science Center. All
permissions slips and payments must be
submitted by 10/27/14
Fabulous Fun Friday Alternative
Parents and families who choose not
to have their children participate in
the aforementioned activities should
contact their child's homeroom
teacher.