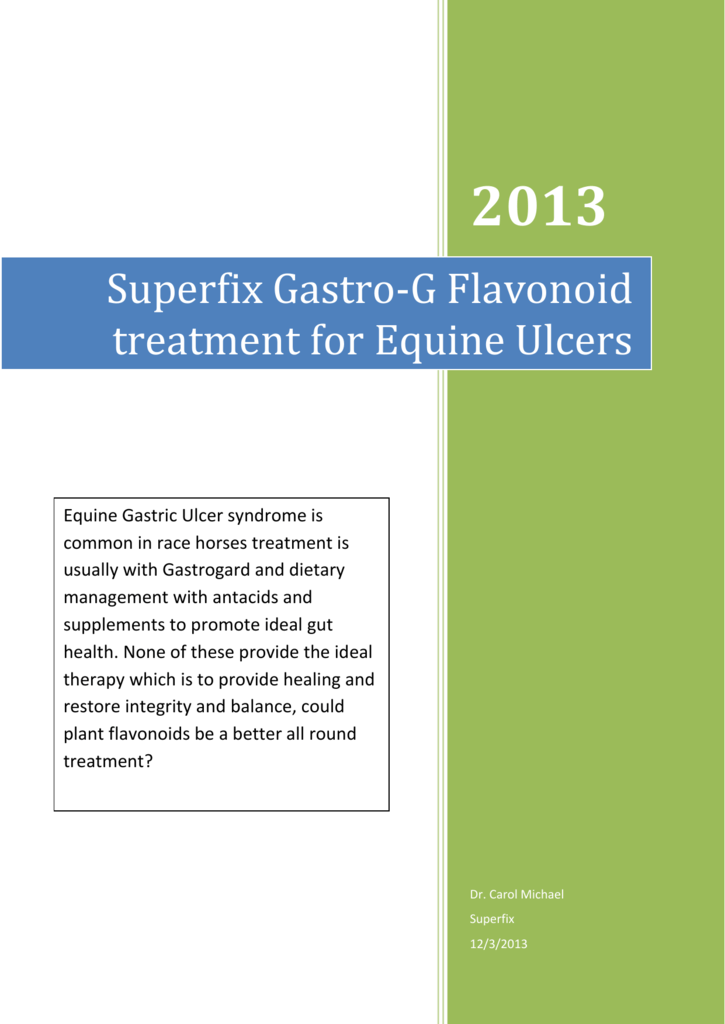 2013
Superfix Gastro-G Flavonoid
treatment for Equine Ulcers
Equine Gastric Ulcer syndrome is
common in race horses treatment is
usually with Gastrogard and dietary
management with antacids and
supplements to promote ideal gut
health. None of these provide the ideal
therapy which is to provide healing and
restore integrity and balance, could
plant flavonoids be a better all round
treatment?
Dr. Carol Michael
Superfix
12/3/2013
Ideal therapy for gastric ulcer syndrome in horses is to



relieve the pain,
heal the ulcer
Effectively prevent recurrence.
To date no drug or nutritional therapies fit these criteria
To achieve peace and harmony in the gut there should be a balance between the aggressive action
of the digestive juices (acid and pepsin) and the protective barrier of the mucosal membrane.
Ulcers are caused by an imbalance in the amount of gastric acid produced or diminished mucosal
barrier by;


An increase in gastric acid production
The bicarbonate fails to neutralise the stomach acid and/or an impaired mucous
secretion
Superficial lesions and granulations on the mucosal layer in the stomach and hind gut
which are caused by Bute, drug or bacterial infection.
Drug and nutritional therapy is aimed at prevention of gastric acid –
Gastrogard- blocks the production of gastric acid by inhibiting the proton pump this remains the
most effective course of treatment against ulcers caused by the over production of gastric acid but
has no effect against ulcers caused by bacteria, nor inflammation nor is omeprazole able to
stimulate mucus –bicarbonate flow or improve the integrity of the mucosal lining of the stomach.
Cimetidine and Ranitidine- both block the action of histamine, diminishing the production of gastric
acid.
Antacids- either increased saliva production from feeding continuous hay or buffering and coating
the stomach with added dihydroxy-aluminium sodium carbonate, aluminium phosphate and
magnesium carbonate.
Omeprazole is an effective treatment for gastric ulcers but synthetic drugs are not able to provide a
balanced, strong or healthy gastro intestinal tract.
Plants are the only therapy to give a shotgun effect, firing multiple compounds into the system to
bring about a number of biological beneficial processes. There are certain plants which contain
flavonoids able to target the gastrointestinal tract, treat the gastric ulcers, provide pain relief and
destroy the harmful bacteria which cause hind gut colitis.
Flavonoids are in essence functional foods and can be given as part of a normal diet in larger
amounts to treat gastric ulcers or in a lower dose to offer protection stopping the over production of
gastric acid and by encouraging a thicker mucosal membrane.
Gastro G contains compounds with several natural proton pump inhibitors (PPI's)
The action of these natural PPI's (Galactitol, Catechin, Epicatechin, Quercetin, Rutin) is highlighted in
the following experiment.
In this experiment gastric ulcers were induced by the use of ethanol. Ethanol destroys the mucus
barrier in a similar way to the damage done by the over production of gastric acid. M.I. represents
the flavonoids in Gastro G and omeprazole is the active ingredient in Gastrogard. The experiment
was over 7 days and the protection offered by M.I. was better than that of the omeprazole at 55%
and 70% for the full dose of M.I. (10mg/kg)
Chronic gastric lesions induced by ethanol
Size of Lesions
140
120
100
80
60
40
20
0
control
omeprazole
M.I. 3mg/kg
M.I. 10mg/kg
M.I. 30 mg/kg
In vitro inhibition of the proton pump activity with flavonoids (M.I.) and a
comparison with omeprazole
IC50 = 41 µg/ml
6
5
4
3
2
IC50 = 41 µg/ml
1
0
In the second and third experiments gastric ulcers were induced by the use of indomethacin and
acetic acid which prevents the production of prostaglandin. Prostaglandin has 3 jobs –the first is to
limit gastric acid production and the second is to stimulate mucus- bicarbonate secretion. The third
is to stimulate blood flow to the area which is an important part of pain relief in horses.
Treatment of chronic gastric lesions induced by indomethacin
size of lesions
40
35
30
25
20
size of lesions
15
10
5
0
control
omeprazole M.I.3mg/kg M.I. 10mg/kgM.I. 30mg/kg
treatment of chronic gastric lesions induced with acetic acid
size of lesions
100
90
80
70
60
50
40
30
20
10
0
size of lesions
control
omeprazole M.I. 3mg/kg
M.I.
10mg/kg
M.I.
30mg/kg
At the higher dose M.I. is more effective than omeprazole at treating the gastric ulcers induced by acetic acid
Below the volume of gastric acid was measured and the full dose 30mg/kg of M.I. gave the least amount of
secretion indicating the potential M.I. has as a gastro-protective agent
volume of gastric acid secretion
volume
6
5
4
3
volume
2
1
0
control
omeprazole M.I. 3mg/kg M.I. 10mg/kg M.I. 30mg/kg
Continued use of Omeprazole (gastrogard) leads to virtual anacidity which when stopped causes
over production of gastric acid meaning the horse becomes prone to a further recurrence of ulcers.
Gastric Acid secretion total acidity
total acidity
70
60
50
40
30
total acidity
20
10
0
control
omeprazole M.I. 3mg/kg
M.I.
10mg/kg
M.I.
30mg/kg
A maintenance dose of M.I. Gastro- G maintains the optimum ph level of a healthy gut
Nitric oxide levels following treatment with M.I. flavonoids
NO x
50
45
40
35
30
25
20
15
10
5
0
NO x
control
omeprazole
M.I.3mg/kg M.I.10mg/kg M.I. 30mg/kg
The Nitric oxide content of gastric acid secretion was reduced by the M.I. 72, 73 and 93%
respectively. Nitric oxide regulates micro circulation, gastric motility, mucus and acid secretion.
Anti oxidant effect of glutathione is unaltered by the use of maytenus
indicating that the gastro-protective properties are not related to this
mechanism
glutathione
1800
1600
1400
1200
1000
800
600
400
200
0
glutathione
Long term use of Omeprazole


Effects absorption of calcium, vit b 12 and magnesium
Alters gut bacteria, makes bones porous and fractures slow to heal

Three large studies using administrative databases have implicated the use of proton pump
inhibitors as a risk factor for bone fractures in humans there is no data available for horses.

The relation between the use of proton pump inhibitors and fracture may involve calcium
malabsorption due to induced hypochlorhydria.
Summary
Gastric ulcers in horses are caused by over secretion of gastric acid which damages the gut lining
exposing it to injury. The recommended veterinary treatment is Gastrogard /Omeprazole Ulcer
Guard which is effective but expensive; both contain omeprazole which stops gastric acid secretion
(proton pump inhibitor) so potently it creates low stomach acidity which prevents protein
breakdown and the absorption of the vitamins, b12, magnesium and calcium . It also predisposes to
bone fragility, including sore shins and fractures, liver inflammation and tying up. Plant flavonoids
which target the gastrointestinal tract are an effective 'functional food' alternative and compare
very favourably with omeprazole in vivo and in vitro trials.
Gastro –G is given as part of a one month course and then can be given at a ¼ dose for maintenance
purposes. The flavonoids contained in Gastro-g are compliant with the rules of racing and there is no
interaction with any other synthetic medication.
Gastroprotective compounds –both proton pump inhibitors (omeprazole) and H2 antagonists
(ranitidine, cimetidine) decrease or prevent gastric acid production but by different mechanisms. M.I.
(Gastro-g) contains bio chemical compounds with both properties, plus anti inflammatory and
analgesic compounds .
Proton pump inhibitors
Galactitol, Catechin, Epicatechin, Quercetin, Rutin,
H2 Antagonists Arabinogalactan, mauritianin, trifolin, kaempferol
Omeprazole (gastrogard) is a non competitive proton –pump inhibitor
Although generally well tolerated, proton pump inhibitors may cause untoward CNS and endocrine
effects as well as interference with the absorption, metabolism, and elimination of various drugs.
Omeprazole is a weak base that reaches the parietal cell through the bloodstream, diffuses through
the cytoplasm, and becomes activated and trapped as a sulfenamide in the acidic canaliculus of the
parietal cell. It covalently binds to H+K (+)-ATPase, thereby irreversibly blocking acid secretion in
response to all modes of stimulation. The main drawback to its use is its extreme potency, which
leads to virtual anacidity, gastrin and ECL cell hyperplasia and hypergastrinemia.
Plant compounds have no such side effects and are less potent but not less effective they have a
synergistic action with the body's own systems and do not destroy or completely inhibit vital
endocrine chemical signalling pathways.