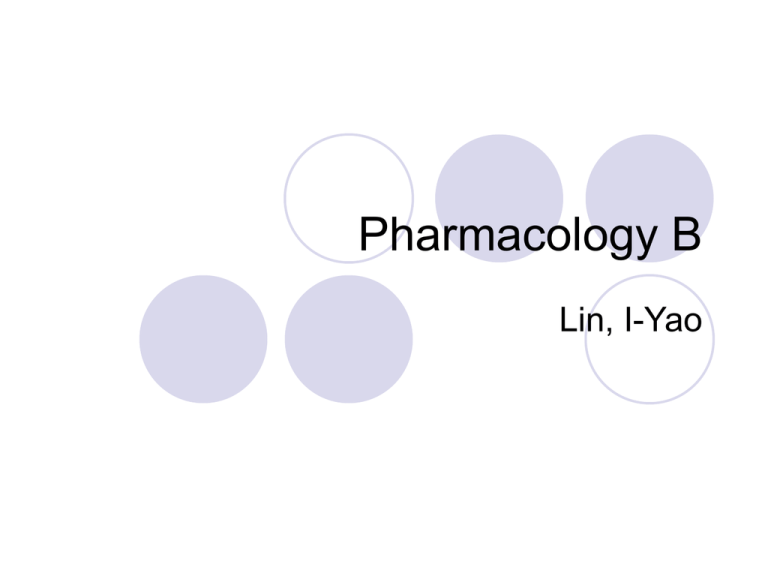 Pharmacology B
Lin, I-Yao
A 43y/o male CEO of a multinational
company experienced severe burning
pain one and a half hour after a
sumptuous lunch. This is
accompanied by mild nausea and
vomiting. He was given a glass of milk
and some cookies which apparently
provided some relief.
Diagnosis: Peptic ulcer of duodenum
Ulcer of the distal stomach and proximal
duodenum caused by gastric secretions
(hydrochloric acid and pepsin) and
impaired mucosal defenses.
It's associate with Helicobacter pylori
which increased hydrochloric acid
secretion, and inadequate mucosal
defense against gastric acid.
Cause:
1. Using aspirin medicine
2. Drinking alcohol excessively
3. Smoking cigarettes and using tobacco
4. Others.
Sign and symptoms:
1. Nausea and vomiting.
2. Weight loss
3. Fatigue
4. Heartburn, indigestion, belching.
5. Vomiting blood
6. Bloody or dark tarry stools
Lab examination:
Gesophagogastroduodenoscopy (EGD) .
Take biopsy to test for H, pylori.
Stool guaiac to test for blood in the stool.
Schilling test to check for anemia.
Treatment approaches include:
Eradicating the H. pylori infection.
Reducing secretion of gastric acid or
neutralizing the acid after it is released.
Providing agents that protect the gastric
mucosa from damage.
Treatment - medication
<Antacids>
NaHCO3, Mg(OH)2, Al(OH)3.
<Acid secretion reducers>
Proton-Pump inhibitors: Omprazole, Lansoprazole.
H2 – Antagonists: Cimetidine, Ranitidine.
<Mucosal strengtheners>
Sucralfate, Bismuth chelate, Prostaglandins
<H. pylori eradication>
Omprazole + Clarithromycin + Amoxillin/ Metronidazole
<Antacids>
-weak base that react with gastric HCl to
form salt and water
-reduce gastric acidity
-reduce pepsin activity
Side effect:
NaHCO3-systemic alkalosis
Mg(OH)2-diarrhea, hyper magmesemia
Al(OH)3-constipation, hypophosphatemia
<Acid secretion reducers>
1. Proton-Pump inhibitors: Omprazole, Lansoprazole.
-inhibits gastric parietal cell proton pump H+/K+ ATPase,
dercease gastric acid secretion.
2. H2 – Antagonists:
-blocker H2-receptor and reduce cAMP which inhibit gastric
acid secretion.
Side effect:
Cimetidine-confusion, reversible gynecomastia.
Ranitidine-headache.
The H2-receptor antagonist can't combined with PPI
inhibitor which the H2-receptor antagonist even inhibit
omeprazole.
<Mucosal strengtheners>
1. Sucralfate
-selective binding to necrotic ulcer tissre and act as barrier
to acid, pepsin, bile.
-requires acid pH to be activated, there fore should not be
used with antacid, H2 antagonist or proton pump
inhibitors.
2. Bismuth chelate
-binds and ulcer tissue, coat it and protectit from acid and
pepsin.
3. Prostaglandins
-inhibits secretion of HCl and stimulates secretion of
mucus and bicarbonate (cytoprotective effect).
Non pharmacology:
 Avoid food and drink that seems to cause
more severe symptoms such as spicy
foods, coffee and possibly alcohol.
 stop smoking.
 Should be lose excess weight if
overweight.