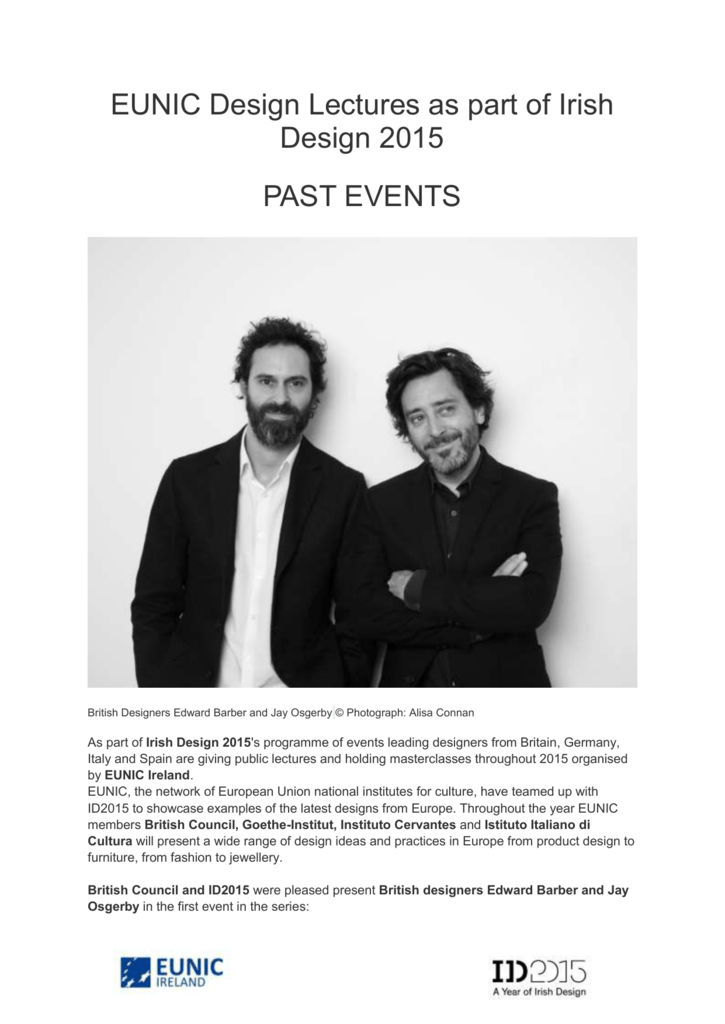 EUNIC Design Lectures as part of Irish
Design 2015
PAST EVENTS
British Designers Edward Barber and Jay Osgerby © Photograph: Alisa Connan
As part of Irish Design 2015's programme of events leading designers from Britain, Germany,
Italy and Spain are giving public lectures and holding masterclasses throughout 2015 organised
by EUNIC Ireland.
EUNIC, the network of European Union national institutes for culture, have teamed up with
ID2015 to showcase examples of the latest designs from Europe. Throughout the year EUNIC
members British Council, Goethe-Institut, Instituto Cervantes and Istituto Italiano di
Cultura will present a wide range of design ideas and practices in Europe from product design to
furniture, from fashion to jewellery.
British Council and ID2015 were pleased present British designers Edward Barber and Jay
Osgerby in the first event in the series:
Design Lecture 1
BARBER & OSGERBY (UK) 5 - 6 March 2015
EVENT 1: "Thinking & Making" - an educational lecture by renowned British designer Edward
Barber of the Barber & Osgerby studio for design students and graduates. In this educational
lecture Edward Barber discussed Thinking & Making, encompassing the work and
development of Barber & Osgerby since setting up their studio in London in 1996. Their diverse
portfolio encompasses furniture, lighting and product design as well as architectural scale
projects. They have worked with Capellini, Vitra, Venini, Flos and Knoll. The pair are known for
their clean, paired back design, synthesis of craft and industrial techniques and their use of
colour. The event was kindly hosted by Dublin Institute of Technology.
DATE: Thursday 5 March 2015
EVENT 2: Design Lecture at the OFFSET Creative Conference. OFFSET is a 3 day creative
conference held annually in Dublin's Bord Gáis Energy Theatre. Every year the very best of
Irish and International creative professionals come together for a weekend of presentations,
lectures, interviews and discussions featuring industry leaders from the worlds of graphic
design, animation, illustration, advertising, film, fashion and more.
DATE: Friday 6 March 2015
DESIGNER BIOGRAPHY:
Internationally acclaimed designers Edward Barber and Jay Osgerby founded their Londonbased studio in 1996. Their diverse body of work spans industrial design, furniture, lighting and
site specific installations as well as limited edition pieces and public commissions such as the
London 2012 Olympic Torch and a £2 coin designed for the Royal Mint. They are currently
working with many brands including Knoll, Vitra, B&B Italia, Cappellini, Venini, and Flos.
Their work is held in permanent museum collections around the world including V&A and
Design Museum in London, Metropolitan Museum of Art, New York and Art Institute of
Chicago. In 2001 Barber and Osgerby established architecture and interior design practice
Universal Design Studio and in 2012 they founded MAP, specializing in research and strategyled design. Barber & Osgerby have also curated In the Making, a touring exhibition from
Design Museum, London, which is on at the Coach House, Dublin Castle until 17 March.In the
Making captures over twenty objects mid-manufacture, putting the aesthetic of the unfinished
centre stage.
EXHIBITION
In The Making is a touring exhibition from the Design Museum in London, curated by designers
Edward Barber and Jay Osgerby and ran until March 17th at the ID2015 Design Hub in Dublin
Castle. The exhibition featured 24 objects paused mid-way through their manufacture and
offered a glimpse of the designers' ongoing dialogue with the manufacturing process. This
perspective is distinctive to their practice: throughout their careers, Edward and Jay have had a
curiosity about the way things are made (Please see link to exhibition website below).
'We curated an exhibition that will provide a platform to capture and reveal a frozen moment in
the manufacturing process and unveils an everyday object in its unfinished state. Often the
object is as beautiful, if not more so, than the finished product.' Jay Osgerby
1. GISELLA BIANCO (ITALY) 5 - 6 May 2015
TALK
What is art jewellery? During this talk Gisella
Bianco presented her work and showed some
examples of Italian artists from the '900s to
explore the wonders of art jewellery. The art of
designing and creating an artisan product
involves a continuous process, seeing the artist's
introspective journey. It's the artist that confers
preciousness to the piece, thus any common
object can become a gem on a necklace.
DATE: 5 May 2015
TIME: 6.30pm
LOCATION: Italian Institute of Culture, 11
Fitzwilliam Square East, Dublin 2
EXHIBITION
The exhibition included some of Gisella's latest works. Her elegant and creative style is well
represented by a selection of necklaces, rings, earrings and bracelets in silver, gold and precious
stones. The jewels represent Gisella's unmistakable style and irony, showcasing an original
combination of various materials, including objects taken from everyday life.
DATES / TIMES:
Tue 5th May (opening)
From 18:30
Wed 6th May
From 10:00 to 13:00 and from 15:00 to 17:00.
LOCATION: Italian Institute of Culture, 11 Fitzwilliam Square East, Dublin 2
DESIGNER BIOGRAPHY:
Gisella Bianco was born in Verona in 1972.
She started her artistic professional training with a High School diploma in Architecture Design in
1992 and chose to follow her aspiration and became a jewellery maker.
After a three-year jewellery course in Verona and a course of Artistic Wax Moulding in Vicenza,
she obtained a professional qualification in Metalwork Art under the guidance of Arnaldo
Pomodoro in 1994.
She obtained another Diploma as Jewellery Designer at Arti Orafe in Florence in 1996.
Gisella's extensive experience includes the making of theatre jewels for the Opera Carmen
directed by Zeffirelli and the cooperation with various goldsmith shops producing lines of ethnic,
modern and classical jewels.
Through her work Gisella translates her emotions into gold and silver, metal and stones. She
thinks that the preciousness of a jewel lies in its soul and in the artisan's workmanship,
regardless of the material used.
Upcoming talks and masterclasses by Spanish and German designers will include:
May 2015
Spain - Martí Guixé (Exhibition/Interior/Project/Product Design)
23-25 September 2015
Germany - Philipp Mainzer (Architecture and Product Design)
October 2015
Germany - Anne Trautwein / Anja Schneemann (Fashion Design)
November 2015
UK – Dunne & Raby tbc.