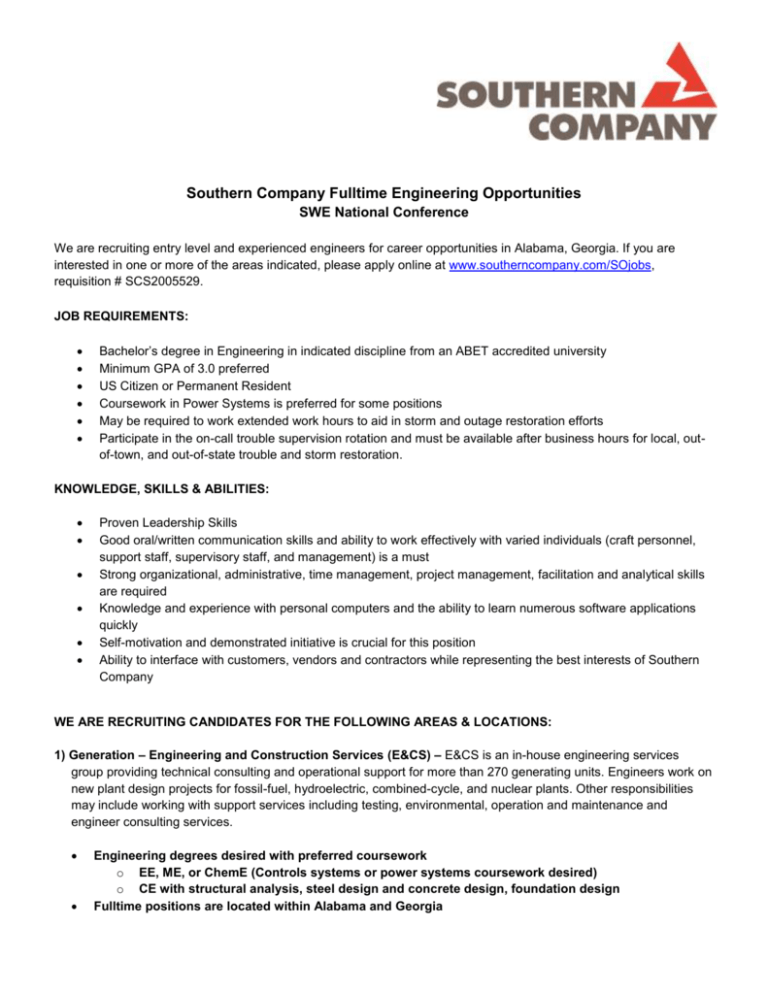 Southern Company Fulltime Engineering Opportunities
SWE National Conference
We are recruiting entry level and experienced engineers for career opportunities in Alabama, Georgia. If you are
interested in one or more of the areas indicated, please apply online at www.southerncompany.com/SOjobs,
requisition # SCS2005529.
JOB REQUIREMENTS:






Bachelor's degree in Engineering in indicated discipline from an ABET accredited university
Minimum GPA of 3.0 preferred
US Citizen or Permanent Resident
Coursework in Power Systems is preferred for some positions
May be required to work extended work hours to aid in storm and outage restoration efforts
Participate in the on-call trouble supervision rotation and must be available after business hours for local, outof-town, and out-of-state trouble and storm restoration.
KNOWLEDGE, SKILLS & ABILITIES:






Proven Leadership Skills
Good oral/written communication skills and ability to work effectively with varied individuals (craft personnel,
support staff, supervisory staff, and management) is a must
Strong organizational, administrative, time management, project management, facilitation and analytical skills
are required
Knowledge and experience with personal computers and the ability to learn numerous software applications
quickly
Self-motivation and demonstrated initiative is crucial for this position
Ability to interface with customers, vendors and contractors while representing the best interests of Southern
Company
WE ARE RECRUITING CANDIDATES FOR THE FOLLOWING AREAS & LOCATIONS:
1) Generation – Engineering and Construction Services (E&CS) – E&CS is an in-house engineering services
group providing technical consulting and operational support for more than 270 generating units. Engineers work on
new plant design projects for fossil-fuel, hydroelectric, combined-cycle, and nuclear plants. Other responsibilities
may include working with support services including testing, environmental, operation and maintenance and
engineer consulting services.


Engineering degrees desired with preferred coursework
o EE, ME, or ChemE (Controls systems or power systems coursework desired)
o CE with structural analysis, steel design and concrete design, foundation design
Fulltime positions are located within Alabama and Georgia





Design Engineering supports broad scope of activities, including new plant design, major retrofit
modifications, outage support, and conceptual services.
Civil Engineering –Typical support areas include design of Structural Steel, Concrete, Site Work, Hydros,
Structural Analysis, and Railroads
Mechanical Engineering - Typical support areas include design of Mechanical Processes, Fire Protection
Systems, Piping, and Field Support
Electrical Engineering - Typical support areas include design of Electrical Systems, Control Systems,
General Services, and Major and Minor Retrofits
Instrumentation and Controls Engineering - Typical support areas include design of Instrumentation, Control
Systems, Process Area Expertise, and Field Support
2) Southern Power – Southern Power is Southern Company's wholesale energy provider meeting the electricity
needs of municipalities, electric cooperatives and investor-owned utilities. At Southern Power, engineers support
the safe and reliable operation of approximately 10,000 MW of gas, solar, wind, and biomass generating assets in
nine states. Southern Power engineers create innovative solutions to meet the growing needs of customers.




Any Engineering degrees considered
Fulltime positions in Birmingham, AL
Manage the physical, financial, and operational activities associated with Southern Power's existing Power
Purchase Agreements with other utilities. Work with customers to establish relationships and resolve issues
that arise from operations and billing. Perform detailed analysis to determine contract optimization
opportunities.
Provide contractual and operational support in the due diligence process for new business and acquisition
opportunities for various technologies in different regions across the U.S. Proactively qualify and quantify
contractual and operational risks and effectively communicate findings to a variety of audiences, including all
levels of management.
PLEASE SEE OUR OTHER POSTINGS FOR:
 Current opportunities in IT
 Future opportunities in Generation (Plant), Transmission, Distribution and Southern Nuclear
We offer a competitive compensation package and relocation.
Southern Company is an Equal Opportunity Employer (EOE) where an applicant's qualifications are
considered without regard to race, color, religion, sex, national origin, age, disability, veteran status, genetic
information, sexual orientation, gender identity or expression, or any other basis prohibited by law.