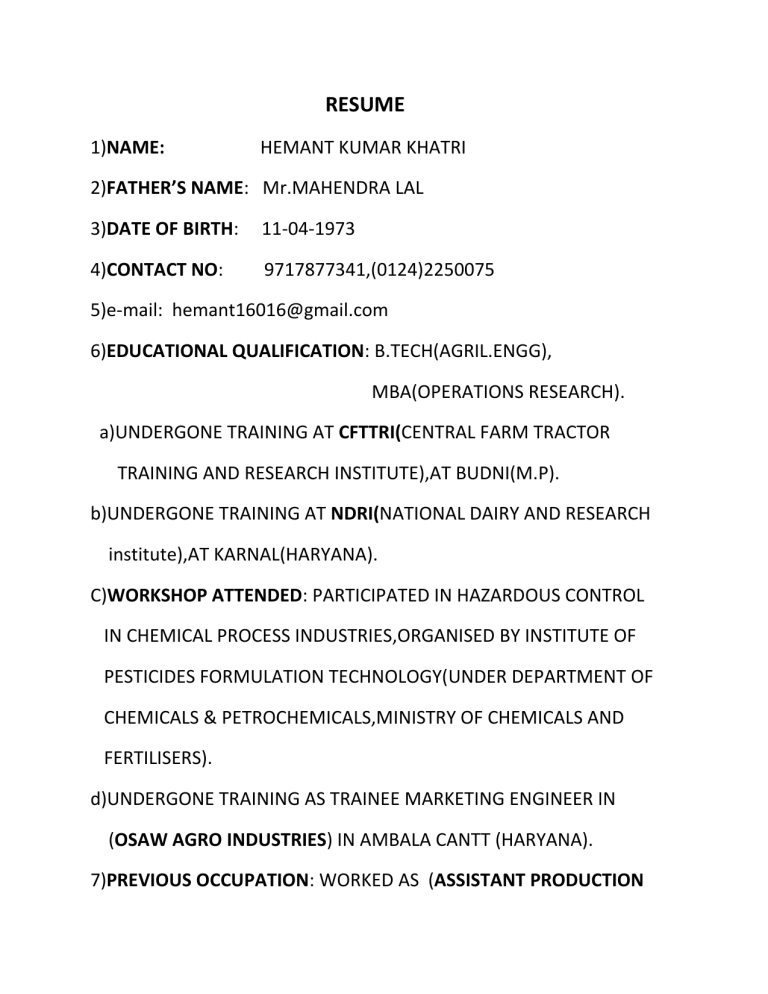 RESUME
1)NAME:
HEMANT KUMAR KHATRI
2)FATHER'S NAME: Mr.MAHENDRA LAL
3)DATE OF BIRTH:
11-04-1973
4)CONTACT NO:
9717877341,(0124)2250075
5)e-mail: hemant16016@gmail.com
6)EDUCATIONAL QUALIFICATION: B.TECH(AGRIL.ENGG),
MBA(OPERATIONS RESEARCH).
a)UNDERGONE TRAINING AT CFTTRI(CENTRAL FARM TRACTOR
TRAINING AND RESEARCH INSTITUTE),AT BUDNI(M.P).
b)UNDERGONE TRAINING AT NDRI(NATIONAL DAIRY AND RESEARCH
institute),AT KARNAL(HARYANA).
C)WORKSHOP ATTENDED: PARTICIPATED IN HAZARDOUS CONTROL
IN CHEMICAL PROCESS INDUSTRIES,ORGANISED BY INSTITUTE OF
PESTICIDES FORMULATION TECHNOLOGY(UNDER DEPARTMENT OF
CHEMICALS & PETROCHEMICALS,MINISTRY OF CHEMICALS AND
FERTILISERS).
d)UNDERGONE TRAINING AS TRAINEE MARKETING ENGINEER IN
(OSAW AGRO INDUSTRIES) IN AMBALA CANTT (HARYANA).
7)PREVIOUS OCCUPATION: WORKED AS (ASSISTANT PRODUCTION
OFFICER) IN (NORTHERN MINERALS LTD),A CHEMICAL
FORMULATION COMPANY IN GURGAON (HARYANA),FROM(1999
TO 2004).
8)WORK EXPERIENCE: WORKED ON COMMISSIONING PROJECT FOR
ONE YEAR INVOLVED IN ACTIVITIES SUCH AS FOUNDATION
MAKING OF VARIOUS MACHINES SUCH AS COMPRESSORS (INGERSOLLRAND DOUBLE RECIPROCATING TYPE,BLENDERS,AIR
RECEIVERS,COOLING TOWERS,SCREW CONVEYORS,TWIN LOBE
BLOWERS,PULVERISERS(TYCHO BRAND),POLLUTION CONTROL
DEVICES,ELEVATORS,POWDER & LIQUID FILLING MACHINES(PLC)
TYPES,CAPPING MACHINES,BOILERS,REACTOR TANKS,WATER
SOFTENERS,EFFLUENT TREATMENT PLANT, etc.
9)JOB RESPONSIBILITIES : TO DIRECT AND ACTIVELY TAKE PART IN
DAY TO DAY SHIFT MAINTENANCE WORK.LOOKING AFTER THE
POWDER FORMULATION PLANT,RESPONSIBLE FOR LOOKING
AFTER THE FORMULATION OF VARIOUS PRODUCTS SUCH AS
(CARBEDAZIM-50%WP,DIFLUBENZURON-25%WP).
10)PRESENT OCCUPATION: WORKING AS A FACULTY PROVIDING
COACHING TO STUDENTS PREPARING FOR ENGINEERING AND
MEDICAL EXAMS(IIT-JEE PREPARATION),since july 2004.
11)SPECIALISATION IN SUBJECTS: MATHEMATICS,PHYSICS AND
CHEMISTRY.
12)ACHIEVEMENTS IN ACADEMICS: STUDENTS TAUGHT HAVE BEEN
SELECTED IN VARIOUS REPUTED ENGINEERING INSTITUTES LIKE
(NIT'S,NATIONAL INSTITUTE OF TECHNOLOGY).