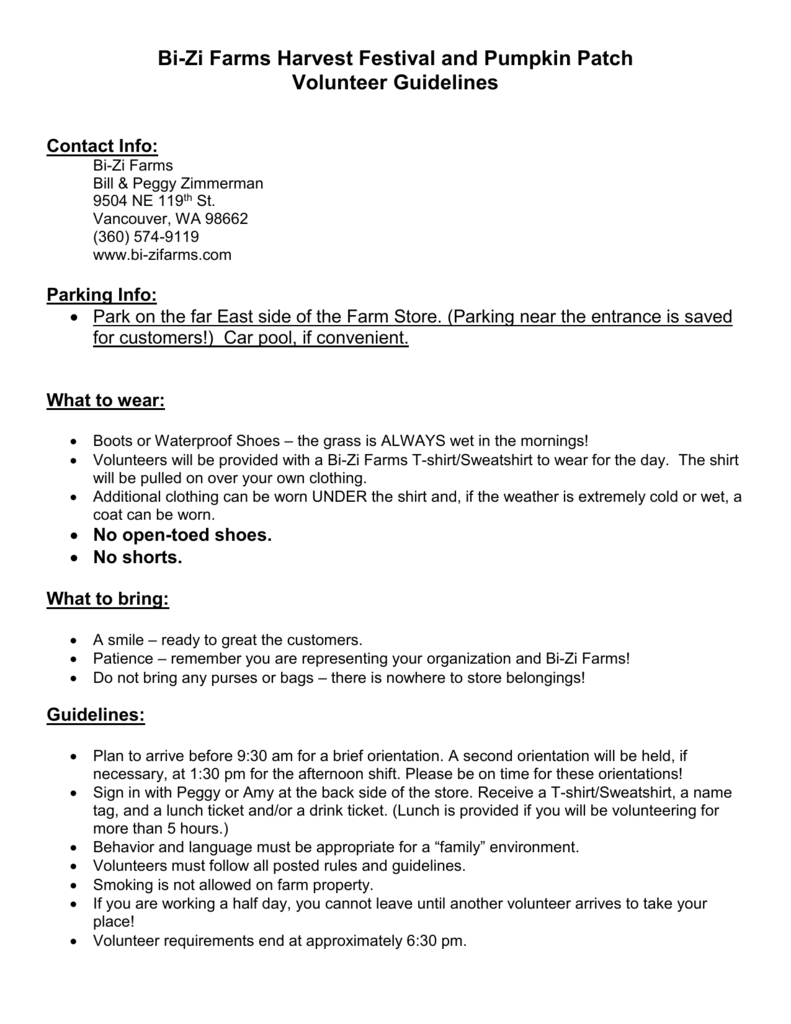 Bi-Zi Farms Harvest Festival and Pumpkin Patch
Volunteer Guidelines
Contact Info:
Bi-Zi Farms
Bill & Peggy Zimmerman
9504 NE 119th St.
Vancouver, WA 98662
(360) 574-9119
www.bi-zifarms.com
Parking Info:
 Park on the far East side of the Farm Store. (Parking near the entrance is saved
for customers!) Car pool, if convenient.
What to wear:



Boots or Waterproof Shoes – the grass is ALWAYS wet in the mornings!
Volunteers will be provided with a Bi-Zi Farms T-shirt/Sweatshirt to wear for the day. The shirt
will be pulled on over your own clothing.
Additional clothing can be worn UNDER the shirt and, if the weather is extremely cold or wet, a
coat can be worn.
 No open-toed shoes.
 No shorts.
What to bring:



A smile – ready to great the customers.
Patience – remember you are representing your organization and Bi-Zi Farms!
Do not bring any purses or bags – there is nowhere to store belongings!
Guidelines:







Plan to arrive before 9:30 am for a brief orientation. A second orientation will be held, if
necessary, at 1:30 pm for the afternoon shift. Please be on time for these orientations!
Sign in with Peggy or Amy at the back side of the store. Receive a T-shirt/Sweatshirt, a name
tag, and a lunch ticket and/or a drink ticket. (Lunch is provided if you will be volunteering for
more than 5 hours.)
Behavior and language must be appropriate for a "family" environment.
Volunteers must follow all posted rules and guidelines.
Smoking is not allowed on farm property.
If you are working a half day, you cannot leave until another volunteer arrives to take your
place!
Volunteer requirements end at approximately 6:30 pm.