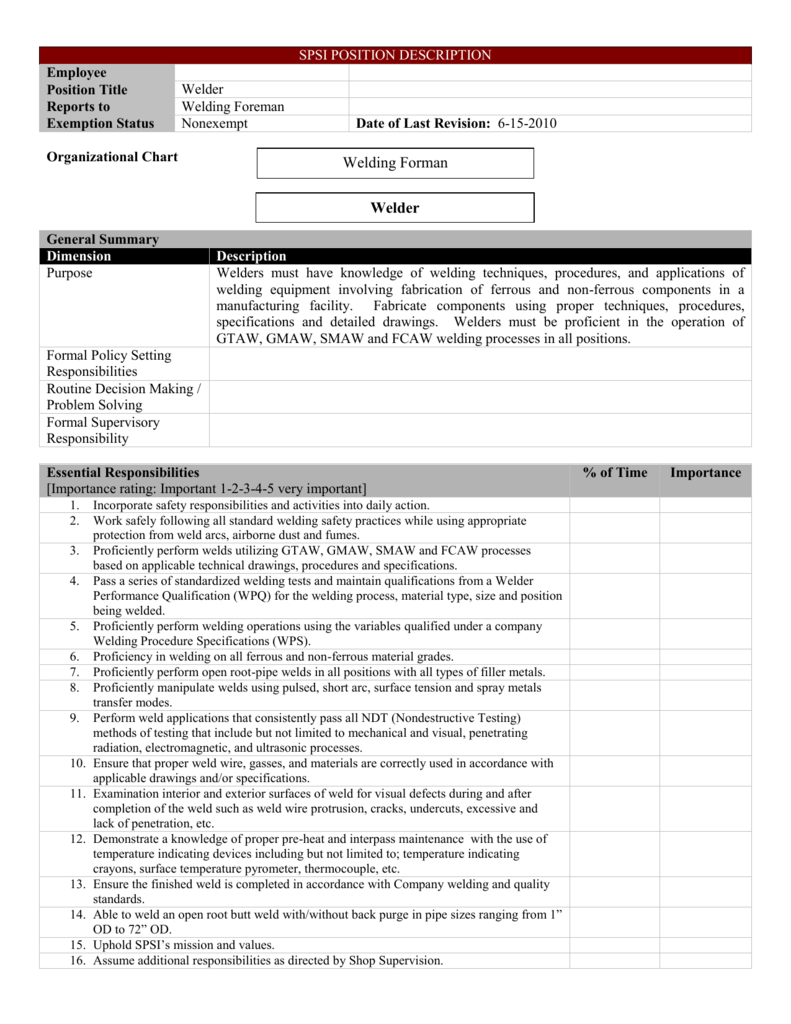 SPSI POSITION DESCRIPTION
Employee
Position Title
Reports to
Exemption Status
Welder
Welding Foreman
Nonexempt
Organizational Chart
Date of Last Revision: 6-15-2010
Welding Forman
OFFICE PROJECT
Welder MANAGER
General Summary
Dimension
Purpose
Description
Welders must have knowledge of welding techniques, procedures, and applications of
welding equipment involving fabrication of ferrous and non-ferrous components in a
manufacturing facility. Fabricate components using proper techniques, procedures,
specifications and detailed drawings. Welders must be proficient in the operation of
GTAW, GMAW, SMAW and FCAW welding processes in all positions.
Formal Policy Setting
Responsibilities
Routine Decision Making /
Problem Solving
Formal Supervisory
Responsibility
Essential Responsibilities
[Importance rating: Important 1-2-3-4-5 very important]
1.
2.
3.
4.
5.
6.
7.
8.
9.
10.
11.
12.
13.
14.
15.
16.
Incorporate safety responsibilities and activities into daily action.
Work safely following all standard welding safety practices while using appropriate
protection from weld arcs, airborne dust and fumes.
Proficiently perform welds utilizing GTAW, GMAW, SMAW and FCAW processes
based on applicable technical drawings, procedures and specifications.
Pass a series of standardized welding tests and maintain qualifications from a Welder
Performance Qualification (WPQ) for the welding process, material type, size and position
being welded.
Proficiently perform welding operations using the variables qualified under a company
Welding Procedure Specifications (WPS).
Proficiency in welding on all ferrous and non-ferrous material grades.
Proficiently perform open root-pipe welds in all positions with all types of filler metals.
Proficiently manipulate welds using pulsed, short arc, surface tension and spray metals
transfer modes.
Perform weld applications that consistently pass all NDT (Nondestructive Testing)
methods of testing that include but not limited to mechanical and visual, penetrating
radiation, electromagnetic, and ultrasonic processes.
Ensure that proper weld wire, gasses, and materials are correctly used in accordance with
applicable drawings and/or specifications.
Examination interior and exterior surfaces of weld for visual defects during and after
completion of the weld such as weld wire protrusion, cracks, undercuts, excessive and
lack of penetration, etc.
Demonstrate a knowledge of proper pre-heat and interpass maintenance with the use of
temperature indicating devices including but not limited to; temperature indicating
crayons, surface temperature pyrometer, thermocouple, etc.
Ensure the finished weld is completed in accordance with Company welding and quality
standards.
Able to weld an open root butt weld with/without back purge in pipe sizes ranging from 1"
OD to 72" OD.
Uphold SPSI's mission and values.
Assume additional responsibilities as directed by Shop Supervision.
% of Time
Importance
Qualifications
To perform this job satisfactorily, an individual must be able to perform each essential duty satisfactorily. The
requirements listed below are representative of the knowledge, skill and/or ability, and environmental conditions required.
Reasonable accommodations may be made to enable individuals with disabilities to perform the essential functions.
Dimension
Description
Required knowledge
Must have the ability to create and deposit acceptable welds in accordance with
applicable standards and fabrication codes.
Knowledge of welding principles including the prevention of welding defects and
discontinuities.
The welder should possess the skills necessary to make in and out of position welds
on piping systems while maintaining a high quality standard.
The welder should understand and utilize the proper handling techniques regarding
weld cleanliness of all grades of ferrous and non ferrous materials.
Required skills or abilities
Possess the skills needed to pass the following minimum weld tests:
6G position GTAW Root/GMAW-P fill and cover weld test in P-1 carbon steel
6G position GTAW Root/FCAW fill and cover weld test in P-5B alloy steel
6G position GTAW Root/GMAW fill and cover weld test in P-8 stainless steel
Formal education
A high school education is preferred.
Any equivalent combination of experience and training that provides the required
knowledge, skills, and abilities.
Experience
A minimum of 3 years of welding experience in the field of high pressure pipe
welding.
Experience operating "Rotoweld" semi automated equipment as well as GMAW
FCAW and/or Submerged Arc semi automated welding equipment.
Unusual Working Conditions, if any





Visual acuity. The ability to see details of objects at a close range (within a few feet of the observer). The ability
to see details at a distance. The ability to see objects or movement of objects to one's side when the eyes are
focused forward.
Ability to move freely throughout a manufacturing facility.
Carrying and moving objects weighing up to 50lbs.
Ability to stand for long periods of time and to frequently stoop, crouch, kneel and perform other related physical
activities.
Able to work safely around welding arc, grinding dust, welding fumes, floor and overhead obstructions, etc.