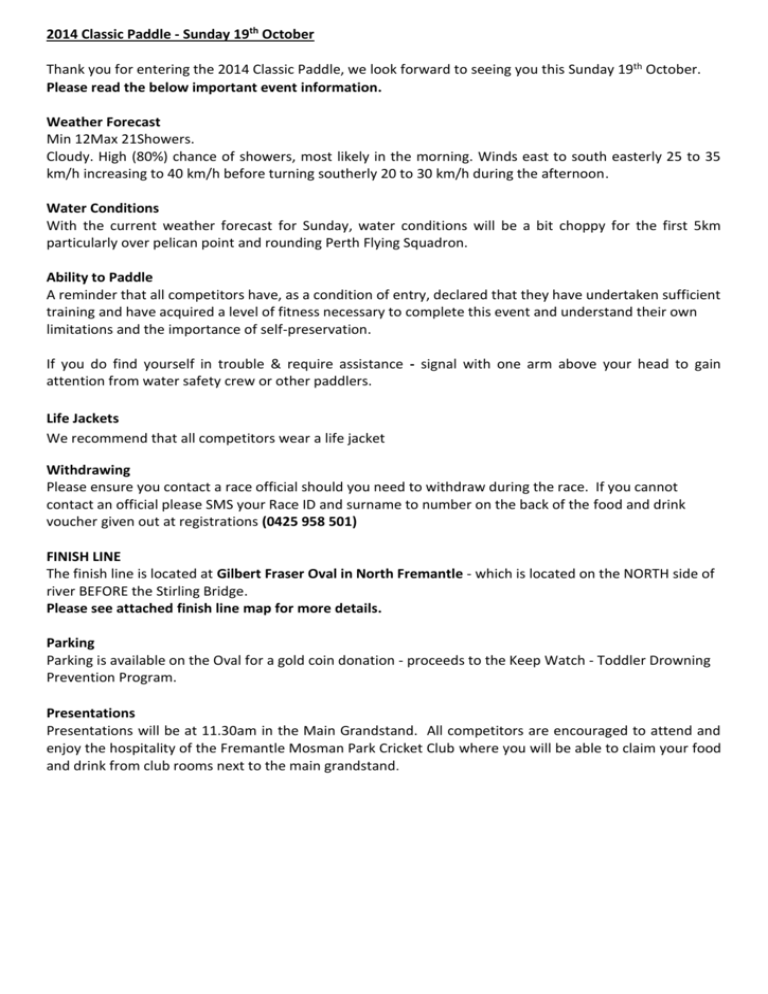 2014 Classic Paddle - Sunday 19th October
Thank you for entering the 2014 Classic Paddle, we look forward to seeing you this Sunday 19th October.
Please read the below important event information.
Weather Forecast
Min 12Max 21Showers.
Cloudy. High (80%) chance of showers, most likely in the morning. Winds east to south easterly 25 to 35
km/h increasing to 40 km/h before turning southerly 20 to 30 km/h during the afternoon.
Water Conditions
With the current weather forecast for Sunday, water conditions will be a bit choppy for the first 5km
particularly over pelican point and rounding Perth Flying Squadron.
Ability to Paddle
A reminder that all competitors have, as a condition of entry, declared that they have undertaken sufficient
training and have acquired a level of fitness necessary to complete this event and understand their own
limitations and the importance of self-preservation.
If you do find yourself in trouble & require assistance - signal with one arm above your head to gain
attention from water safety crew or other paddlers.
Life Jackets
We recommend that all competitors wear a life jacket
Withdrawing
Please ensure you contact a race official should you need to withdraw during the race. If you cannot
contact an official please SMS your Race ID and surname to number on the back of the food and drink
voucher given out at registrations (0425 958 501)
FINISH LINE
The finish line is located at Gilbert Fraser Oval in North Fremantle - which is located on the NORTH side of
river BEFORE the Stirling Bridge.
Please see attached finish line map for more details.
Parking
Parking is available on the Oval for a gold coin donation - proceeds to the Keep Watch - Toddler Drowning
Prevention Program.
Presentations
Presentations will be at 11.30am in the Main Grandstand. All competitors are encouraged to attend and
enjoy the hospitality of the Fremantle Mosman Park Cricket Club where you will be able to claim your food
and drink from club rooms next to the main grandstand.