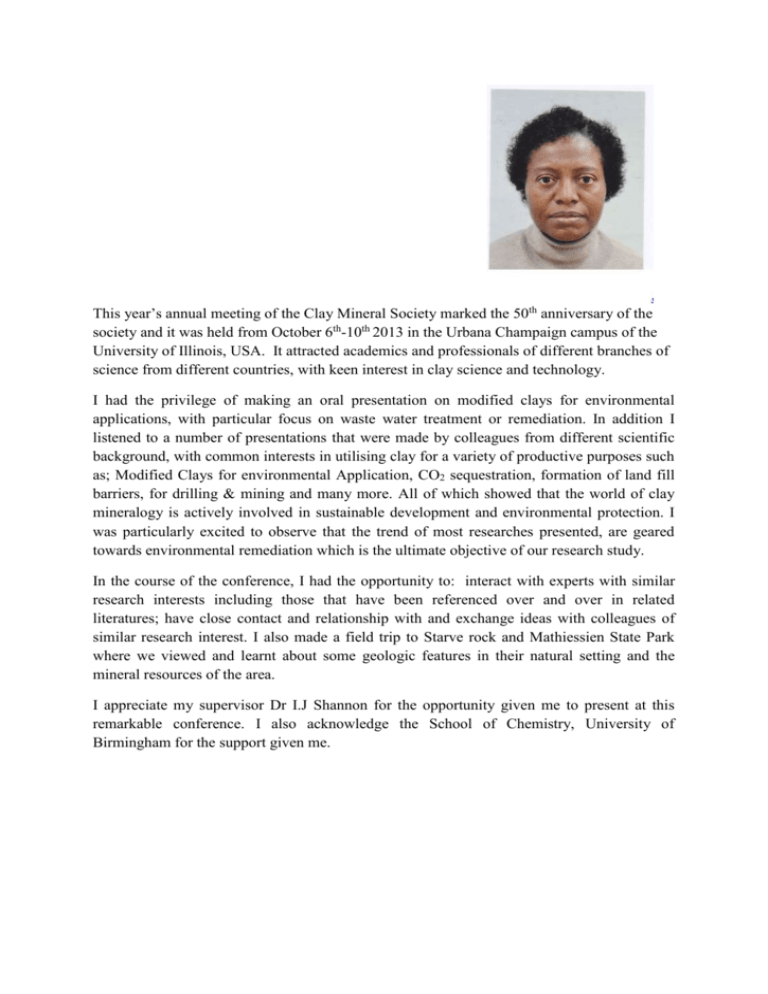 This year's annual meeting of the Clay Mineral Society marked the 50th anniversary of the
society and it was held from October 6th-10th 2013 in the Urbana Champaign campus of the
University of Illinois, USA. It attracted academics and professionals of different branches of
science from different countries, with keen interest in clay science and technology.
I had the privilege of making an oral presentation on modified clays for environmental
applications, with particular focus on waste water treatment or remediation. In addition I
listened to a number of presentations that were made by colleagues from different scientific
background, with common interests in utilising clay for a variety of productive purposes such
as; Modified Clays for environmental Application, CO2 sequestration, formation of land fill
barriers, for drilling & mining and many more. All of which showed that the world of clay
mineralogy is actively involved in sustainable development and environmental protection. I
was particularly excited to observe that the trend of most researches presented, are geared
towards environmental remediation which is the ultimate objective of our research study.
In the course of the conference, I had the opportunity to: interact with experts with similar
research interests including those that have been referenced over and over in related
literatures; have close contact and relationship with and exchange ideas with colleagues of
similar research interest. I also made a field trip to Starve rock and Mathiessien State Park
where we viewed and learnt about some geologic features in their natural setting and the
mineral resources of the area.
I appreciate my supervisor Dr I.J Shannon for the opportunity given me to present at this
remarkable conference. I also acknowledge the School of Chemistry, University of
Birmingham for the support given me.