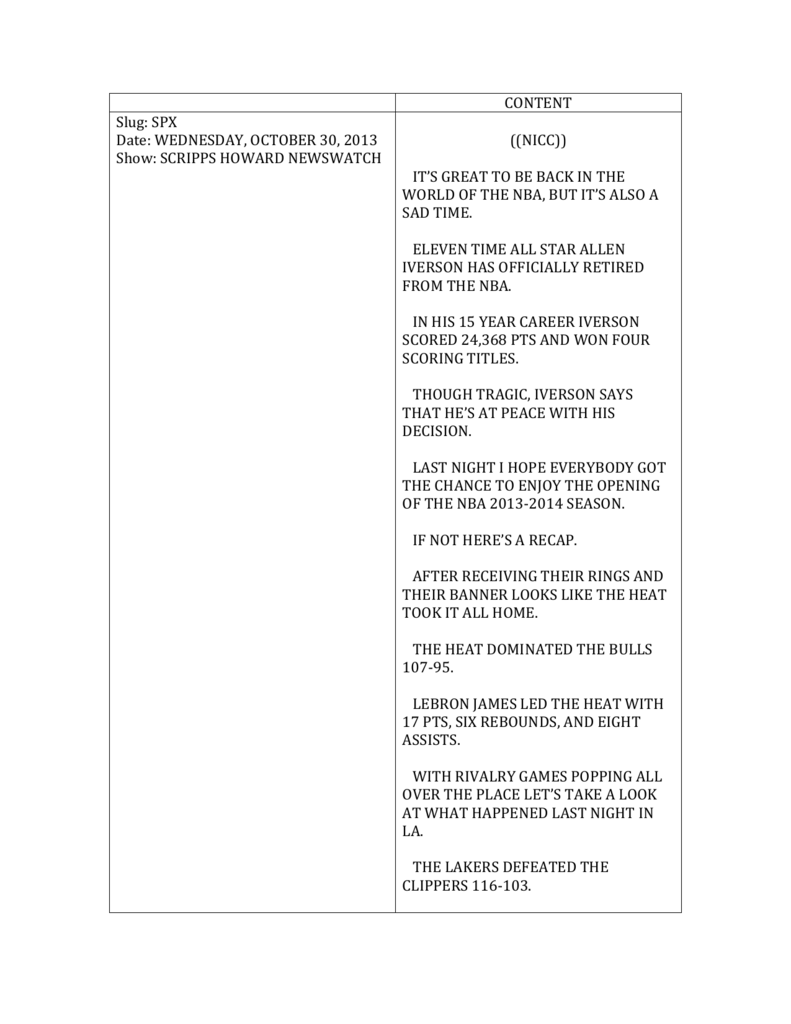 CONTENT
Slug: SPX
Date: WEDNESDAY, OCTOBER 30, 2013
Show: SCRIPPS HOWARD NEWSWATCH
((NICC))
IT'S GREAT TO BE BACK IN THE
WORLD OF THE NBA, BUT IT'S ALSO A
SAD TIME.
ELEVEN TIME ALL STAR ALLEN
IVERSON HAS OFFICIALLY RETIRED
FROM THE NBA.
IN HIS 15 YEAR CAREER IVERSON
SCORED 24,368 PTS AND WON FOUR
SCORING TITLES.
THOUGH TRAGIC, IVERSON SAYS
THAT HE'S AT PEACE WITH HIS
DECISION.
LAST NIGHT I HOPE EVERYBODY GOT
THE CHANCE TO ENJOY THE OPENING
OF THE NBA 2013-2014 SEASON.
IF NOT HERE'S A RECAP.
AFTER RECEIVING THEIR RINGS AND
THEIR BANNER LOOKS LIKE THE HEAT
TOOK IT ALL HOME.
THE HEAT DOMINATED THE BULLS
107-95.
LEBRON JAMES LED THE HEAT WITH
17 PTS, SIX REBOUNDS, AND EIGHT
ASSISTS.
WITH RIVALRY GAMES POPPING ALL
OVER THE PLACE LET'S TAKE A LOOK
AT WHAT HAPPENED LAST NIGHT IN
LA.
THE LAKERS DEFEATED THE
CLIPPERS 116-103.
LOOKS LIKE BRYANT MIGHT BE ABLE
TO RELAX FOR A WHILE.
ALSO WHAT GOOD WAY FOR XAVIER
HENRY TO START HIS FIRST SEASON
WITH THE LAKERS SETTING A CAREER
HIGH OF 22 PTS.