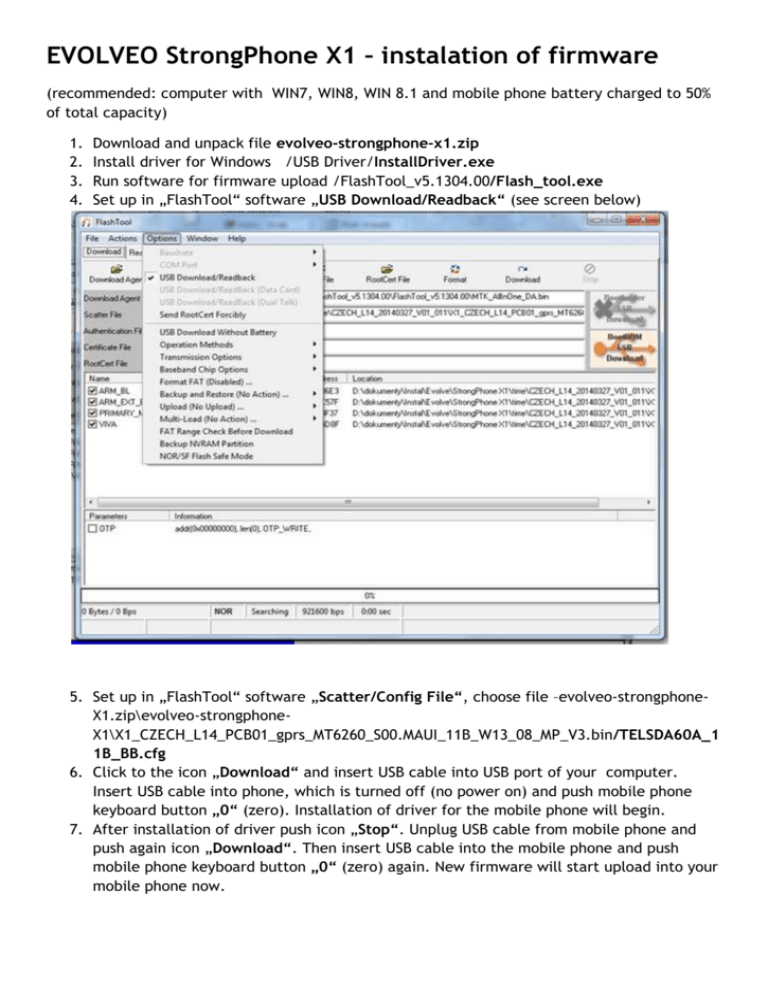 EVOLVEO StrongPhone X1 – instalation of firmware
(recommended: computer with WIN7, WIN8, WIN 8.1 and mobile phone battery charged to 50%
of total capacity)
1.
2.
3.
4.
Download and unpack file evolveo-strongphone-x1.zip
Install driver for Windows /USB Driver/InstallDriver.exe
Run software for firmware upload /FlashTool_v5.1304.00/Flash_tool.exe
Set up in "FlashTool" software "USB Download/Readback" (see screen below)
5. Set up in "FlashTool" software "Scatter/Config File", choose file –evolveo-strongphoneX1.zip\evolveo-strongphoneX1\X1_CZECH_L14_PCB01_gprs_MT6260_S00.MAUI_11B_W13_08_MP_V3.bin/TELSDA60A_1
1B_BB.cfg
6. Click to the icon "Download" and insert USB cable into USB port of your computer.
Insert USB cable into phone, which is turned off (no power on) and push mobile phone
keyboard button "0" (zero). Installation of driver for the mobile phone will begin.
7. After installation of driver push icon "Stop". Unplug USB cable from mobile phone and
push again icon "Download". Then insert USB cable into the mobile phone and push
mobile phone keyboard button "0" (zero) again. New firmware will start upload into your
mobile phone now.
8. After installation you will see green circle "OK" icon.
9. New firmware is installed and you can unplug mobile phone from USB and turn mobile
phone on.
10. Quick switch of language: push middle phone keyboard button to the right and choose
your language.