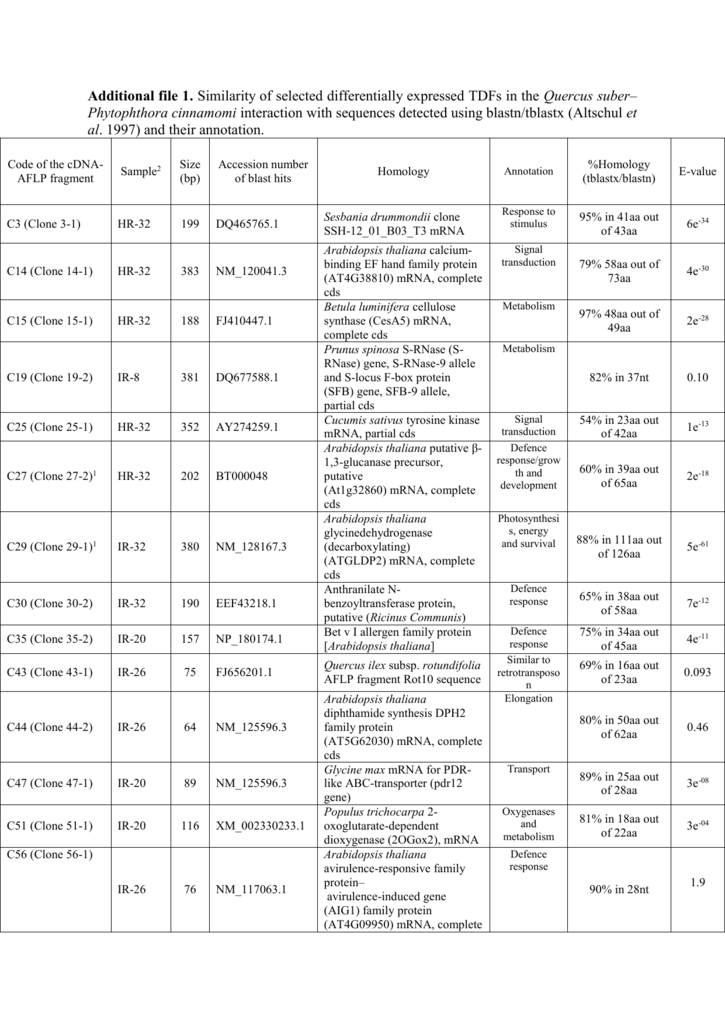 Additional file 1. Similarity of selected differentially expressed TDFs in the Quercus suber–
Phytophthora cinnamomi interaction with sequences detected using blastn/tblastx (Altschul et
al. 1997) and their annotation.
Code of the cDNAAFLP fragment
Sample2
Size
(bp)
Accession number
of blast hits
C3 (Clone 3-1)
HR-32
199
DQ465765.1
C14 (Clone 14-1)
HR-32
383
NM_120041.3
C15 (Clone 15-1)
HR-32
188
FJ410447.1
C19 (Clone 19-2)
IR-8
381
DQ677588.1
C25 (Clone 25-1)
HR-32
352
AY274259.1
C27 (Clone 27-2)1
HR-32
202
BT000048
C29 (Clone 29-1)1
IR-32
380
NM_128167.3
C30 (Clone 30-2)
IR-32
190
EEF43218.1
C35 (Clone 35-2)
IR-20
157
NP_180174.1
C43 (Clone 43-1)
IR-26
75
FJ656201.1
C44 (Clone 44-2)
IR-26
64
NM_125596.3
C47 (Clone 47-1)
IR-20
89
NM_125596.3
C51 (Clone 51-1)
IR-20
116
XM_002330233.1
C56 (Clone 56-1)
IR-26
76
NM_117063.1
Homology
Annotation
Sesbania drummondii clone
SSH-12_01_B03_T3 mRNA
Response to
stimulus
Arabidopsis thaliana calciumbinding EF hand family protein
(AT4G38810) mRNA, complete
cds
Betula luminifera cellulose
synthase (CesA5) mRNA,
complete cds
Prunus spinosa S-RNase (SRNase) gene, S-RNase-9 allele
and S-locus F-box protein
(SFB) gene, SFB-9 allele,
partial cds
Cucumis sativus tyrosine kinase
mRNA, partial cds
Arabidopsis thaliana putative β1,3-glucanase precursor,
putative
(At1g32860) mRNA, complete
cds
Arabidopsis thaliana
glycinedehydrogenase
(decarboxylating)
(ATGLDP2) mRNA, complete
cds
Anthranilate Nbenzoyltransferase protein,
putative (Ricinus Communis)
Bet v I allergen family protein
[Arabidopsis thaliana]
Signal
transduction
Quercus ilex subsp. rotundifolia
AFLP fragment Rot10 sequence
Arabidopsis thaliana
diphthamide synthesis DPH2
family protein
(AT5G62030) mRNA, complete
cds
Glycine max mRNA for PDRlike ABC-transporter (pdr12
gene)
Populus trichocarpa 2oxoglutarate-dependent
dioxygenase (2OGox2), mRNA
Arabidopsis thaliana
avirulence-responsive family
protein–
avirulence-induced gene
(AIG1) family protein
(AT4G09950) mRNA, complete
Metabolism
%Homology
(tblastx/blastn)
E-value
95% in 41aa out
of 43aa
6e-34
79% 58aa out of
73aa
4e-30
97% 48aa out of
49aa
2e-28
82% in 37nt
0.10
54% in 23aa out
of 42aa
1e-13
60% in 39aa out
of 65aa
2e-18
88% in 111aa out
of 126aa
5e-61
65% in 38aa out
of 58aa
7e-12
75% in 34aa out
of 45aa
4e-11
69% in 16aa out
of 23aa
0.093
80% in 50aa out
of 62aa
0.46
89% in 25aa out
of 28aa
3e-08
81% in 18aa out
of 22aa
3e-04
Metabolism
Signal
transduction
Defence
response/grow
th and
development
Photosynthesi
s, energy
and survival
Defence
response
Defence
response
Similar to
retrotransposo
n
Elongation
Transport
Oxygenases
and
metabolism
Defence
response
90% in 28nt
1.9
cds
C59 (Clone 59-1)1
C60 (Clone 60-1)1
1
HR-32
IR-26
59
308
NM_113307.2
Arabidopsis thaliana disease
resistance-responsive family
protein (AT3G24020) mRNA,
complete cds
XM_002276527.2
Vitis vinifera chitinase-like
protein 2-like (LOC100261982)
Defence
response
Defence
response
87% in 28nt
4.2
86% in 84aa out
of 98aa
2e-57
TDFs were selected to complete the coding region sequences (CDS) and gene expression analysis (with the
exception that C29 was not used for qRT-PCR analysis)
2 IR: infected roots; HR: healthy roots (control). Figures refer to the time in hours at which relevant
differences were observed between IR and HR. For example, HR-32 means that C59 was not observed
within 32 h (or faintly observed) in IR and that the corresponding fragment was excised from the HR
sample at that time.