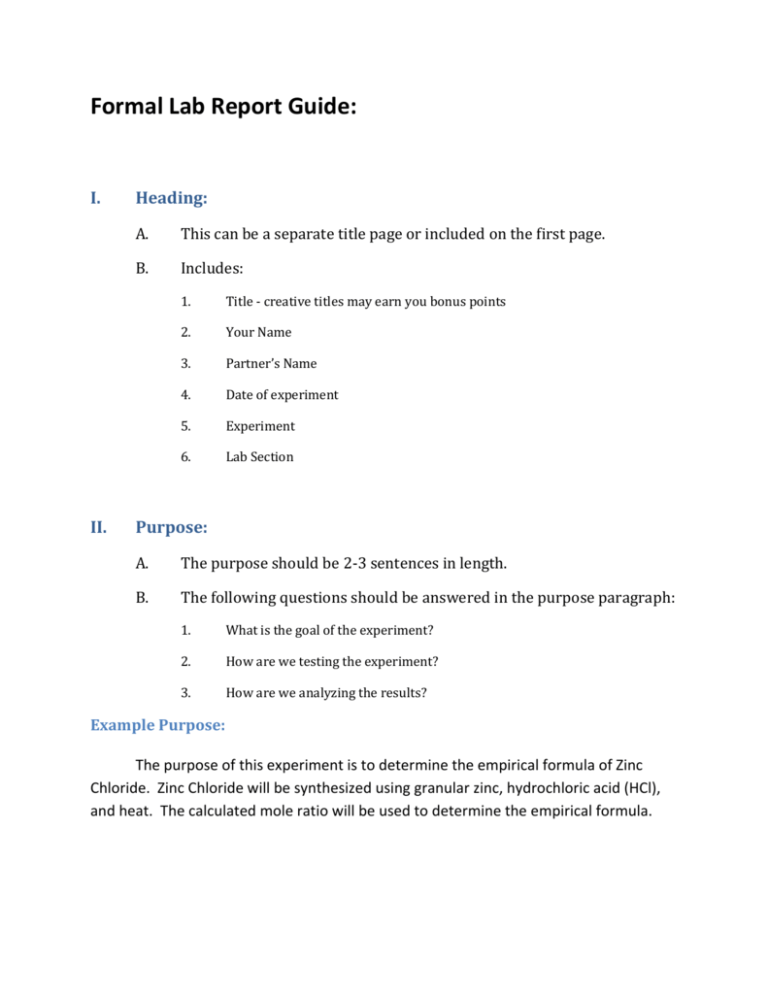 Formal Lab Report Guide:
I.
II.
Heading:
A.
This can be a separate title page or included on the first page.
B.
Includes:
1.
Title - creative titles may earn you bonus points
2.
Your Name
3.
Partner's Name
4.
Date of experiment
5.
Experiment
6.
Lab Section
Purpose:
A.
The purpose should be 2-3 sentences in length.
B.
The following questions should be answered in the purpose paragraph:
1.
What is the goal of the experiment?
2.
How are we testing the experiment?
3.
How are we analyzing the results?
Example Purpose:
The purpose of this experiment is to determine the empirical formula of Zinc
Chloride. Zinc Chloride will be synthesized using granular zinc, hydrochloric acid (HCl),
and heat. The calculated mole ratio will be used to determine the empirical formula.
III.
Method:
A.
DO NOT repeat the procedure word for word
B.
Give the general overview of the procedure
Example Method:
Hydrochloric acid (15mL) was slowly added to the granular zinc (0.5g).
When the zinc completely dissolved, the reaction was complete. The remaining
liquid was evaporated via a hot water bath, and the remaining compound was
massed.
IV.
Data/Calculations:
A.
Includes:
1.
Template provided from Dr. Steel's FacData:
a)
Click the start menu
b)
Select computer
c)
Select FacData (M:)
d)
Select folder wsteel
e)
Select appropriate Lab Documents folder
f)
Select the template folder
g)
Choose appropriate template
h)
Insert the template into the Formal Lab Report
2.
Raw Data
3.
Sample Calculations
4.
a)
Include the equation
b)
Include an example using your data
Results Table
a)
Should be included for every section of the experiment requiring
calculations
5.
Graphs
a)
Include an appropriate title – accurate representation of the graph
Example Graph Title: Density of Rubber Stoppers Part 4
b)
Include labels and units(if needed) for the axes
Example Axis Label: Volume (mL)
6.
V.
DO NOT FORGET LABELS FOR ALL UNITS!
Conclusion:
A.
This section should be written in a paragraph format.
B.
Includes:
1.
Comments about the success of the lab
2.
Identify any source of errors
3.
Explain extraneous data
a)
Yields over 100%
b)
Loss of product
c)
Negative data (values you know should be positive but are not
positive)
4.
Answer all discussion questions
Example Conclusion:
Examining the results, we see the formula for zinc chloride (ZnCl2) is consistent with the known
empirical formula, indicating a successful experiment. The results from our zinc chloride experiment
were similar to the results obtained from another group. This method is an effective way to determine
the empirical formula of an unknown compound; yielding highly accurate and precise results.
Systematic errors affecting the results of experiment could be attributed to improper handling of the
evaporating dish, spattering of product during heating, and miscalculations during analysis. The
method, as written, is a reliable way to determine empirical formulas and would not need to be
adjusted to improve experimental accuracy.