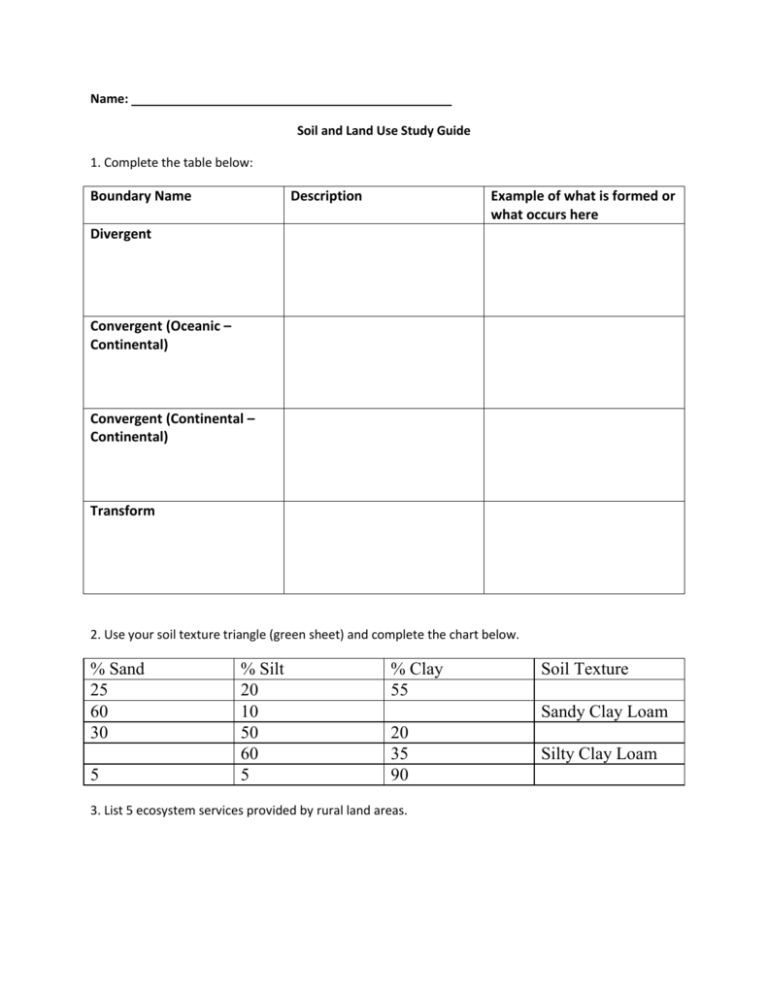 Name:
Soil and Land Use Study Guide
1. Complete the table below:
Boundary Name
Description
Example of what is formed or
what occurs here
Divergent
Convergent (Oceanic –
Continental)
Convergent (Continental –
Continental)
Transform
2. Use your soil texture triangle (green sheet) and complete the chart below.
% Sand
25
60
30
5
% Silt
20
10
50
60
5
% Clay
55
Soil Texture
Sandy Clay Loam
20
35
90
3. List 5 ecosystem services provided by rural land areas.
Silty Clay Loam
4. List the layers of the Earth from the center to the outermost layer. Describe each layer (what is it
made of and any special characteristics)
5. List and describe the six layers of the soil from the top to the bottom layer.
6. What is humus and why is it important for soil?
7. Explain the difference in sand, silt, and clay. Focus on the difference in size and what this means for
soil types.
8. Define and explain or give examples of the following:
a. Urban sprawl
b. Urbanization
c. Infrastructure
d. Mass transit or public transportation
e. heat island
f. ecosystem (ecological) services
9. Explain the differences between continental tectonic plates and oceanic tectonic plates.
10. List 5 tectonic plates, including the one that we live on.