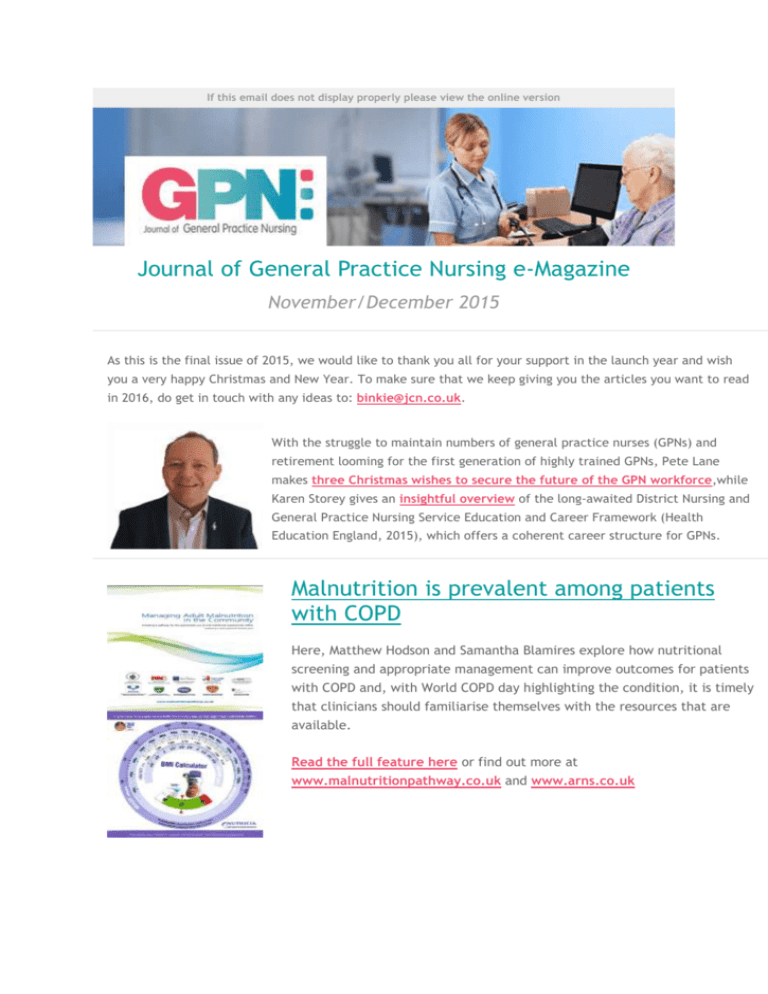 If this email does not display properly please view the online version
Journal of General Practice Nursing e-Magazine
November/December 2015
As this is the final issue of 2015, we would like to thank you all for your support in the launch year and wish
you a very happy Christmas and New Year. To make sure that we keep giving you the articles you want to read
in 2016, do get in touch with any ideas to: binkie@jcn.co.uk.
With the struggle to maintain numbers of general practice nurses (GPNs) and
retirement looming for the first generation of highly trained GPNs, Pete Lane
makes three Christmas wishes to secure the future of the GPN workforce,while
Karen Storey gives an insightful overview of the long-awaited District Nursing and
General Practice Nursing Service Education and Career Framework (Health
Education England, 2015), which offers a coherent career structure for GPNs.
Malnutrition is prevalent among patients
with COPD
Here, Matthew Hodson and Samantha Blamires explore how nutritional
screening and appropriate management can improve outcomes for patients
with COPD and, with World COPD day highlighting the condition, it is timely
that clinicians should familiarise themselves with the resources that are
available.
Read the full feature here or find out more at
www.malnutritionpathway.co.uk and www.arns.co.uk
Diabetes education: the big missed
opportunity in diabetes care
Read Katherine Calder's views on how GPNs can help patients to better
manage their diabetes and so avoid diabetes-related complications.
Read the full feature here
Skills for practice - modern
management of venous ulceration
This feature takes a practical, step-by-step approach to a
specific area of care. Here, Leanne Atkin looks at how
compression hosiery can be used as a first-line option in the
healing stage of venous leg ulceration and explains how
compression hosiery kits not only reduce spend, release nursing
time and potentially increase healing rates, but also reduce
patient suffering and improve quality of life.
Read the article here
Wheezing in the preschool child
Wheezing is a common problem among preschool children, and
its prevalence is rising with an inevitable impact on healthcare
costs. Rebecca Bryson looks at the condition, which can vary in
frequency and acuity, and raises the question of whether to
treat or not to treat, the concerns parents have about
treatment, acute episodes and the overall management of
preschool children with wheeze.
Read the full article here
Copyright: Lopolo/Shutterstock
Getting to the heart of the matter
Atrial fibrillation (AF) is the most common sustained adult cardiac arrhythmia, with over one million people
diagnosed in the UK. Part two of this two-part series discusses the need to improve management of AF in
primary care and addresses optimum heart rate control and how this can be achieved, patient education
and utilising audit tools to improve the quality of AF management.
Read more
Eating disorders - GPNs can become
the 'critical friend'
Here, Alan Dunlop explains how GPNs can support specialists,
patients and their families with the management of eating
disorders through developing a compassionate, therapeutic
relationship that understands and empathises with the patient
and yet maintains firm boundaries, is vigilant about risk (dead
people don't get better) and is firmly pro-recovery.
Read the article here
Copyright: Alexander
Dashewsky/Shutterstock
Don't let your patients miss bowel cancer screening...
As the third most common cancer in the UK, it is likely that GPNs will encounter patients at risk of, or with
the disease during everyday practice. This article gives a brief understanding of colorectal cancer, including
identifying patients who may be at risk of developing the disease and who may benefit from screening and
health promotion, and also explores the active role that GPNs can play in managing patients with colorectal
cancer, through clinical interventions as well as offering advice and support.
Read more
When you choose nursing, you also choose the law
Poor records are often reflective of poor practice. In this
feature, Amanda Andrews and Bernie St Aubyn look at the
unique and different ways that GPNs document their patient
care and interactions using electronic medical records (EMRs),
and stress the importance of ensuring confidentiality, clarity,
communication of care and court-proof records...
Read more
Ask the expert
This Journal of General Practice Nursing feature asks an expert to take a look
at a therapy area and examine some of the challenges that GPNs may face.
Here, Lorraine Grothier looks at how desloughing a wound can aid the patient
experience...
Read more
Gain CPD points and contribute to your revalidation portfolio
with the GPN learning zones
This issue's learning zone feature looks at how to recognise and
management patients with interstitial lung disease.
Read the article, then go online to
www.journalofpracticenursing.co.uk/learning-zone/ and
evaluate your knowledge of this topic by answering the questions.
If you answer all 10 correct, you can download your certificate as
evidence of your continued learning.
Education for Health - find the right course for you
Are you familiar with all the educational courses that Education for
Health offer in long-term conditions? Our regular Education for Health
update highlights what they have on offer for your continuing
professional development, with all relevant online links. Take a look
and find the course for you. www.educationforhealth.org
Reserve your place at a local JCN event in 2015
NORWICH - 2 December 2015
Click here to see the full page-turning version of GPN
This e-mail has been sent in good faith because you have either registered as a user on the GPN website
(www.journalofpracticenursing.co.uk), or you have previously attended a JCN Exhibition and Study Day.
If you have received this e-mail in error or would prefer not to receive information pertaining to the Journal of Community Nursing,
please click here to unsubscribe your e-mail address.