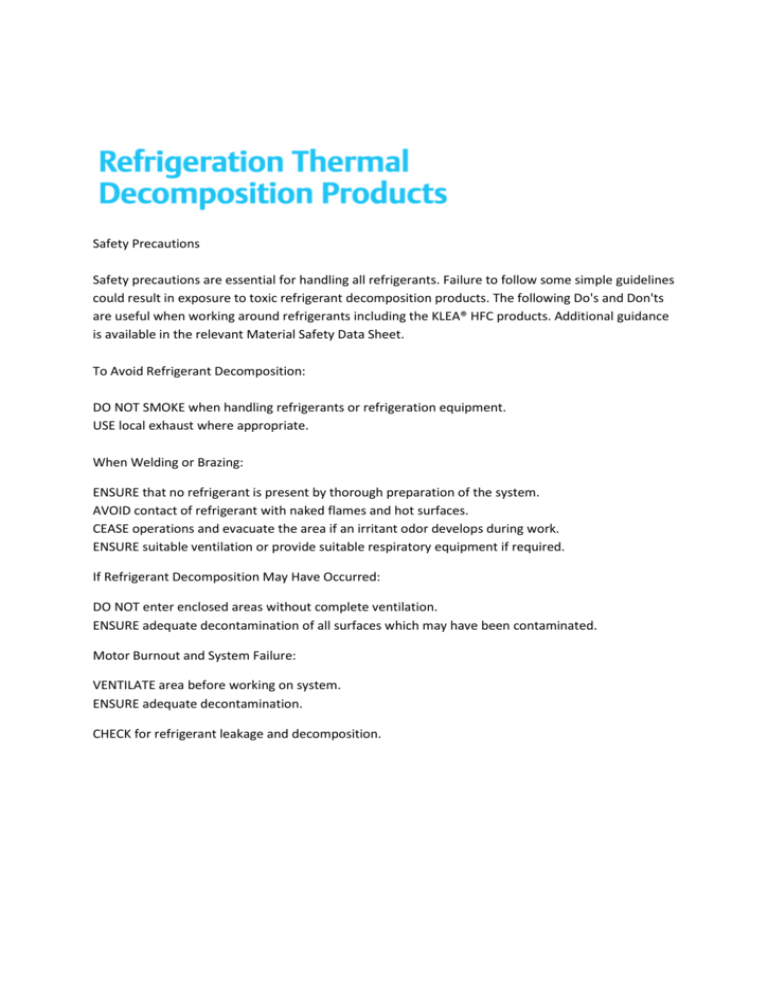 Safety Precautions
Safety precautions are essential for handling all refrigerants. Failure to follow some simple guidelines
could result in exposure to toxic refrigerant decomposition products. The following Do's and Don'ts
are useful when working around refrigerants including the KLEA® HFC products. Additional guidance
is available in the relevant Material Safety Data Sheet.
To Avoid Refrigerant Decomposition:
DO NOT SMOKE when handling refrigerants or refrigeration equipment.
USE local exhaust where appropriate.
When Welding or Brazing:
ENSURE that no refrigerant is present by thorough preparation of the system.
AVOID contact of refrigerant with naked flames and hot surfaces.
CEASE operations and evacuate the area if an irritant odor develops during work.
ENSURE suitable ventilation or provide suitable respiratory equipment if required.
If Refrigerant Decomposition May Have Occurred:
DO NOT enter enclosed areas without complete ventilation.
ENSURE adequate decontamination of all surfaces which may have been contaminated.
Motor Burnout and System Failure:
VENTILATE area before working on system.
ENSURE adequate decontamination.
CHECK for refrigerant leakage and decomposition.