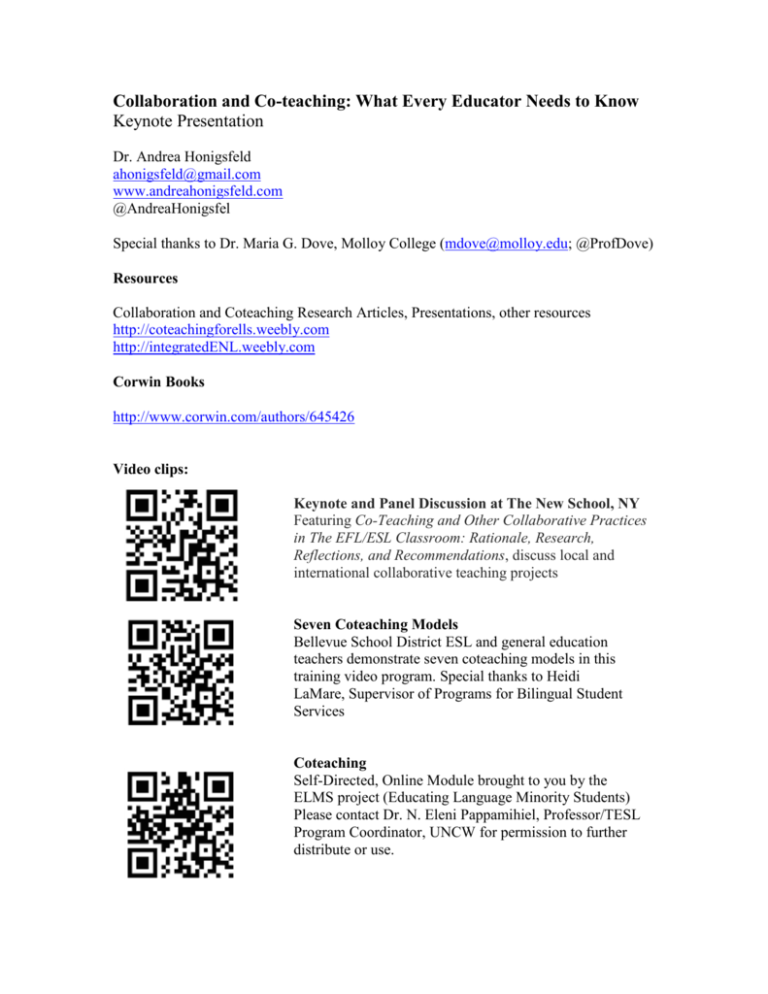 Collaboration and Co-teaching: What Every Educator Needs to Know
Keynote Presentation
Dr. Andrea Honigsfeld
ahonigsfeld@gmail.com
www.andreahonigsfeld.com
@AndreaHonigsfel
Special thanks to Dr. Maria G. Dove, Molloy College (mdove@molloy.edu; @ProfDove)
Resources
Collaboration and Coteaching Research Articles, Presentations, other resources
http://coteachingforells.weebly.com
http://integratedENL.weebly.com
Corwin Books
http://www.corwin.com/authors/645426
Video clips:
Keynote and Panel Discussion at The New School, NY
Featuring Co-Teaching and Other Collaborative Practices
in The EFL/ESL Classroom: Rationale, Research,
Reflections, and Recommendations, discuss local and
international collaborative teaching projects
Seven Coteaching Models
Bellevue School District ESL and general education
teachers demonstrate seven coteaching models in this
training video program. Special thanks to Heidi
LaMare, Supervisor of Programs for Bilingual Student
Services
Coteaching
Self-Directed, Online Module brought to you by the
ELMS project (Educating Language Minority Students)
Please contact Dr. N. Eleni Pappamihiel, Professor/TESL
Program Coordinator, UNCW for permission to further
distribute or use.
Mulazzi, F., & Nordmeyer, J. (2012). Coteaching as professional development. In A.
Honigsfeld and M. G. Dove (Eds.) Coteaching and other collaborative practices in the
EFL/ESL classroom: Rationale, research, reflections, and recommendations. Charlotte,
NC: Information Age Publishing.