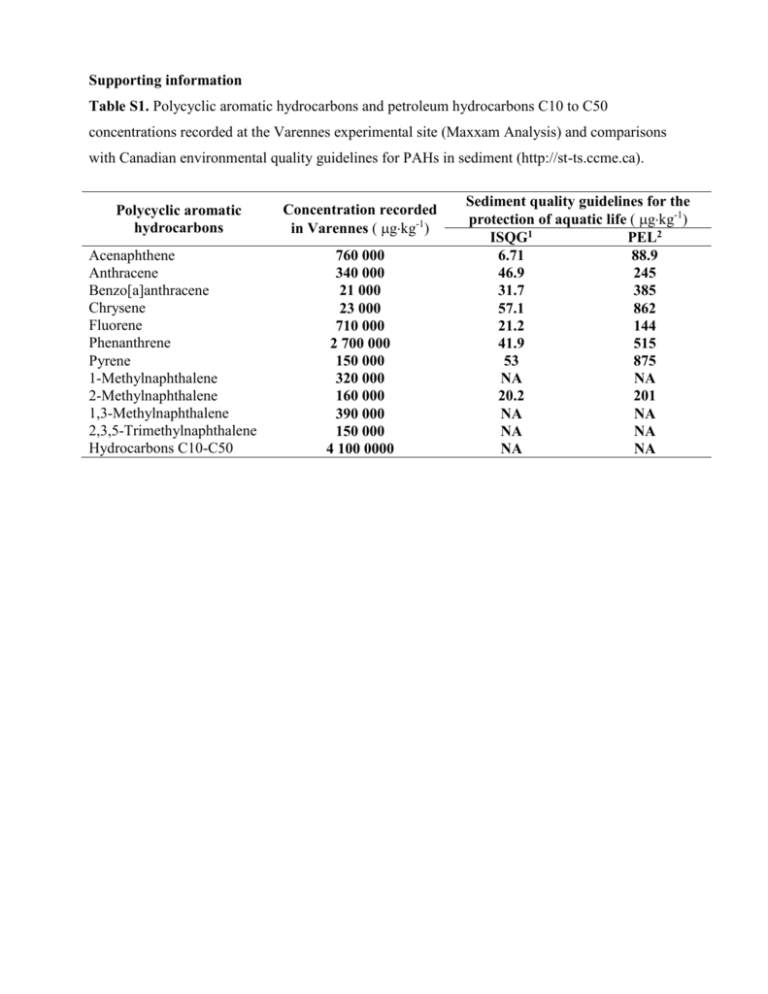 Supporting information
Table S1. Polycyclic aromatic hydrocarbons and petroleum hydrocarbons C10 to C50
concentrations recorded at the Varennes experimental site (Maxxam Analysis) and comparisons
with Canadian environmental quality guidelines for PAHs in sediment (http://st-ts.ccme.ca).
Polycyclic aromatic
hydrocarbons
Acenaphthene
Anthracene
Benzo[a]anthracene
Chrysene
Fluorene
Phenanthrene
Pyrene
1-Methylnaphthalene
2-Methylnaphthalene
1,3-Methylnaphthalene
2,3,5-Trimethylnaphthalene
Hydrocarbons C10-C50
Concentration recorded
in Varennes (gkg-1)
760 000
340 000
21 000
23 000
710 000
2 700 000
150 000
320 000
160 000
390 000
150 000
4 100 0000
Sediment quality guidelines for the
protection of aquatic life (gkg-1)
ISQG1
PEL2
6.71
88.9
46.9
245
31.7
385
57.1
862
21.2
144
41.9
515
53
875
NA
NA
20.2
201
NA
NA
NA
NA
NA
NA
D
Figure S1. Panoramic view of the former open-air sedimentation basin at the Varennes field site,
southern Montreal, Quebec, having extreme levels of petroleum hydrocarbon-pollutants. A: Dry
part of the basin where phytoremediation studies with willows cultivars have been performed
(Bell et al., 2013). B: Bar chart corresponding to the values of some polycyclic aromatic
hydrocarbons (PAHs) measured in the polluted sediments, where A, F, Phe and Py correspond to
anthracene, fluorine, phenanthrene and pyrene, respectively. Concentration of these pollutants
exceeded by thousands times the toxicity of Canadian environmental quality guidelines for PAHs
in sediment. C: detailed view of the wet part of the basin where a partially submerged E. obtusa
plant is spontaneously growing. D: Schematic drawing of the experimental design and sampling.
The squares represent the hydrocarbon-polluted basin each year.
A
B
Figure S2. Venn diagram showing OTU richness overlap in E. obtusa libraries (A) and P.
capillare libraries (B).
Figure S3. Trypan blue-stained roots revealed the co-occurrence of AMF and DSE structures in
root from the environmental field samples. A, Vesiscules and Hyphae of AMF in P. capillare
root. B, DES associated to E. obtusa.