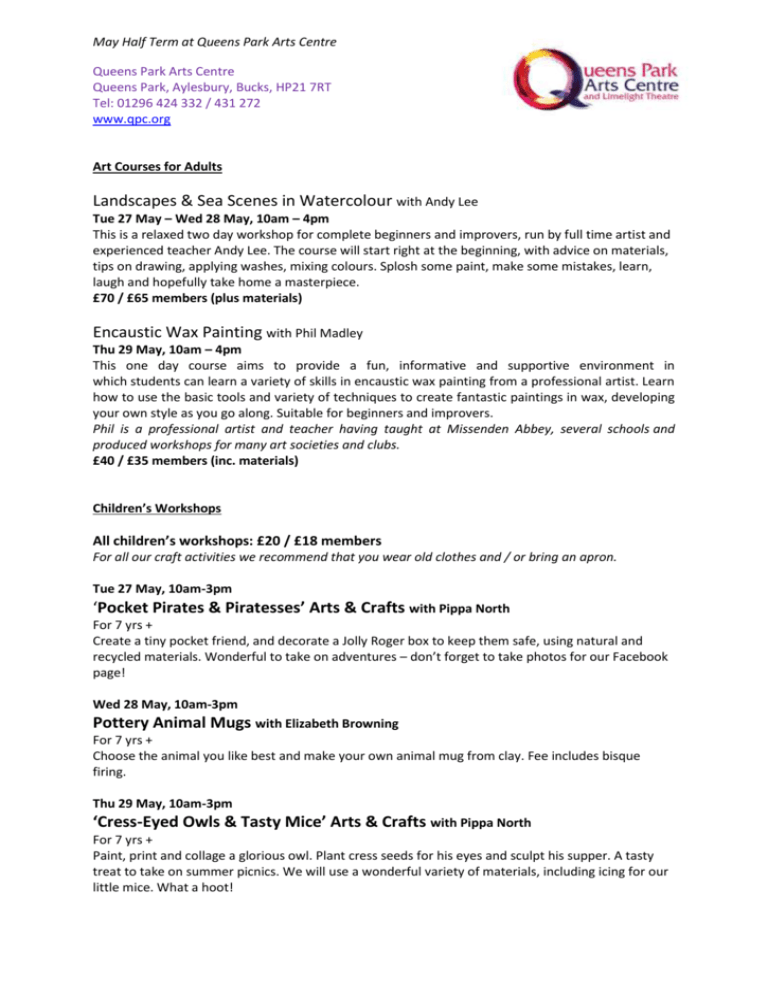 May Half Term at Queens Park Arts Centre
Queens Park Arts Centre
Queens Park, Aylesbury, Bucks, HP21 7RT
Tel: 01296 424 332 / 431 272
www.qpc.org
Art Courses for Adults
Landscapes & Sea Scenes in Watercolour with Andy Lee
Tue 27 May – Wed 28 May, 10am – 4pm
This is a relaxed two day workshop for complete beginners and improvers, run by full time artist and
experienced teacher Andy Lee. The course will start right at the beginning, with advice on materials,
tips on drawing, applying washes, mixing colours. Splosh some paint, make some mistakes, learn,
laugh and hopefully take home a masterpiece.
£70 / £65 members (plus materials)
Encaustic Wax Painting with Phil Madley
Thu 29 May, 10am – 4pm
This one day course aims to provide a fun, informative and supportive environment in
which students can learn a variety of skills in encaustic wax painting from a professional artist. Learn
how to use the basic tools and variety of techniques to create fantastic paintings in wax, developing
your own style as you go along. Suitable for beginners and improvers.
Phil is a professional artist and teacher having taught at Missenden Abbey, several schools and
produced workshops for many art societies and clubs.
£40 / £35 members (inc. materials)
Children's Workshops
All children's workshops: £20 / £18 members
For all our craft activities we recommend that you wear old clothes and / or bring an apron.
Tue 27 May, 10am-3pm
'Pocket Pirates & Piratesses' Arts & Crafts with Pippa North
For 7 yrs +
Create a tiny pocket friend, and decorate a Jolly Roger box to keep them safe, using natural and
recycled materials. Wonderful to take on adventures – don't forget to take photos for our Facebook
page!
Wed 28 May, 10am-3pm
Pottery Animal Mugs with Elizabeth Browning
For 7 yrs +
Choose the animal you like best and make your own animal mug from clay. Fee includes bisque
firing.
Thu 29 May, 10am-3pm
'Cress-Eyed Owls & Tasty Mice' Arts & Crafts with Pippa North
For 7 yrs +
Paint, print and collage a glorious owl. Plant cress seeds for his eyes and sculpt his supper. A tasty
treat to take on summer picnics. We will use a wonderful variety of materials, including icing for our
little mice. What a hoot!