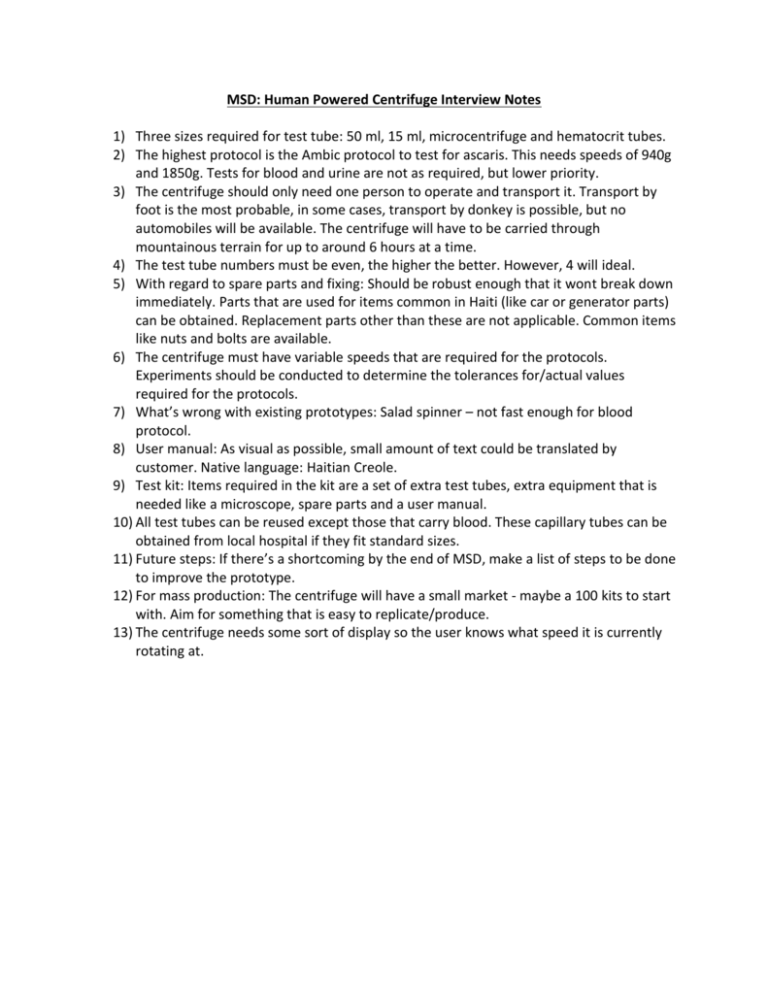 MSD: Human Powered Centrifuge Interview Notes
1) Three sizes required for test tube: 50 ml, 15 ml, microcentrifuge and hematocrit tubes.
2) The highest protocol is the Ambic protocol to test for ascaris. This needs speeds of 940g
and 1850g. Tests for blood and urine are not as required, but lower priority.
3) The centrifuge should only need one person to operate and transport it. Transport by
foot is the most probable, in some cases, transport by donkey is possible, but no
automobiles will be available. The centrifuge will have to be carried through
mountainous terrain for up to around 6 hours at a time.
4) The test tube numbers must be even, the higher the better. However, 4 will ideal.
5) With regard to spare parts and fixing: Should be robust enough that it wont break down
immediately. Parts that are used for items common in Haiti (like car or generator parts)
can be obtained. Replacement parts other than these are not applicable. Common items
like nuts and bolts are available.
6) The centrifuge must have variable speeds that are required for the protocols.
Experiments should be conducted to determine the tolerances for/actual values
required for the protocols.
7) What's wrong with existing prototypes: Salad spinner – not fast enough for blood
protocol.
8) User manual: As visual as possible, small amount of text could be translated by
customer. Native language: Haitian Creole.
9) Test kit: Items required in the kit are a set of extra test tubes, extra equipment that is
needed like a microscope, spare parts and a user manual.
10) All test tubes can be reused except those that carry blood. These capillary tubes can be
obtained from local hospital if they fit standard sizes.
11) Future steps: If there's a shortcoming by the end of MSD, make a list of steps to be done
to improve the prototype.
12) For mass production: The centrifuge will have a small market - maybe a 100 kits to start
with. Aim for something that is easy to replicate/produce.
13) The centrifuge needs some sort of display so the user knows what speed it is currently
rotating at.